Fashion, like every other industry, has been compromised by the Great Recession. The big difference is fashion is highly organized, mobilized, ready to fight and shout from the rooftops! Fashion is here and alive! Buy me, Love me!
This is the mantra being shouted from the rooftops as we enter Mercedes-Benz Fashion Week at Lincoln Center. Fashion's Night Out has gone from a public service announcement on why we should buy to an initiative aimed at getting people back into stores. Stores are quickly turning into mausoleums of their former selves, as retailers like Gilt Groupe, HauteLook and Ideeli surge in sales. Gilt now has 500 employees.
Ideeli, in a very short amount of time, has made enough cash to become a fashion week sponsor. At a cocktail party two years ago I met the owner and founder. He pitched me his idea: creating another invitation-only online retailer. I scoffed. Boy - was I wrong. I also missed the Oscar de la Renta iPad clutches at Resort. These are my recent fashion sins. I'm not quite sure which is the bigger crime.
I had drinks with Paul Wilmot and we talked about 'The Fall of the House of Ungaro.' Asim Abdullah wanted him to fly out to Paris, unwilling to disclose his latest master plan over the phone and insisting that it was worth a 12-hour flight. Chalking it up to "hare brained schemes," Paul waits for the news to roll out and discovers that Lindsay Lohan will be working on a collection. A once revered house meets a very public death.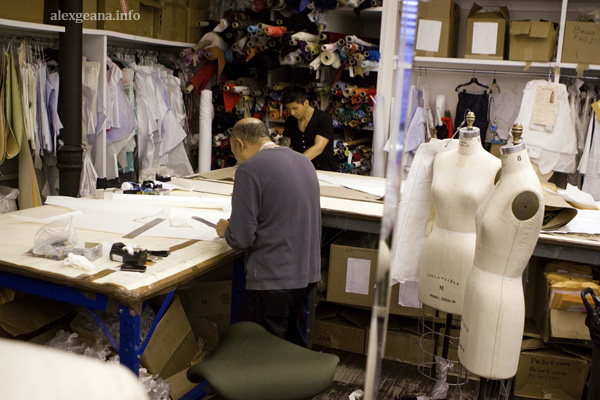 (Pattern makers in Naeem Khan's workshop getting ready for their September 16th show.)
Right now everything is shifting as old houses try to reinvent themselves. Lanvin is starting to work with H&M and everyone is testing out new ways of doing business.
The online retailers have benefited from the recent closet-shopping trend, where people with money want to hide their habit and luxury goods are more sedate. Gone are the massive shopping bags.
Then there's the work-weary consumer and office worker, who can't get away from their desks. So at noon they log on, buy what they need, order various sizes, try on clothes at home - and then return what they don't want. Even in good times it was hard to justify an hour-long lunch ...now it's impossible.
Now, when I walk into a retailer and see four clerks hands forward, ready to pounce, hungry. I have to chirp, "I'm a writer on a media budget, I'm browsing." I feel defensive when I window shop. Then again, won't the item be on Gilt Group for $100 in a matter of weeks? So much for retail price integrity.
Academy of Art University will have their show in the Theater. I'll hit the town after, snapping photos of the night, the stars, the copious amounts of champagne, or will it be sparkling wine this time around? Supposed shoppers will take to the streets and reenter the boutiques they've forgotton to love. Fashion's Night Out is also aiming to make the consumer feel like they are a part of fashion, that they to can make a difference by going into the stores. Norma Kamali consistently talked about the "democratization of fashion;" this is a step in that direction.
Raw sex has stopped selling. With American Apparel close to crumbling and the Abercrombie and Fitch jock going out of style, consumers are covering up and looking for a deeper connection to the houses they want to buy into. That's one of the many reasons that young emerging designers, who haven't been weeded out by the balancing needs of distribution and finance, are doing so well and are highly sought after. Alexander Wang, Erin Fetherston, Bibhu Mohapatra, Prabal Gurung and Naeem Khan are leading the pack and pushing into growth. Yet there are many waiting for them to misstep.
Rugged pretty boys are in and masculinity is holding strong. According to Cathy Horyn, expect 'Lolita' to seduce. Real women will walk the catwalk and the razor-thin look should be a thing of the past. Although we'll continually debate what a real woman looks like, we can all concur that heroin chic and wire hanger slender have been voted off fashion'' island.
Since fashion is often about demise and resurrection, we see the resurgence of Bill Blass with creative director Jeffrey Monteiro at the helm. After the house was stymied and suffocated by a holding company (which also contained Athletes Foot, that ubiquitous mall retailer and fungus), they've found new financing, restructuring and guidance. They're approaching with caution. Nautica is once again showing after a few years away from the tents, this time with a presentation.
Richie Rich now has a new firm backing him called the King Collective --headed by Keri Ingvarsson-- which launched this March with Richie as their flagship brand. They've already aligned a fragrance deal with worldwide distribution and their main goal is to get Richie's clothing into stores. She assures me that they'll stay true to their roots, but seats will now be given to buyers instead of the club kid of the moment. I'm excited to see if Richie has follow through; it all sounds so promising.
Keri sold Mercedes-Benz the idea of Stockholm Fashion Week. Her firm also closes the week with IVANAhelsinki. Keri is fiercely focused on getting financing for her young brood and getting distribution is her mantra. Stating proudly, "IMG didn't give us any discounts."
Derek Lam is now back in the tents after a brief stint at Capital and a smaller guest list. Zang Toi returns to IMG after taking a few seasons off and catering to his base of Saudi princesses.
The former trend model has been totally overthrown. Last time around, the color purple was supposed to be in and that didn't quite happen, as evidenced by the amount of purple fabric purchased. Though this doesn't take into account the fact that designers are now creating their own textiles.
When I asked Proenza Schouler how they came up with a print from a few seasons past, they replied that they spent some time with a copier. Naeem Khan has also used the same technique. The Mulleavy Sisters wait a few months for a small batch, then continue to modify the fabrics in their LA studio. Philip Lim has talked about his production meetings and how he plans to use and reuse different custom textures. Duckie Brown partnered with Eileen Gleeson from Design Union to create camouflage, bug and computer prints. Daniel Vosovic is using digital printing to mimic fur and explore unique textures.
But with innovation comes the ability for less scrupulous brands and fast food fashion to copy better designs.
On my way to a breakfast at The Lambs Club, I see a $30 dress in the window; it's almost an exact copy of a Chado Ralph Rucci original, but in pink.
At the new restaurant in the Chatwal Hotel, I expect Bugsy Siegel or Marlene Dietrich to walk in at any moment. Pictures of the old actors who once belonged line the walls and smoke the ghosts of old cigars. It feels very right, very now, despite the fact that the project took seven years to complete. Sitting in the red leather banquet, I imagine the crowd drinking Dark N's Stormies. The room is small, just like the Lion and the other popular speakeasy inspired venues. We're ducking. Hiding. Waiting.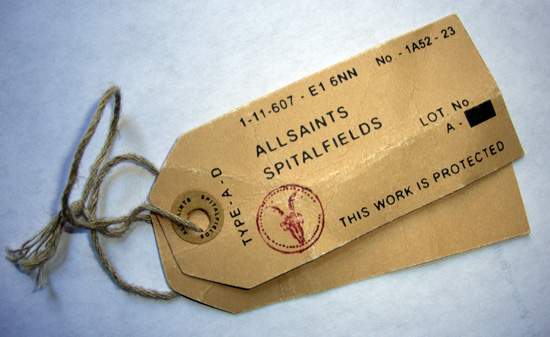 I had a hot date and went to AllSaints to splurge and shop. Coming to terms with the fact that most garments were for someone younger, slimmer and prettier, I got a pair of jeans I really love. While feverishly sifting through the inventory and driving the sales people crazy, I noticed that the tags mentioned copyright protection. I asked their PR person and found that it's part of their branding. Now that rights are being associated with design and legislation is being considered by Congress, this is very important. Chado, are you listening?
Since fashion is reactionary and the economy's going to keep on bobbing up and down like a rubber ducky in a weather-beaten kiddy pool, I expect to see more hard edges, strong looks, and the austere come into view.
Shortly I popped into the Chelsea Mansion --once the temporary home of Courtney Love and a luxury rental at $20,000 a month-- to visit Roxanne Usleman Hulderman, their resident on-call physic to ask, "What awaits fashions future," figuring this was just as effective as watching Ben Bernanke rattle on CNN. She reports: "Quality is going to be in, verses quantity, that people will start saving for luxury items." I wonder if she's been reading WWD.
"Tribal and Moroccan will be hot, as will flowers and floral prints. Black is going to be predominant. Fashion will rely on fantasy, taking people to another realm. Effen vodka is great, in a nice bottle with a variety of flavors, they're a wonderful upbeat company to work for, who reward and promote their employees, they'll come out with innovative new mixers that no one has thought of." (not an advertorial for Effen).
Apparently, I'm going to be a world famous photographer, will be heading to Milan and am destined to meet and collaborate with Rachel Zoe. So Rachel darling, if you're out there. I'd DIEEEEEEEEEEE !!!!
So there you have it. Let's start the show.
Related