Every year, there is a stretch of holidays that lead us from spring to summer. It kicks of with Easter, followed by the hysteria over the all-important Mother's Day and then a bombardment of graduations and weddings. Tacked on the end is Father's Day and we barely manage to summon up enough to buy a few terrible, useless gifts. Poor dads. They are under-appreciated and under-utilized. And ladies, let's be honest with ourselves -- a lot of us are the source of problem. How's that, you ask? So many of us suffer from the delusional belief that we are the only ones capable of doing all things, for all people, at all times, without asking for help, not even from dad. I know... It's absolutely ridiculous when you read it out loud and actually sounds more like a control freak. We are determined to do it all on our own and then "humbly" display our dark, puffy eyed selves until someone notices and gives us the proverbial pat on the back. It hurts to admit that, but for everyone's sake, it really needs to stop. Some moms don't have a choice and I take my hat off to you but for those of us that do... Let go and let dad.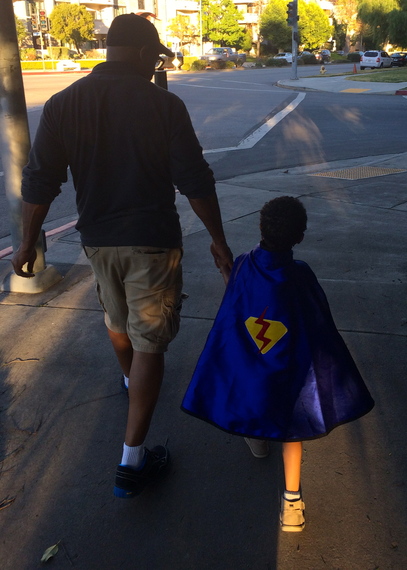 When chatting with other moms, it's quite common for us to roll our eyes and paint the picture that dads are incapable of accomplishing the simplest tasks without our help. Not only is that not fair, but it is simply not true for most of us. I know you may mean well when you lean over his shoulder to "suggest" how to do something, but really ladies... Back off! I am sure if your mother or mother-in-law leaned over your shoulder to criticize your methods, you would want to bite her head off. So, give Dad the benefit of the doubt, trust that he is completely capable of taking over and know it's perfectly OK if he doesn't do things your way.
For starters, most dads are not fashionistas, and they couldn't care less what the kids are dressed in as long as everybody is fully clothed. Green plaid swim trunks and a dinosaur pajama top? If it's clean and weather-appropriate, sure, why not? It's better than you running around doing everything else only to find dad dressed, watching TV and waiting for you. Meanwhile, the kids are running around like little naked anarchists. As long as the kids are dressed, does it really matter? Most kids couldn't care less and manage to look like a disheveled mess within 30 minutes of getting dressed anyway. So take a deep breath, laugh at the resulting outfits and let it go.
Speaking of deep breaths, when was the last time you took some time for yourself? For some reason, dads are better at this than moms. It's really something you need to do on a regular basis. I know... easier said then done. But sometimes, you need to just hand the kids over to dad, grab your keys and get your butt out the door, even if it's only for an hour. However, when you take some time for yourself, you can't dictate what dad does with the kids. Time with dad will probably consist of superhero fights and kids being thrown into the air so high it makes your heart drop right into your stomach. But you are not around to see it, so no worries for you. If he's the kind that needs to get the kids up and out, so what if he takes them to the play area in the mall and feeds them ice cream, french fries and sugar-covered pretzels? You got alone time, the kids had a sugar-fueled good time and dad just exponentially upped his chances of getting laid. Hell, if he goes so far as to pick up dinner on the way home he should absolutely get laid. Everybody wins!
Most importantly, most men will never, ever be able to multitask at the level we can. You can give that fight up because you are waging a losing battle. Let the man do things at his own pace. It took me the longest to figure this one out, and it would frustrate me to no end. I had to come to accept that he likes to get one thing done at a time and not at the frantic rate that I tend to operate in. To be honest, he usually gets it done right the first time. Meanwhile, I can't remember a damn thing, my cell phone ends up in the refrigerator and my credit card and driver's license are often found (by my husband) buried in a pocket of dirty pants deep in the laundry basket. Go figure.
So, to sum it all up, just because he doesn't do it your way doesn't mean he isn't fully capable of getting it done. So just shut your mouth or you are going to nag that man to the point where he just gives up trying to do it "right" and then you will really have something to complain about. You don't have to be superwoman and it's OK if every once in a while your kids say, "That's not how Dad does it." And maybe, just maybe, there is actually something Dad is better at doing than you. So, ladies, take a deep breath and release your inner control freak. Let go and let Dad!