One of the reasons I always look forward to San Francisco's CAAMFest is that, with its focus on Asian Americans, there are usually several documentaries about food. Whether these films examine ethnic-regional cuisines, interesting new restaurants, agricultural traditions, or notable Asian American entrepreneurs, they offer viewers a healthy dose of edutainment. With the farm-to-table movement gaining momentum, such documentaries help teach new generations about how food reaches our tables and is prepared for consumption.
Two entries in 2015's CAAMFest focused on Japanese-American farmers with unique stories. Normally, one might struggle to find an interesting way to tie these two tales together. However, the simple fact that one film involves a family using traditional methods of horizontal farming while the other focuses on two entrepreneurs whose business relies on a carefully calibrated approach to vertical farming makes for an interesting contrast in stories about modern agriculture.
Unlike at previous festivals, the closing night for the 2015 CAAMFest didn't take place at San Francisco's Sundance Kabuki Theatre or the Castro Theatre. Instead, it was split over two nights at the New Parkway Theatre in Oakland. Why? So that a six-part PBS series entitled Lucky Chow (starring LuckyRice's culinary festival founder, Danielle Chang) could take viewers on an armchair adventure through the landscape of Asian food in America.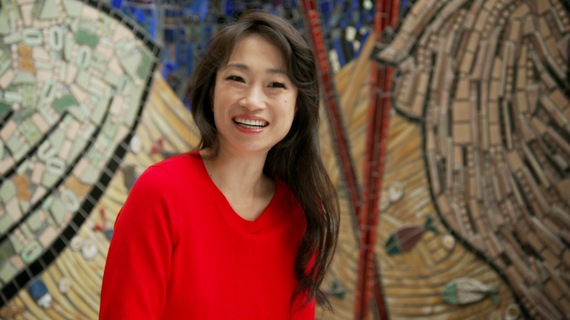 Lucky Chow's host, Danielle Chang
One of the Lucky Chow segments focuses on Ecopia Farms, a Bay area startup in Campbell, California which is applying the latest vertical farming technology toward growing fresh microgreens for local restaurants and consumers who prefer their food to be strictly non-GMO. Because so much of the traditional supermarket approach to fresh vegetables requires the use of pesticides, large amounts of water, and increased costs for transporting crops to their destination, the aim of companies like Ecopia Farms is to keep the supply route for their product as short and sweet as possible. According to their website:
"Ecopia Farms produces exquisite, fresh vegetables year-round in our proprietary, organically certified farms. Our practices and processes set new standards of sustainability, food safety, and conservation of critical resources. Our focus is on consistently delivering superior products and service to our clients every day. We locate our farms in urban areas to provide fresh-picked quality. We grow in living soil using only organic materials with absolutely no chemicals or sprays. We grow and distribute using far less water, land, and fossil fuel than conventional farms. We harvest produce at its peak every day of the year and then pick, pack, and deliver the same day (rather than storing for days and transporting hundreds or thousands of miles). We deliver directly to local chefs and other customers to insure the best possible quality."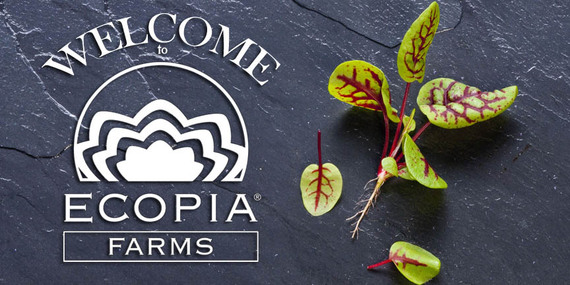 Poster art for Ecopia Farms
Although Ecopia's co-founders come from families with a long history of working in agriculture, both men pursued careers in technology. The company's CEO, Dr. Koichi (Ko) Nishimura, earned his bachelor's and master's degrees in electrical engineering at San Jose State University and received his doctorate in materials science and engineering from Stanford University. After 23 years working for IBM, Ko took a position as Chief Operating Officer with an electronics manufacturing services company named Solectron. By the time he retired in 2003, Ko had become the company's Chairman, President, and Chief Executive Officer.
After receiving his bachelor's and master's degrees in mechanical engineering from Stanford University, Ecopia's co-founder and Chairman of the Board, Sam Araki, started as a systems engineer for Lockheed Missiles & Space in 1958 and retired in 1997 as President of Lockheed Martin Missiles & Space. In the following clip, the two men describe how their family histories (combined with their technology-based careers) laid the groundwork for a transition to a new career in state-of-the-art vertical farming.
Many business owners insist that the key to success is "location, location, location." But in the case of Ecopia Farms, timing and technology are two of the key factors that will help the company expand to other locations in the future. With traditional farmers battling California's severe drought, their ability to use 3% of the water and 4% of the usual amount of land required for farming means that their approach is highly scalable and saleable. The following video clip (from the popular California Bountiful newsmagazine) gives further insight into what makes Ecopia Farms tick.
As can be expected from the creators of Lucky Chow, Danielle Chang's visit with Ecopia's co-founders includes a few more Asian American perspectives than the above video.
A more personality-driven story provides the foundation for Jim Choi's hour-long documentary entitled Changing Season: On the Masumoto Family Farm, which received its world premiere at the Oakland Museum of California on March 20. Located south of Fresno in Del Rey, California, the farm produces annual crops of certified organic peaches, nectarines, and grapes (which are used for raisins).
Choi's film also provides superb insights into how diversity affects a family, a community, and a working farm.
The Masumoto family first immigrated to the United States in the early 1900s when the grandparents of its current owner, David Mas Masumoto, left their homes in Hiroshima and Kumamoto to seek work in California's Central Valley.
During World War II, the Masumoto and Sugimoto families were among many Japanese-Americans forced to leave their homes and live in the Gila River Relocation Center located in the desert outside Phoenix, Arizona.
In 1948, Joe Takashi Masumoto and Carole Yukino Sugimotor were wed. When Joe bought his first 40 acres of farmland, his grandmother thought he was crazy.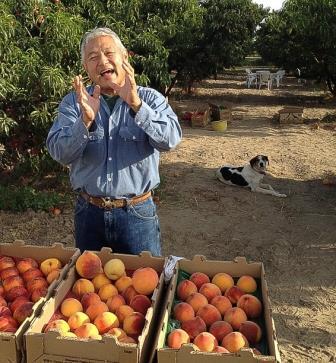 David Mas Masuomoto selling peaches
Born in 1954, their youngest son (David Mas Masumoto) left the farm to study at UC Berkeley. During a trip to Japan, he stayed in the village where his grandparents lived and worked on their rice farm before returning to Berkeley to graduate with a degree in sociology.
While attending graduate school at UC Davis, Mas met his future wife, Marcy Thieleke. Married in 1983, they became the proud parents of a daughter (Nikiko) and son (Korio).
In 1987, the Masumoto Family Farm was certified organic by the California Certified Organic Farmers and, by 1993, had taken on Chez Panisse as a regular client.
In 2008, the Masumoto Family Farm celebrated its 40th anniversary.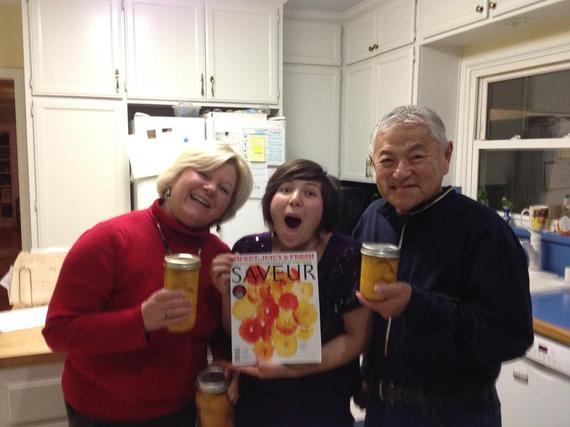 Marcy, Nikiko, and Mas Masumoto in their kitchen
Choi's film does a nice job of showcasing the close relationship between Mas and his daughter, Nikiko (who is openly gay). After her decision to return home to the farm after finishing college, the Masumoto family begins a steady transition of management responsibilities from one generation to the next.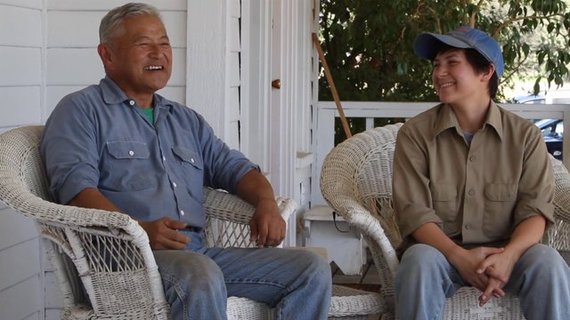 Mas and Nikiko Masumoto relaxing at home
While life on the farm can be demanding, the Masumoto family also has a strong artistic bent.
Mas has published eight books, with titles ranging from Country Voices: The Oral History of a Japanese American Family Farm Community to Heirlooms: Letters from a Peach Farmer.
Nikiko has developed a one-woman show entitled What We Could Carry, which features stories about the Japanese American internment experience.
Marcy's doctoral research led her to co-author Case Study of Leadership Practices and School-Community Interrelationships in High-Performing, High-Poverty, Rural California High Schools.
Mas, Marcy, and Nikiko have collaborated on a cookbook entitled The Perfect Peach: Recipes and Stories from the Masumoto Family Farm .
Choi's documentary captures many poignant moments ranging from a surprise 60th birthday party for Mas to the farm's end-of-season celebration when visitors can pick their own peaches. Choi also captures Nikiko's mixed emotions as she and her partner move into the home once owned by her grandparents and as her brother, Korio, prepares to head off to college.
Changing Season: On The Masumoto Family Farm is a charming documentary made all the more interesting by the warmth and functionality of the Masumoto family. As they converse with their laborers in fluent Spanish, the film gives an intimate look into the realities of life on a working family farm in California's Central Valley.
Calling all HuffPost superfans!
Sign up for membership to become a founding member and help shape HuffPost's next chapter