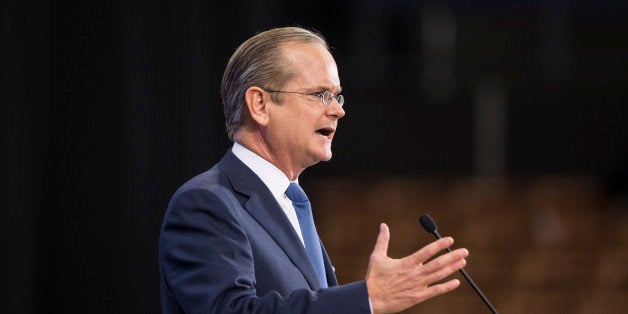 Imagine this: You are someone who cares passionately about your country, and you've decided to run for public office. You're a serious person and serious thinker - and a great many people around the country view you as such. You're running for president, and although you have not held prior elective office, you have put a campaign together that in just months is more substantial than some of your opponents who've previously worked in government.
You have a wife and three kids, and your decision to take a leave of absence from your profession impacts both the time and financial resources that are usually reserved for your family. But your family understands that this is worth it, because you're prioritizing your campaign around a policy issue that more than 90 percent of the American people say they want to see reformed. They want to see big change on this issue - and you've vowed to place it at the top of the agenda. If fact, you're only one doing so. Oh, and let's say your name is Larry.
Now imagine this: the national political party you're affiliated with won't let you speak. Not in the national debates that so many voters focus in on during the presidential primary contest. They won't give you a lectern, and they won't even provide you with a rational explanation. Think of all of the work and sacrifice that you and your team and your volunteers have put in - and for what? To get a public slap in the face and a stifling of the expression that you've sought to make clear to the broader electorate: that once in the White House, you will begin to drain the swamp of the dirty dollar influence of big money politics. And why is it that you, Larry, are being denied access? Is it because not every American knows your name yet? Is it because you're considered a "fringe" candidate? By who? And why? The process of categorizing candidates is a matter of comparison. It is in the eye of the beholder, so let's look a bit closer.
Here are the facts about Larry and his campaign, versus some of his competitors, who have all already been included in the first set of debates:
1) Larry has appeared in national television interviews and print news coverage across the media spectrum, in recent months receiving as much if not more coverage than Democrats Jim Webb and Lincoln Chafee (both of whom quit the race after their first debate appearance).
2) Larry raised more than a $1 million in just a month - crowdsourcing contributions from all over the country in the name of reforming Washington's "gift exchange economy." Among the Democrats, Martin O'Malley barely eclipsed $1 million, with a whole three months to do it. Webb pulled in under $700,000. And Lincoln Chafee raised $15,457.90 for the quarter (this is not a misprint). All three were invited to debate.
On the Republican side of the dollar, Lindsey Graham raised $1 million for the entire quarter. Bobby Jindal raised under $600,00. Rick Perry's quarter came in under $300,000. Jim Gilmore barely topped $100,000. Are these fellas fringe candidates? All four stood tall and proud on the debate stage.
3) Public Polling. Not that this should necessarily be the barometer of qualification. Same as money. But it often is. And it's a Catch-22 for Larry, because you have to be included in the polls - to register in the polls! The DNC has excluded Larry from most polls, but in other polls he has come up easily within the margin of error of Chafee, Webb, and O'Malley.
This man, "Larry," is Lawrence Lessig, the Harvard law professor, open internet advocate, and campaign finance reform leader who authored the comprehensive 2011 book: Republic Lost: How Money Corrupts Congress--and a Plan to Stop It. The brilliant argument laid out in this book was one of the main inspirations and sources for my writing Unlock Congress.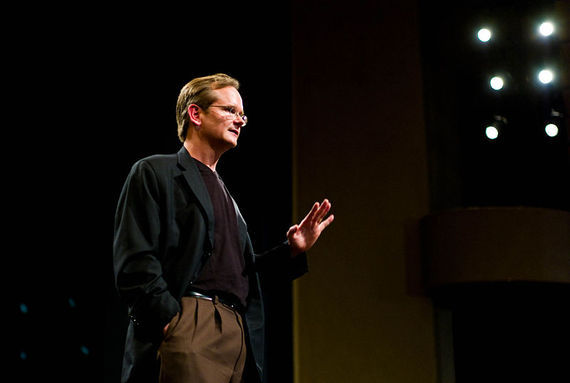 I was supporting Lessig's candidacy prior to his visit to the Windy City last weekend. But spending a few hours with him on a Saturday as he met with volunteers and then as we drove together out to his lecture at a Chicago Humanities Festival event in Evanston only further convinced me that I have the right horse - no matter what classification he is saddled with.
Lessig is arguably more knowledgeable than any other person in or out of Congress on the issue of the money flood and the political corruption it causes. He is equally knowledgeable and forceful about the solution, which begins with publicly financed matched contributions so that average Americans can have a renewed and more equal voice in our elections process. You remember - that "one person, one vote" theme that the dirty dollars make a mockery of every two years.
This reform is the first of three planks in the Citizen Equality Act that Lessig is running on; the two others address inequality in voting access and the cynical rigging of our elections in the hyper-partisan, hyper-dysfunctional U.S. House. His point, and mine, is that until we reform some of the major rules that impair our defective electoral and legislative processes, we will remain unable to successfully confront issue challenges that our country desperately needs to make progress on.
If you haven't yet heard of Larry Lessig or the Citizen Equality Act before, it's quite understandable. But shouldn't you get the chance? A real opportunity to hear him describe and advocate for these reforms on a national stage with his opponents - some of whom have demonstrated a commensurate or lesser degree of support in the race thus far? Isn't that what our system is supposed to be about?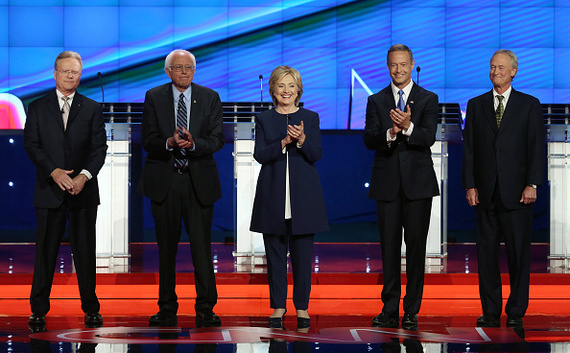 The Republicans went so far as to have both an early evening debate and a primetime debate on the same day - twice - in order to include all 17 of their candidates (three of whom have never held elective office before). Now that the five Democrats who debated the first time around have been reduced to three - shouldn't they let the fourth voice onto the stage? Make it an actual debate? The powers that be must be very worried about the truths Lessig is prepared to present to the American people. But this fear is a detriment to both the party as well as our democracy.
In the year of the "outsider," one side of the aisle's frontrunner is a billionaire barker. On the other side of the aisle, they're silencing the true outsider. The bold one. It's wrong, and it's time to let Larry speak.
Popular in the Community