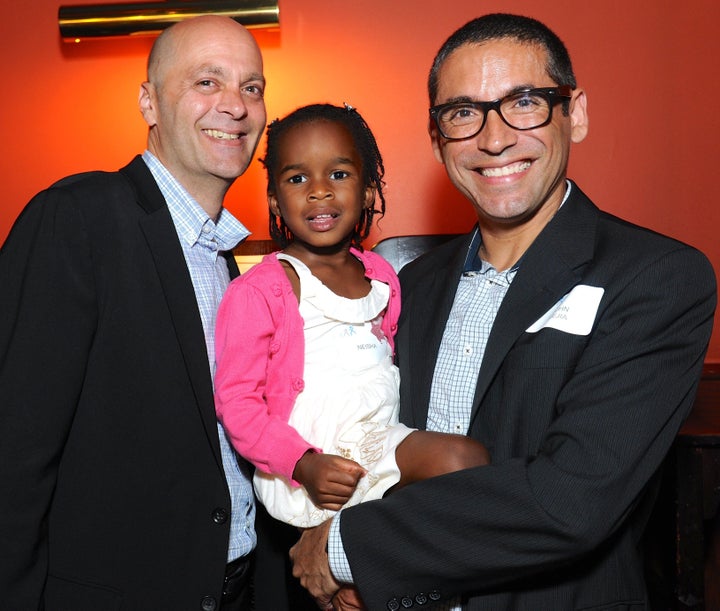 Each Friday in September, RaiseAChild celebrates foster and adoptive parents who have chosen to place the needs of children ahead of their own in a special "Let Love Define Family®" series for Huffington Post Queer Voices. This is the third of five special series installments.
Before a foster child is eligible for adoption, the parental rights of birth parents must first be terminated. As foster and adoptive fathers John Mejia-Levy and Jack Levy of Cooper City, Florida, witnessed this painful process, they decided that they would never stand between their adopted daughter and her birth mother. In this RaiseAChild "Let Love Define Family®" special series installment for Huffington Post Queer Voices, RaiseAChild Founder and CEO, Rich Valenza, interviews John and Jack about their relationship and the importance of family.
JOHN MEJIA-LEVY: Before I met Jack, I had completely given up on love. You see, I had my heart broken twice, back to back. So I had given up. I decided not to date for two years.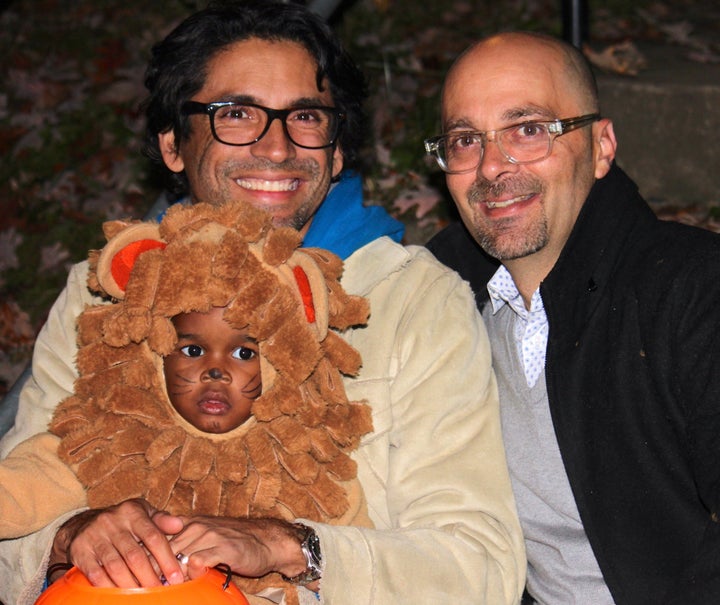 I'm Colombian and one day, I had come back from vacation to my work at a famous hotel in South Beach. The doors opened to the elevator and the Human Resources person comes out with this geeky guy. He said, "John, let me introduce you to Jack, our new assistant controller." I said, "Hi, nice to meet you." Right away, I started talking to the HR director about my trip because he was also from Colombia. A few moments later, Jack asked, "Do you remember my name?" I said, "If you last more than a month, I'll remember your name." That's how we met.
Some time later, Jack asked me out on a date. I didn't want to get hurt again and I was very guarded. He called me that night and asked if I still wanted to go out. I told him I couldn't find a babysitter for my little sister ― even though she was thirteen years old and she did not need a babysitter. So I stood him up. He asked me on a second date. It was my mother who told me, "You're not staying single." So she drove me from Hollywood, Florida to South Beach at Washington and 17th. She dropped me off right there, to go on a date with Jack. He and I went to dinner and a movie. He drove me home and we literally sat in the driveway from 11 at night to 7 the next morning. We just talked about everything. 
JACK LEVY: I had moved from L.A. to Miami to take this new job, and I had this somewhat new relationship in L.A. The intention initially was that I was going to come to Miami and get settled. I did get settled, but not with my ex. I met John and we clicked; everything felt very natural and it just felt right. We didn't have to try very hard to make conversation.
JOHN: It was strange because when I met him, I just felt comfortable. I could tell him anything. But I never thought that he was going to be my life partner. Now husband. We got married six years ago.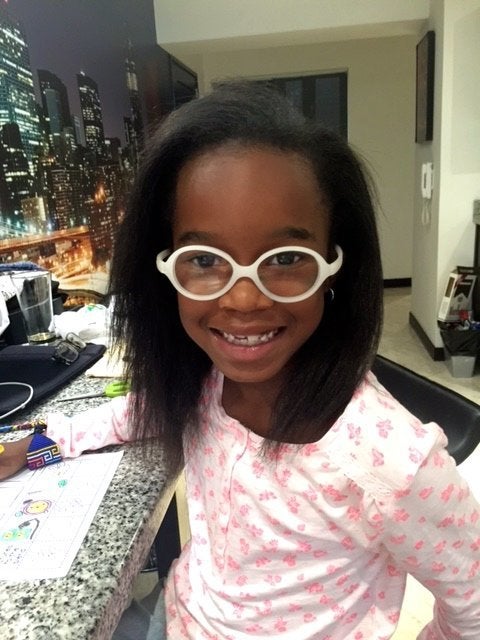 RICH: And you've been together for how long?
JOHN: Seventeen years this December.
RICH: How did you come to the idea of building a family through fostering and adopting?
JOHN: On our first date, during the all night conversation. I told him I come with two women: my mother and my sister, who is also my business partner. She was the one that taught me that I wanted to be a dad.
JOHN: She is younger than me by fourteen years and now has kids of her own. But when she was a baby, her room was next to mine. I asked for a mini fridge in my room to put her bottle in. Instead of my parents getting up when she cried, I would bring her in my bed and lay her beside me. Basically she was like my first child. I walked her down the aisle at her wedding. She taught me that I wanted to be a dad. That was my lifelong dream. At the beginning I didn't realize why I was gay. But I knew that I wanted to be married and have a family. That was the only thing that was clear to me. Years later, I was putting our daughter to sleep and my sister was there. She told me, "Everything that you always told me growing up, your dreams, it's here. It is all here. You're married and you have a child." That was the realization. It was a full circle moment for my sister and I. I had everything I ever wanted as a child and I never thought it was possible, but it was such a pure desire that it just manifested itself.
JACK: Prior to John and I getting together, I hadn't really thought about having kids. Not that I thought it wasn't going to be something in my life.
RICH: Do you come from a bigger family, or smaller? 
JACK: I'm the oldest of three. I'm close with my family, not geographically, but we do stay in touch. John and his family are like a continual daily conversation. With my family, we're probably every couple of weeks. 
RICH: Did you have to talk him into it?
JOHN: I'm Colombian and I speak with my hands and I can be very loud. I learned quickly that if I wanted him to listen to me, I had to settle down. So I came home that day and I stood at the door and said, "We're seven years into this relationship and I love you so much right now that if you told me that you didn't want to have kids, I would probably be OK with it." But my fear was that years down the line I might resent him for not having kids. I guess I said it with such a calm, soft-spoken voice that he heard me.
We lived in South Florida. At the time, adoption wasn't possible in our state for same-sex couples; not even a mortgage was possible. It was seven years into our relationship and I remember that I was working a lot of hours. Jack put in for a promotion in the Washington, D.C. area. Two months before he even got it, I moved to D.C. by myself and got a job as a hairstylist. One day he called and said he got the job. I knew he would. He joined me in D.C. and we started doing an international adoption from Colombia. We spoke with the mom, got the room ready. We were going to have twins, a boy and a girl. Right before we were set to fly to Colombia, the mom suddenly changed her mind. It was hard, very hard. I got very depressed. My husband internalizes everything and I externalize everything. I cried and cried and was miserable. Then one day, in the D.C. Metro area there's a thing called Wednesday's Child. The news segment came up and they were featuring our little boy. Jack said to me, "Let's call." I said, "Who's going to give us a baby, we're a gay couple." He said, "Let's try." So we did.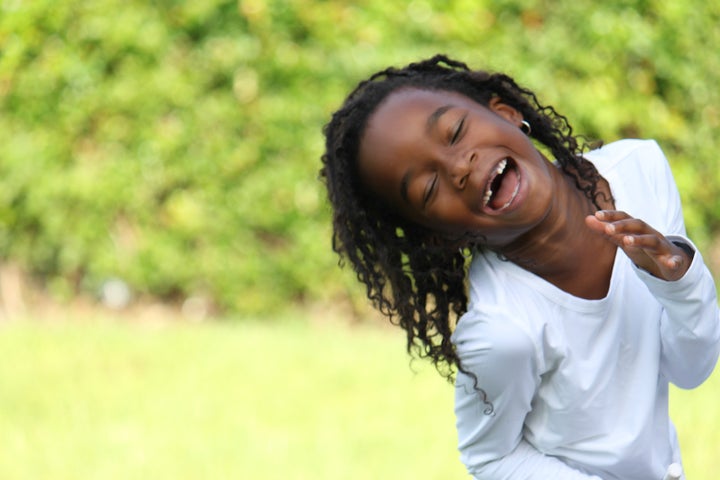 If you know anything about business today, you know nobody ever answers the phone. But, we dialed the number and they picked up. The woman who answered started the conversation telling us she had been there for over twenty years and had never answered this line, but something made her answer today. We explained our situation. She told us there was a class starting that weekend and there was one space available for us. We went and there were about forty to fifty couples. By the end, we were only six couples. You have to go through a six-week process. Towards the end of it, she leaned over to us and whispered, "you're the most normal couple here."
We submitted paperwork, everything went through and two months later we got a phone call. It was to foster a little girl, African American. Her name is Neisha. I asked, "Can you bring her now?" and she told me no, because they were going to court on Tuesday. That Tuesday I went to work in my best clothes because I was going to meet this little girl. The time passed and they didn't call. I was getting discouraged. The phone call came, and my boss said, "Go." 
A lot of people feel that adoption is more of a heartbreaking process if they can't stay with you. It's hard, don't get me wrong. It was a very hard to process emotionally, but in the back of our minds we always knew that if a child came to us for a certain amount of time, it is what that child needed for that point of their life. 
JACK: We were going to do whatever we could to give them the best possible life experience they could have while they were with us. Whether or not it turned out to be a six month or year thing or a forever thing. It was important to both of us, once we were exposed to fostering, that we be open to it, because so many kids are in need. It was certainly an emotional roller coaster, but it was the most rewarding thing that either of us have ever done. Even if it hadn't worked out this way, we knew we had helped to make better this little life.
RICH: Your daughter, Neisha, is the same little girl you saw on the Wednesday's Child television segment?
JOHN: No. That just opened up the adoption idea for us. That was an older little boy. When you go through foster, in the meetings and in the classes, everybody sets expectations low saying you never adopt your first placement. But every single person they brought in to the classes adopted their first placement. I'm an advocate for the foster care system. It's not about getting a child, it's the idea of meeting the child that's meant to be in your family.
When we got our daughter, she was at a very low weight. She had been neglected. She was at a six-month developmental level at fourteen months old. She could barely walk. Two or three weeks into it, the social worker was returning our daughter from a visit with her birth family. As she got out of her car I could see that she was crying. 
JOHN: Because she had never seen our little girl smile, or heard her say anything. Jack was standing outside waiting for her and our Neisha started smiling and babbling showing that she was happy to see him. Three weeks after we had her.
JACK: As we got to the point of adoption, while it was a wonderful experience for us. We were very happy. We also were experiencing sadness; seeing her mother lose her daughter. It was heart-wrenching to experience, even though it was something so wonderful for us. So we decided to keep our daughter's birth mother in her life and ours as well. We feel it is important for everyone to be involved. If, years from now, our daughter is still wanting to maintain contact with her birth mother, we will do whatever we can to help make that happen, because it's important to her.
JOHN: We've been in Florida for two years now. The first year we all flew back to see Neisha's siblings and mom. This year, we actually helped her mom come down to visit us. As we get older we come to realize time is ticking. We have to enjoy family and we have to create those bonds for our children.
JACK: We actually moved back to Florida from D.C. so we could be closer to our families. My parents live in Miami, and my brother lives in central Florida. It was intentional to move back to where we were closer to all of our family. I thought that someday it would make sense, but I didn't have a master plan. John definitely had a master plan. White picket fence, two or three kids and all that.
RICH: Last question for you: how has having a daughter changed you as a person?
JACK: It immediately turned my entire world upside down. After you have a child, you really learn to become completely selfless. When it was just John and I, he would get his way sometimes and I would get my way sometimes. Now, it's not about us. We certainly have a wonderful relationship, and it evolved too, because now there's somebody else. Quite honestly, that somebody else is the center of our world. It's almost like we've become more of a team with our child. It's changed our entire love life from start to finish. Every decision that I've made now has been made not just thinking for perhaps myself or the two of us, but thinking how it's going to impact her. People will learn how our daughter came to us and they tell us how wonderful it is that we've done that and how lucky Neisha is. She's not the lucky one. Certainly she's having a better life, and we're so happy we can give that to her. But, we are the lucky ones because we have our daughter. I can't even put it into words how grateful I am that this is working out the way it is. 
Have you considered building a family? RaiseAChild is the nationwide leader in the recruitment and support of LGBT and all prospective parents interested in building families through fostering and adoption to meet the needs of the 415,000 children in the foster care system of the United States. RaiseAChild recruits, educates and nurtures supportive relationships equally with all prospective foster and adoptive parents while partnering with agencies to improve the process of advancing foster children to safe, loving and permanent homes. Take the Next Step to Parenthood at www.RaiseAChild.org or call us at (323) 417-1440.  
Calling all HuffPost superfans!
Sign up for membership to become a founding member and help shape HuffPost's next chapter