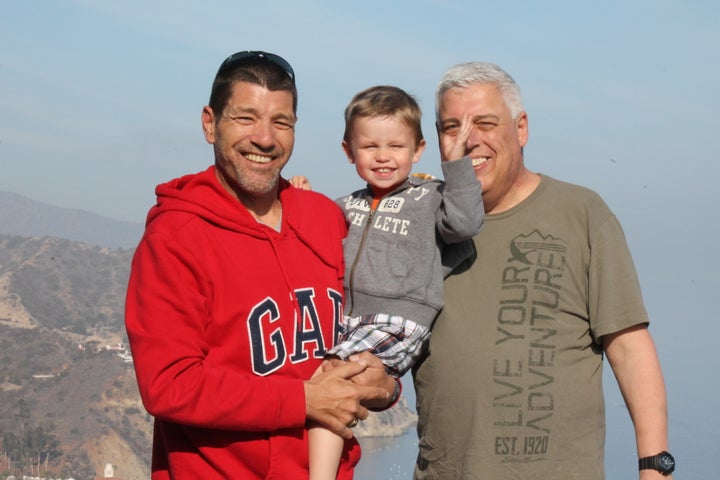 "There are so many kids in the foster care system and, at the same time, so many gay people who are hoping to build a family. It just seems to me the issues can take care of each other easily with a lot more education on both sides," Doug McVey told Beth Hallstrom, contributing writer to the RaiseAChild "Let Love Define Family® series for Huffington Post Queer Voices.
The rollercoaster ride Doug McVey and Allen Yelton took to fatherhood wound through the public and private adoption systems, evoked a gamut of emotions from heartbreak to hope and concluded with an unshakable belief that there is a foster child out there somewhere for every LGBTQ person who wants to be a parent.
Doug and Allen, both 53-years-old, have been together since 1989 and married since 2008. Their romance began with a twist of fate in Chico, California, where Doug graduated from the California State University branch.
"I was working as a cost controller for a big construction company in Canada. We worked long hours and worked hard. Of course, being on projects in remote areas of the country, there was often nothing to do but work," Doug recalled. 
During a much-appreciated break from the frozen North, Doug said he returned to the warmth of Chico and old friends, and just happened to meet Allen, a Sacramento resident who was in town for a visit.
"It was love at first sight. They say that's a myth, but for us, it was an instant connection. Well, the time came for Allen to return to Sacramento. I was still on vacation so I told him I would go with him, that I could do my laundry, see the city, anything to keep it going. And we did. We haven't been apart since," Doug said, laughing.
Doug said he and Allen almost had the family they longed for immediately, only to see it dismantled by the strike of a judge's gavel.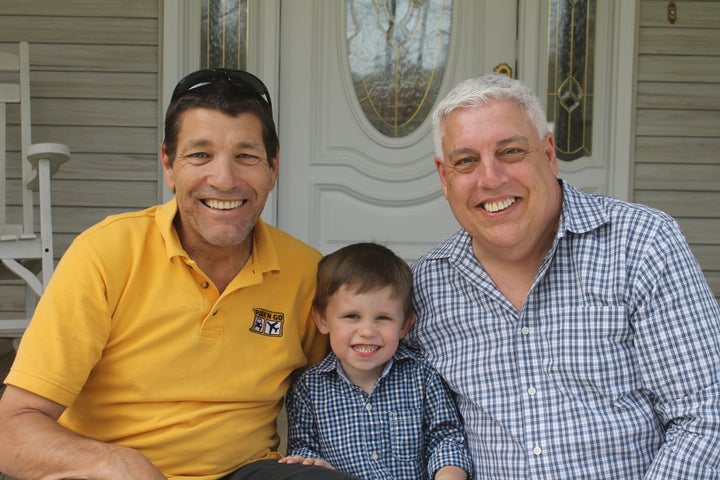 A distant relative of Allen's had two children, a three-month old infant and a two-year old, and child protective services was following procedure by trying to find a family member to care for the children.
"They couldn't find anyone to take care of the kids and must have worked their way right down to the bottom of the list because he got a call at work asking if we could temporarily care for these children. Well, we ended up caring for them for two years. Potty training, learning to walk, the whole parenthood thing. We loved them and we considered ourselves a family," Doug explained.
Child protective services caseworkers told Doug and Allen the adoption of the children was practically a done deal. However, in another twist of fate, the biological parents decided they wanted to reunite with their children. 
"In one day, one court hearing, we lost them. We were devastated, just devastated." he said.
Time passed and with a strong resolve to create the family they wanted, Doug and Allen next turned to Sierra Forever Families, a Sacramento-based non-profit that facilitates adoptions and, according to Doug, is very welcoming to the LGBTQ community. They started the foster-to-adoption process, immersed themselves in training and classes and then fate twisted yet again. 
"My niece called one day," Doug explained, "and said she had a pregnant friend who could not take care of her baby. She wasn't a kid, she was in her 30s, but still we were leery because we had heard so many stories of the birth mother backing out once the baby was born.
"We decided to meet her and she said she was interested and wanted to talk to us. We met at a restaurant and talked. And talked and talked and talked. We kept asking her, 'Are you sure? You're not going to back out, are you?'" he added.
Certain that the woman would change her mind, Doug and Allen remained on pins and needles until they were invited into the delivery room to witness their son's birth and they were officially considered the baby's parents.
Because Cooper had some respiratory issues, he remained in the hospital two nights instead of the typical one. Doug never left his side and, one night, as he cradled Cooper in his arms, he said the baby's mother walked past their room.
Remembering that night, Doug said, "When I saw her walk past the doorway, I thought, here it comes, she wants him back. We were filled with fear. Then, I thought, we should invite her in to see her baby. I mean, she just gave us the best thing ever. I asked her if she wanted to hold him, and I placed him in her arms, she burst into tears and I thought she's definitely changing her mind. It's over.
"Instead, through her tears, she thanked us for doing this for her and her baby. I was filled with relief. We were going home with our son," Doug said.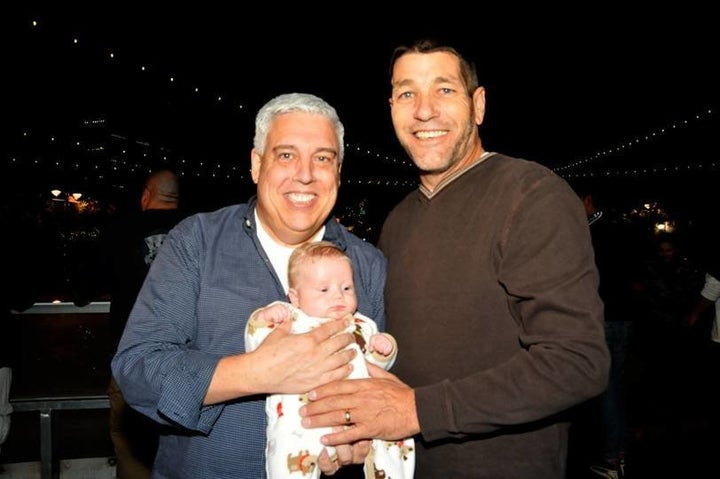 Today, Doug is a stay-at-home dad to Cooper, a healthy, rambunctious five-year old who loves sports and is looking forward to Kindergarten in a matter of days. He's also having a wonderful time with his sole surviving grandparent, Allen's mother, since the family relocated from California to Shelby, North Carolina almost two years ago to care for the 85-year old woman. 
"For a couple of liberal atheists from California, it's been quite a culture shock. The first thing you're asked here is where do you go to church? Friends told us to expect some problems because we're gay, but they also told us we'd be better off telling people we're gay before we tell them we're atheist," Doug said with a hearty laugh.
Doug said he and Allen are happy raising Cooper as an only child and now want to turn their attention to helping other LGBTQ people learn about building families through foster care and adoption. 
"I think it's about destroying myths. They don't know how inexpensive it is or how easy the process can be. Many figure they're too old by the time they're ready to be parents - we were almost 50! And, if you're willing to be patient, you really can be specific about the type of children you want: older kids, babies, toddlers, siblings, teens, children with special needs. They're all waiting for families," Doug said.
"We look at our son and know he is the most important thing in our life and it brings us such joy. And the best part? Anyone can feel that joy, that feeling of family. Those kids are waiting for them."
Have you considered building a family? RaiseAChild is the nationwide leader in the recruitment and support of LGBT and all prospective parents interested in building families through fostering and adoption to meet the needs of the 415,000 children in the foster care system of the United States. RaiseAChild recruits, educates and nurtures supportive relationships equally with all prospective foster and adoptive parents while partnering with agencies to improve the process of advancing foster children to safe, loving and permanent homes. Take the Next Step to Parenthood at www.RaiseAChild.US or call us at (323) 417-1440.
Calling all HuffPost superfans!
Sign up for membership to become a founding member and help shape HuffPost's next chapter