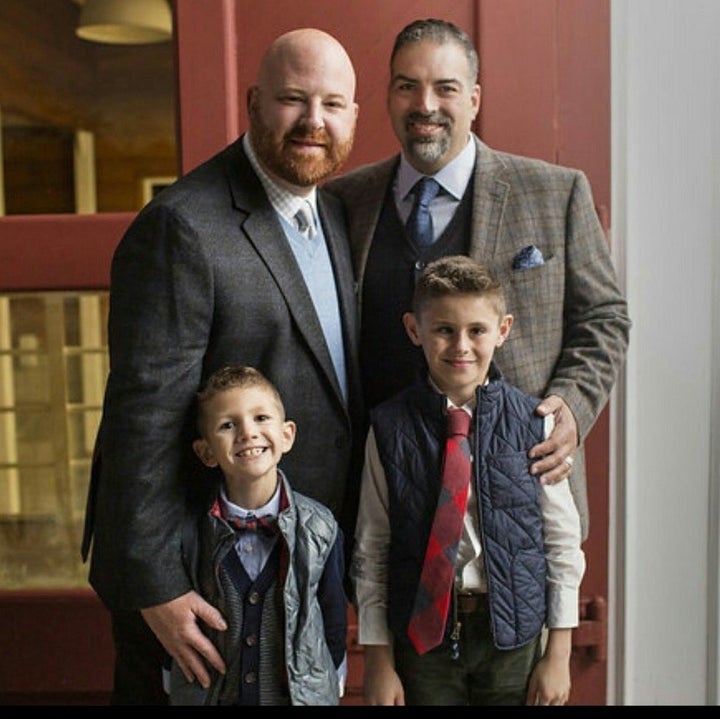 We've found a couple in Boston who are sharing their story to help change the way people perceive families with two mommies or two daddies. In this week's RaiseAChild "Let Love Define Family®" series installment for Huffington Post Queer Voices, Eric Criswell shares the story of Michael and John Phaneuf and their sons.
Soon after Michael and John got married, they began their journey of starting a family. Both were building their careers and shared their desire to have children and raise them among the love and support of their families in Boston.
"For a while we felt like the resident experts on how to get a kid in Massachusetts," Michael said. "We looked into everything from surrogacy, international and domestic adoption and fostering. The only thing we knew for sure is that we wanted to find the route that was best for us, and for our children."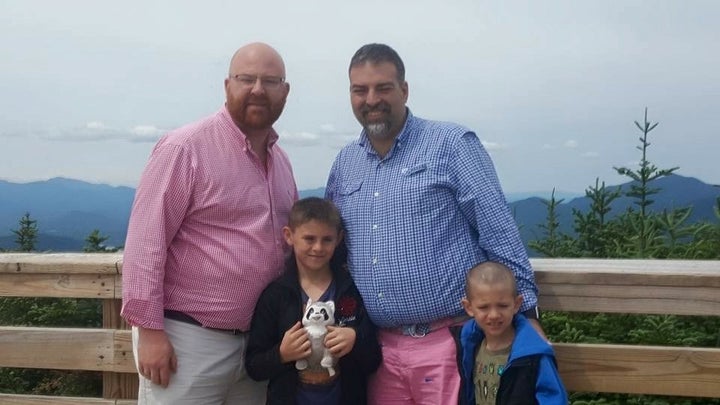 That search led them to do a private home study for an adoption of an infant. "Initially, we both thought we wanted a baby, or at least a child that was one or two years old," John explained, "but then fate had other plans for us."
The home study was sent to a social worker in Iowa, and they were contacted by the Department of Children and Families (DCF) about a boy they should meet. Hesitant at first, they boarded a plane and flew to the Hawkeye state to meet and spend time with Jessie. John recalled, "We knew upon meeting him that we wanted to adopt him. It's hard to explain, but you just know that it's right."
Unfortunately, they had to leave without Jessie as they began the work of getting both Iowa and Massachusetts to coordinate paperwork and green light the move. This took about four weeks, and during this time they talked on the phone every evening, with most calls ending with Jessie asking, "Daddies, when am I coming home?" Michael, who is a teacher in the Boston public school system, spent his spring break in Iowa with Jessie.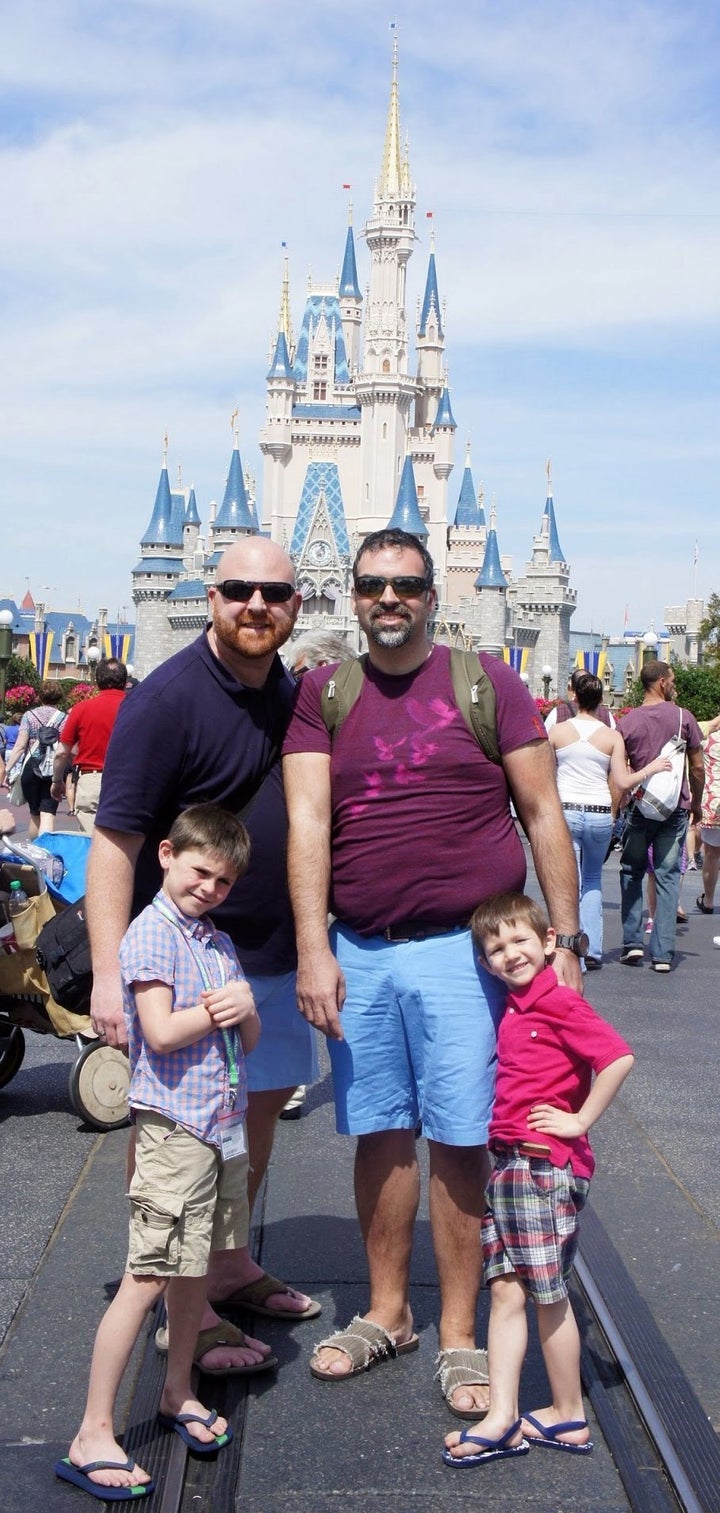 When Jessie did arrive in Boston, he adjusted well to his new home and family. Knowing that they wanted two kids, it wasn't long until they met Anthony at a Massachusetts DCF event. There was something about Anthony that gripped the hearts of Michael and John, and immediately they began the process to foster/adopt and complete their family.
The brothers enjoy their new family, spending time with both sets of grandparents, aunts, uncles, and numerous cousins. There are sleepovers and big family events, and it has become the family that Michael and John had hoped for.
"It has really brought our families closer together," said Michael. "Both my parents and John's parents have been so loving and are proud grandparents. It has also changed the way our parents view us. Now, I think they see us as true adults with children and are so supportive. It hasn't always been easy, and it has taken the family some time to get there, but we have reached that point. It is a wonderful experience."
Michael added, "The most important thing to remember is that no matter how you envision things unfolding, fate is going to throw you some curve balls. You can become bitter, or you can make the best of what you have been handed. We knew that that our sons were worth whatever we had to go through and are determined to give them all the love, support and opportunities that we can."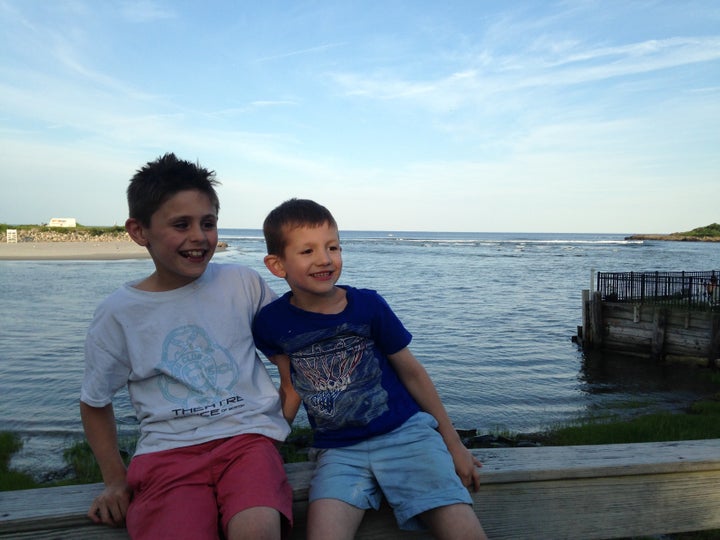 Jessie and Anthony fight over toys and share their sandwiches. They argue over "who did what" and play together on the shore.
Michael explained his changed outlook after talking with his sister. "Being an adoptive parent, you ask yourself if all the fighting is because they're adopted, because I'm a terrible parent, or maybe because they are just typical kids. My sister raised three boys and was amused by my concerns. She told me how her boys would fight and put each other in head locks and terrorize each other for hours. Her observation was that we had two normal boys who were just acting like brothers."
Oddly, they were not prepared for how some people perceive their family. Both Michael and John have been at a loss of words when strangers approach them amazed at how cute and nice their family is, but comment that they are doing such good things for these two children and thank them for our charity work. "We're not a non-profit!" Michael quickly responds, "We're parents! We wanted a family, not a charity." John adds, "We know there is no malice in what they are saying, and after talking to them, many walk away with tears in their eyes admitting that we have changed their perspective on what a family really means."
Michael concludes, "The most unexpected thing for us was that we found that we didn't need to search out other gay couples with kids to feel connected to our community. We live in an area that is filled with a variety of families; single mothers or single fathers with kids, couples with kids, grandparents that are raising kids…. we are all in the same situation, making the best of the families we have. Our hope is that by sharing our experience and our lives with the people around us, especially those that aren't part of the LGBT community, we can change the way they perceive families with two daddies or mommies. After all, we all share the desire to create a safe and better world for our children."
Have you thought about building your family by fostering or adopting? RaiseAChild is the nationwide leader in the recruitment and support of LGBT and all prospective parents interested in building families through fostering and adoption to meet the needs of the 415,000 children in the foster care system of the United States. RaiseAChild recruits, educates and nurtures supportive relationships equally with all prospective foster and adoptive parents while partnering with agencies to improve the process of advancing foster children to safe, loving and permanent homes. Take the Next Step to Parenthood at www.RaiseAChild.US or call us at (323) 417-1440.
If you live in the Las Vegas area or plan to be there on the evening of July 16th, please consider attending a very special RaiseAChild benefit event at the Martin Lawrence Galleries at The Forum Shops. Tickets and event details at www.RaiseAChild.US
Popular in the Community