Jordan found himself spending sleepless nights in cars worried whether or not he would survive the night. Javier escaped the assaults of his family only to endure the reality of the streets. In this week's Huffington Post Queer Voices RaiseAChild "Let Love Define Family®" series installment, RaiseAChild contributing writer Eric Criswell reports how these teens were robbed of the chance for a stable home life, until they found their way to the Los Angeles Youth Network (LAYN).
For many of us, home is a safe place, a refuge from the trials of life. But for many youth, home can be a place of emotional torment, physical pain or outright neglect. Many kids are kicked out of their homes or leave to avoid the continued abuse, only to find they must figure out a way to survive the heartless world of being homeless.
"In Los Angeles County there are an estimated 10,000 homeless youth under the age of 18. A third of those will attempt suicide, and over 4,000 identify as gay, lesbian, or transgendered," stated Raynetta Smith, Development and Communications Manager at Los Angeles Youth Network. "There is an inherent need for organizations like LAYN."
Making a turn off of Hollywood Boulevard onto a residential street immediately took me back to the place where I grew up. Trees line the sidewalk. Houses from the 1920s sit on wide lots of green grass. The sound of lawn mowers hum in the background. It could be almost any street in any town in America, but it is in the heart of Hollywood surrounded by an iconic sign and tourists from every imaginable place. Three of these houses are run by LAYN, an organization that provides extensive programs and services for homeless youth.
Having spent my past 15 years working with various organizations in multiple cities assisting youth living on the streets, I found LAYN to be one of the most impressive due to their wide range of support. LAYN does whatever it takes for the benefit of the kids they are helping, even risking the loss of large government grants in order to extend support to individuals that still need it.
"These kids are in the system for a reason," Mark Supper, who is LAYN's president and CEO, explained. "Most of them come to us having some sort of abuse, whether physical, mental, sexual or neglect and abandonment. It's our job to get them to trust again and find hope."
If there is one common thread through the staff, counselors, social workers and the kids at LAYN, it is hope. It is spoken as if it is the ultimate outcome, not shelter, not food, but hope as the power to save the world.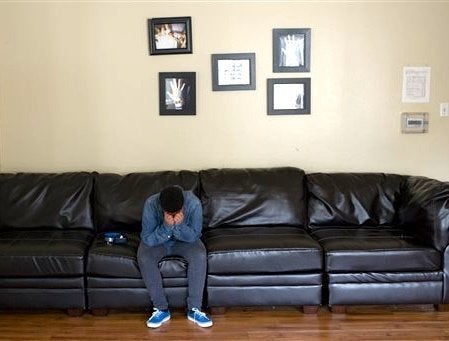 "I struggle with what is happening out there," Neena Owusu-Ansah, MSW Case Manager said. "There are so many families that are broken. I think the most difficult thing is to see a young person without their basic needs… it's just unacceptable. We believe in showing them that they have everything that they need here, and that it can get better."
According to Neena, who has been with the organization for four years, "The numbers keep going up. Last year was the most youth we have had and more of them are trans youth. The education and awareness about being transgender has gone up, but acceptance hasn't."
There are two particular youth that have had an impact on Neena. She conveys the story of a child in a rural town in New Hampshire who tried to be a cheerleader, but just couldn't fit in. He was struggling with the knowledge deep inside that he was really a boy. The rejection started in the home with the immediate family and spread into the community with neighbors in the small town voicing their disapproval. Soon the ridicule followed him to school where the other kids were relentless in their teasing and shaming, with no help to be found by teachers or any adults who were busy making up their own lies and stories to spread around town. The only person that defended this boy was his father, who saw the pain in his child's eyes. These two were no match for the hatred that welled up within this community, so father and son headed off on their own and landed in southern California.
With no job and no money, the son and his father became homeless on the streets of Los Angeles. Scared for his life and knowing that survival on the streets was only going to get worse, the youth reached out to LAYN for help. After counseling, permanency planning and support from doctors, the boy asked to change his name. He would now be known as Jordan.
When I met Jordan, he was polite and had the personality and temperament of a young man in his mid-twenties, which made it a little shocking when I found out he was only seventeen. In jeans and a red polo, he was a typical teen trying to figure it all out. Having recently received his high school diploma, he was planning for his future to become an airline pilot.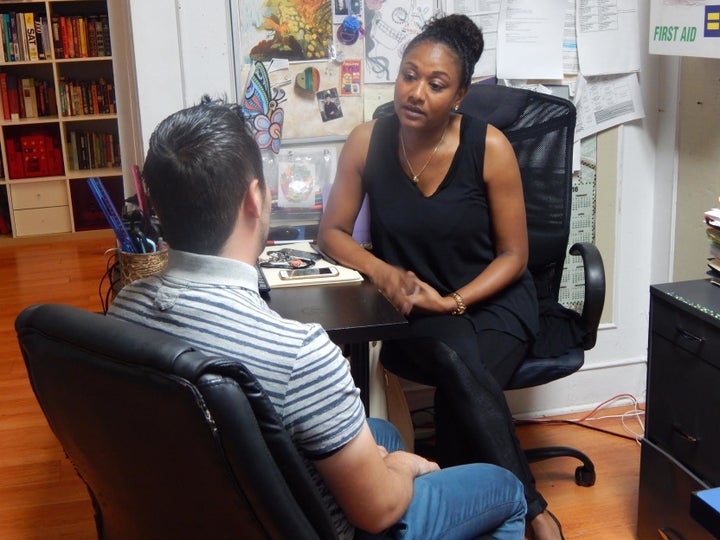 Jordan talked about all the things he had learned at LAYN, from doing laundry to learning how to cook. Baking desserts for the whole house became one of his favorite things to do. Beyond basic life skills, he left here much more self-confident than when he arrived and credits finding LAYN with literally saving his life. "The stress of living on the streets was too much, and if I hadn't found my way here, I know I would've turned to drugs, or any way to survive, or even suicide."
Javier is tall and slender, with the hair of a skater that he keeps under his knit cap. He told me the story of when he was young without anyone to take care of him. His parents were often absent, and when they were around, they would spend their time running him down with negative comments.
The older he got, the more he began to realize that he was gay.
"At first it wasn't a problem," Javier explained. "My family said they accepted me and my dad even told me that I had a gay uncle, although I never met him. But the acceptance didn't last long, and there was a lot of verbal and physical abuse because of who I am. I really didn't know how to deal with it."
At the age of sixteen, Javier dealt with it by running away. He lived with friends on their couch for a month, until the landlord found out and he was forced to leave. From there he went to another friend's place for a few weeks, then he ran out of places to go. Isolated from his family, homeless and with no resources, this quiet and sensitive kid began to feel as though he was slipping into a really dark place. With no hope, he attempted to end his life.
When he confided in someone about his failed attempt, they gave him the phone number to LAYN. Javier made the call, got the address and walked up to the front door admitting he needed help.
"From the moment I walked in," said Javier, "it felt very positive. It felt like a home. They talked to me with respect and treated me with dignity. I was so scared at first, and was dealing with anger issues. I kept to myself as much as I could. It took a while to realize that they were talking to me because they wanted to, not because they had to. I had become so accustomed to the negative atmosphere of my family, that it was an adjustment being treated like a real person. But, even in the very beginning, I knew it was helping."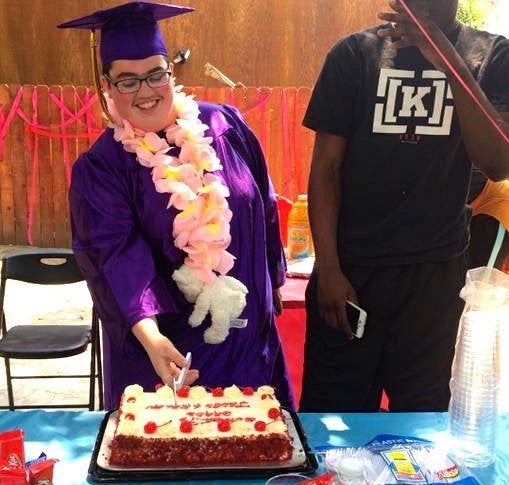 At the time of Javier's arrival, LAYN was limited to 21 days per child due to governmental regulations tied to funding. When those days were up, it was still clear that Javier needed more assistance and resources. So the administration made the bold decision to sever their funding source in order to provide 90 days of care for Javier, and others like him, who needed it.
"We made the critical decision to let go of government funding to continue helping Javier and the many youth who have come in after him," said Supper. "The youth come to us in need of housing and food, but beyond that they need support. They need to find the hope to continue. Like others, Javier was a unique case that needed help beyond the twenty-one days, and we assured him that through the help of our supporters, LAYN would be there for him beyond the governments allotted time."
According to Alicia Riasati, MSW Case Worker at LAYN, although they are not specifically a LGBT organization, they do pride themselves of being an accepting and safe space.
"Part of our intake process is that we respect everyone no matter their race, [sexual] orientation, or gender identity," states Riasati. "For transgender clients, we will place them [where] they feel most comfortable and we are very sensitive to pronouns. We ask each child what they want and everyone will refer to them that way."
It is about the individual person and what they need most. LAYN has a wide array of programs and services to facilitate the ultimate goal of independent successful living for their clients. These programs range from shelter, individual/family counseling, art therapy, drug/alcohol abuse education, life skills tutoring, job development assistance, internships, community outreach, to working with the Los Angeles Unified School District in forming the first high school serving youth experiencing homelessness.
As I walked through the houses of LAYN, it easily felt more like a home than a shelter. The feeling that they cultivated at the organization was one of the biggest benefits for Javier. He acknowledges that even with all the support at LAYN there was still a feeling of isolation.
"Even though my family was pretty horrible, and they still are, it still hurts," Javier admits. "They are your family, the ones you grow up with and are supposed to love and protect you. Birthdays and Christmas were painful, and there would be times when I was on the train coming to Hollywood from South Central and it was hard because it was so far away from everyone I knew."
Jordan pointed out, "When I got here, I wasn't comfortable talking to people at all. But here, they respected me and my gender right away and put me with a male roommate. I began to feel like a regular person for the first time."
The primary order of business was to get Jordan enrolled in classes to continue his education. Neena intervened personally with the teachers to let them know Jordan's situation and progress and help regulate expectations for everyone. There was therapy work on his gender identity and how he viewed the world, then spent time learning basic life skills. Through determination and hard work, Jordan graduated and was ready to tackle his future.
It was decided that Job Corps was the best path forward, however, they had never addressed the issue of trans youth in their program. Jordan was determined to never feel "less than" again and petitioned to be housed in the male dorm and became the first trans youth locally in Job Corps to be placed in the dorm of his choosing and later became president of his floor.
"I didn't feel like it was just a victory for me," Jordan adds. "There has already been another trans youth arrive at Job Corps. They gave him an option on which dorm to live in, so I know it is already getting better for people who come after me."
"Every child is not looking for the same thing," Riasati admits. "They have been in situations where people don't believe in them or have been told repeatedly that they are worthless and never going to make it. What we do is listen to them, give positive reinforcement, and build their self esteem. That is the most important thing they need to make it through the system and continue on with their lives."
"We have the greatest respect for Los Angeles Youth Network," said Rich Valenza, Founder and CEO of RaiseAChild. "While our work is different, our organizations share a very common goal of doing our best to improve the lives of children and youth."
You can help prevent homelessness for LGBTQ youth by supporting the work of LAYN and RaiseAChild. Consider the good you can do for a youth by becoming a foster, adoptive, or weekend host parent. RaiseAChild is ready and able to help you!
RaiseAChild is the nationwide leader in the recruitment and support of LGBT and all prospective parents interested in building families through fostering and adoption to meet the needs of the 415,000 children in the foster care system of the United States. RaiseAChild recruits, educates, and nurtures supportive relationships equally with all prospective foster and adoptive parents while partnering with agencies to improve the process of advancing foster children to safe, loving and permanent homes. Take the Next Step to Parenthood at www.RaiseAChild.org or call us at (323) 417-1440.
Popular in the Community