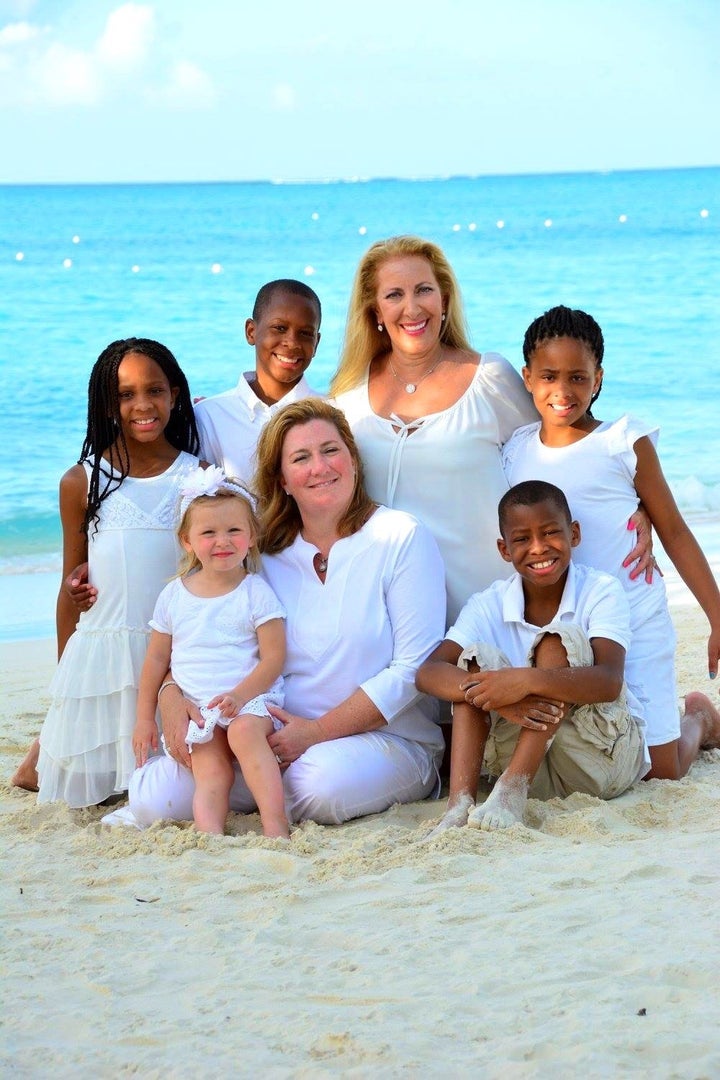 Each Friday in September, RaiseAChild celebrates foster and adoptive parents who have chosen to place the needs of children ahead of their own in a special "Let Love Define Family®" series for Huffington Post Queer Voices. This is the fourth of five special series installments.
Wives, Monica & Amy Smith of Chester, New Jersey, are so in sync with one another that they frequently finish each other's sentences. In this "Let Love Define Family®" interview, the couple shares their remarkable journey to parenthood with RaiseAChild Founder and CEO, Rich Valenza.
AMY SMITH: Monica and I had been back and forth for many years about children. There's an age difference between us. When I was feeling that I wanted to build a family, Monica was not ready. So when she was ready, I felt I was kind of too old.
MONICA SMITH: When I thought it was the right thing, we were on an Olivia Travels vacation.
AMY: We were at a resort in Punta Cana. I'll never forget. We were sitting on the beach, it was 11 in the morning, right? And, what did you say to me?
MONICA: I said, "I think I'm ready."
AMY: And I said, "For what? Another drink?" She said, "No. For kids." I was like, "What?!?!"
RICH VALENZA: Ha! Wait now. Allow me to ask, did you two come from big families?
AMY: No, it's just my brother and myself. Monica is one of seven children. She is the only girl. She's number six out of seven and she rules the roost.
RICH: Usually the person from the larger family is first to want to have kids. Things were the opposite with you two.
AMY: It was. We tried three months of insemination. Nothing happened. Monica didn't really have the stomach for it. So that was off the table for years. Then Monica saw an ad on a bus that said "foster and adopt."
MONICA: It said "We need you."
AMY: So that was kind of like her sign from God that we should do this. Long story short, we were in Punta Cana and she said, "We can foster, and if we don't like it…
MONICA: …we could give them back." That's what you do, right?
Monica and Amy look at one another and smile.
AMY: Not even thinking about it, I said, "Yeah, that makes total sense." So we came back from the trip and got in touch with friends of ours who had fostered and subsequently adopted through the New Jersey state system. At first Monica thought that I would take the classes and she would get caught up. They told her she did need to show up, she was kind of re-thinking her priorities, but she did attend every class. She even came in on a red-eye flight directly to class one Saturday morning.
So we got licensed. We were asked a number of times to take in sibling groups because we did indicate on our paper work that we were open to sibling groups.
RICH: What age range were you thinking?
AMY: Young. Under three or five. Monica was open. I said, "Let me just start with one child, with no special needs and let's see how it goes."
MONICA: I was open to any kind of child. Disabled. Special needs. Didn't matter. I was open to anything. But, I go to work every day so…
Amy is quick to finish Monica's sentence.
AMY: So, it is easier. When we got the call about our children, we were told that there were four siblings. It was an emergency removal and the Department of Children and Families needed a place for all four of them. They didn't think it was going to be longer than a couple of weeks. So we agreed to take them. On February 7th 2008, they came to our house. So we were given a not quite 6 months old, a 20 month old, a 30 month old and a six year old.
MONICA: The caseworkers just dropped them off and walked out. We didn't even know their names.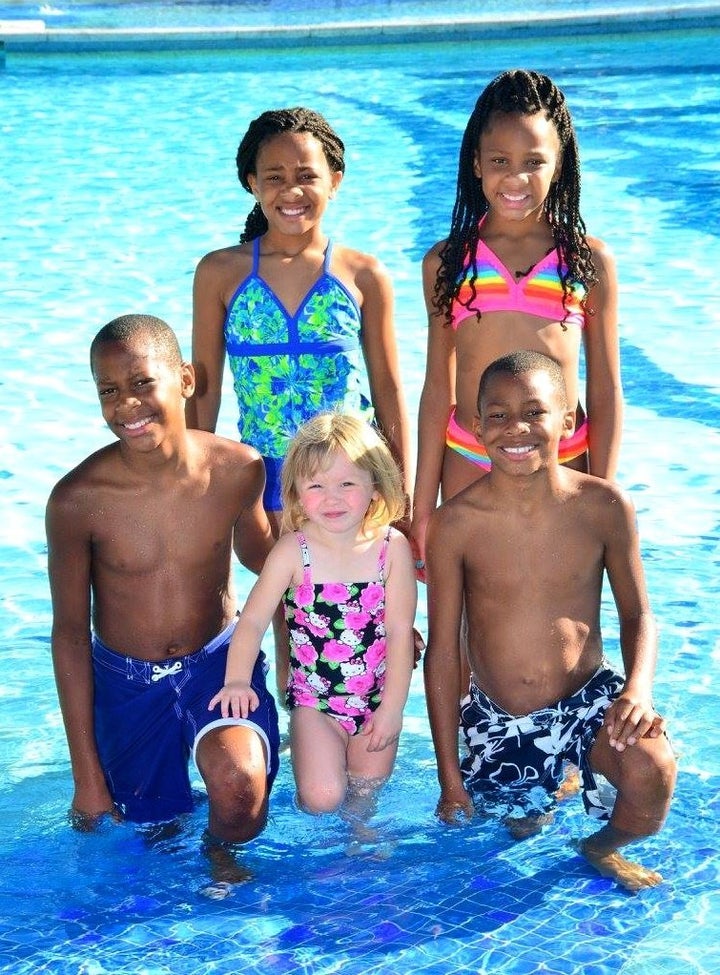 AMY: When we found out the kids were coming, we went on Facebook asking everybody we know for cribs. People rallied around us, which was cool. We went to Toys R' Us and we didn't know what we needed, what we didn't need. Our entire truck was filled with bags, it was crazy. Of course, day one, you are in love with these little beings. A few weeks later, the division called to tell us another sibling had returned from out of state. We didn't even know there was another sibling. It was a five-year-old boy and he was a "handful." Monica and I talked about it, and she felt we had our hands full, right?
AMY: But how could we say no? How do you do that? So we agreed to go meet the child, and he was just off the walls.
MONICA: He was dirty. He was hungry. He was off the wall and he was wild.
AMY: Of course we said, "We'll take him."
MONICA: To this point, the children had been born in to a very unstable environment. Constantly in danger and hungry. So as their foster mothers, we started going through the process of advocating for the five children.
AMY: First, the baby was very ill.
MONICA: He was just six months old at the time, and he would just sit in his little car seat. He wouldn't move. He just sat still. I didn't think that was normal. He didn't look right to me.
AMY: We went to get his shots one day and the doctors let us know he might run a fever, and he did. Before bed I gave him Tylenol as prescribed. He woke up in the middle of the night, which he never did. He was running a fever and I couldn't find a diaper, so I turned the light on. I opened his diaper and it was full of blood.
MONICA: We almost lost him. He was in the hospital for five days and we never left his side. So we'd have to go between all these kids at the house and the hospital. He was very sick.
AMY: So they found he had a grade 5, which is the worst kidney bladder reflux. In other words, his urine wasn't draining, it was causing infection in the kidney. This probably had been going on since his birth, it could've been found in utero, had his mom had prenatal care. They told us had the infection gone any further, he could've died. It was that bad. He had to be catheterized three to five times a day until he went to kindergarten.
MONICA: We did it. But just to get anybody to watch them or get any break, forget it, because everything had to be so sterile.
AMY: Of course as you go on. We got early intervention because could see that the little ones don't seem like they're progressing. Like layers of an onion, you peel back and you see that there are delays and there are emotional issues and what not. Fifteen months into it, the court notified us that the state was going to return the children to their birth mother. Fast forward to May, they get taken from us and given back to their mother. Of course, the kids are screaming, the baby is only 21 months old, he doesn't know anybody but us.
MONICA: The day they were taken was horrible.
AMY: It was like we're in a car crash and we were the only ones that lived. It felt like that. We literally cleared everything out of the house.
MONICA: Yeah, because we wanted them to have all of their stuff.
AMY: The caseworkers had two vans full. They couldn't even take all the stuff the kids had. Their play things and their clothing. We wanted to help the mom as much as possible with those things. We cleared everything out, they left. I'll never forget, Ryan was clawing at the back window of the van crying, "Don't let them take us. Don't let them take us." I remember his face as the van drove away.
MONICA: You need to understand; Amy was with the kids constantly. Getting them to where they needed to go. Dealing with all the caseworkers, nurses, and therapists coming to our house. I was busy writing letters and calling to advocate for the five kids.
AMY: I went to every court appearance. I went to everything. Then suddenly, they were gone. It was the most heart wrenching thing ever. We didn't say anything to each other. Suddenly, the silence in our home was too much to take. We packed our bags. We had made reservations to go to a hotel.
MONICA: But I couldn't stop. I needed to make sure that the youngest was being catheterized and the kids were fed. I just kept petitioning the court every single week. I sent a letter to the governor. I wanted a guarantee that the kids would not be harmed. I sent letter FedEx and collected email addresses of everyone involved. Everything I did was over the top, but how else could we insure these children would be cared for? The only thing they guaranteed was that the visiting nurse association would be involved. I knew that if we had the VNA that was our only lifeline. A month passed and every weekend felt like an eternity.
AMY: Our very dear friend had a house in Florida. He called and told us to get away to his home and have some time away together. So we did. We flew out on a Thursday. The very next night, Friday night, we were getting ready to go out for dinner with a friend. My phone rang. It was the division calling to ask if we were home.
MONICA: First we got a call from the division saying they had a new family of five children. They said our children weren't coming back and this family could use you. They told me that we had to also take the mother and the five kids as well.
AMY: Because she was very young.
MONICA: "They don't really speak English," said the caller. "But everyone in the division knows that you're the right family for them." I said, "I thought we should keep our house open in case it didn't work for the other children." But, we were told the first children were never coming back. Amy and I talked about it. Just then, the phone rang again. It was our neighbor saying, "The division is trying to get a hold of you. The kids have been taken back!" Now, we were completely confused.
AMY: You see, we were hearing from two different counties.
MONICA: It was almost 5:00 on a Friday afternoon and we were completely crazed. We were stuck in Florida with two sets of kids needing us back home in New Jersey.
AMY: And they were saying they wanted to bring the kids over at that moment.
MONICA: You know that the kids were about to go through some sort of…
AMY: Because the county workers don't work on the weekend. We were afraid that our kids would get split up over the weekend in some sort of temporary foster home.
MONICA: We couldn't fly out of Fort Lauderdale so we went to Palm Beach to get out sooner. We flew home. We were so out of it. We left our luggage in the rental van because we were just so anxious to get back home.
AMY: While we were flying they found another home for the second family. When we got home, they brought our kids back and it was, of course, an amazing reunion.
Amy takes a breath. She looks at Monica and her eyes fill as she continues.
Monica opened the state van's door. The baby reached out and slapped Monica right across the face. It was the only way he could communicate, "What did you do to me?"
The three of us are overcome with emotion and empathy. We pause and I notice the little guy sitting behind them for the first time.
I will tell you that he has never been the same. The others were old enough to understand because they know who their bio mom is. They were able to adapt. This one did not. He is still a sweet little boy, but he suffers from a great deal of separation anxiety. He never leaves our side. He's got to be always holding hands.
MONICA: Super bright. Does great in school. Extraordinarily athletic. Everybody loves him.
RICH: The two of you have gone from being on the fence about building a family, to jumping in to some very deep waters. You have been looking out for the well-being of all of these kids with an amazing amount of commitment and responsibility. What have you realized about yourselves in this whole process that you might not have known before?
AMY: It has made us stronger. It's given us an incredible family.
MONICA: I think for us, the reality is that we knew there was a commonality between the two of us when we were first getting to know each other and dating. There was a common recognition that we're not against helping those in need. When you have two people that are like minded and not antagonistic to the dreams, desires or belief system, you could pretty much scale to anything you want. The building blocks existed. We have been together two decades now; whether it was helping a neighbor, a wounded animal on the street, it became something that we felt was our calling. So today, when you set forth and open your eyes beyond your own home and ask ourselves, "is there somebody out there that we could help or should help?" I don't know what's wrong with us, but we just keep on helping those that call. We're strong believers in "no stranger we pass by." We take that as much as we can to heart.
Amy and I grew up in two different decades with two different religions. We are from the same hometown and we're both Libras.
AMY: What we were looking for in a family was initially very different. I really wanted to start with one child. I was really reluctant to take on a lot of kids. Monica really felt that, because there was such a need to take sibling groups, that we should put that down on our adoption paper work. I had reservations about it, but didn't voice them to her. I just didn't know if I'd be able to do it, to be capable really. I'm a little bit older, my patience is not really what it used to be. But when our kids came, we were in love with them day one. Immediately, they were ours in our heart. It was not easy by any means, you're peeling back the layers and covering needs and things that need to be addressed. Consequently, we said we were good with four kids, and we got a call from the state about an infant that was in the police station in our town, she needed a place for a night or two, would we be open to an infant? Three years later, she is here. Adopted in October 2015.
MONICA: And, there is one more.
RICH: Wait. I'm losing count. You have how many children now?
AMY: Six. We have four full siblings, the little one and one more. So, 3, 9, 10, 11, 13 and 16.
MONICA: We own an integrated marketing agency called MarketSmith, and one of the charities we support company-wide is called One Simple Wish. The program grants wishes to children in foster care. We grant 25 wishes per year, through the company. One of the wishes was for a boy, five years ago, who wanted somebody to spend birthdays with and have special times with. Our company adopted him, we'd see him for all major events, he would come, or we would take him out and spoil him lavishly. A few years ago, he reunited with his older brother and we took him in to the program as well. Wherever one went the other did too. The younger boy was in a foster home who wanted to adopt him and the boys had made a pact that unless they got adopted together, neither one would get adopted and they would age out of the system in two different locations. I had heard that the family did not want to adopt the older brother, and was putting everything for the younger one in jeopardy. So I went to Amy and asked her if she would be willing to bring the older brother into our home so that his brother's adoption could go through? She said, "No, I can't do it." I said, "OK, I totally understand." A week later, we did have an event and Amy had the chance to meet the older brother. One week later, she turned to me and said, "OK, let's do this."
AMY: I looked up at him. He gave me this huge smile, and I just said, "OK!"
Have you thought about building a family through fostering or adoption? RaiseAChild is the nationwide leader in the recruitment and support of LGBT and all prospective parents interested in building families through fostering and adoption to meet the needs of the 415,000 children in the foster care system of the United States. RaiseAChild recruits, educates and nurtures supportive relationships equally with all prospective foster and adoptive parents while partnering with agencies to improve the process of advancing foster children to safe, loving and permanent homes. Take the Next Step to Parenthood at www.RaiseAChild.org or call us at (323) 417-1440.
Popular in the Community