Nancy Nyman and Heather McNama agree that positive changes to foster care system are possible one person and one action at a time. In this week's installment of the Huffington Post Queer Voices RaiseAChild.US "Let Love Define Family®" series, contributing writer Beth Hallstrom talked to the insightful foster moms about building their family and using their talents to advocate for other children and families facing the foster system.
Deeply passionate about improving the lives of children in the foster care system, writers Nancy Nyman and Heather McNama are using their talents to call for change on the largest and most influential platform available today: television.
"We are dedicated to telling the foster care story and telling it accurately. As an industry, we have a long way to go in terms of portraying the realities of the foster care system and the plight of foster children, but the topic of foster care is at least being addressed and that's a start," Nancy said.
Together for 11 years, Nancy and Heather were married in October of 2014 and reside in Los Angeles.
Among their projects is a single camera half-hour comedy called "The F Word" that follows a couple trying to build their family through the Los Angeles foster care system. The pilot has served as somewhat of a calling card for the writers and even got the attention of executive producer Kari Lizer, who created "The New Adventures of Old Christine."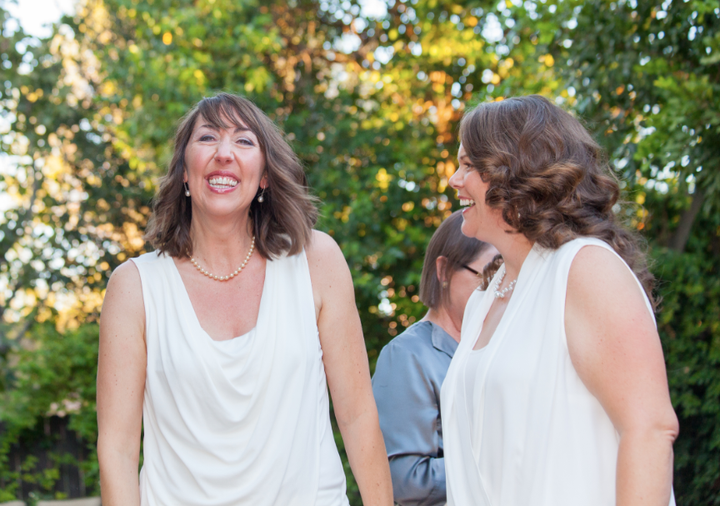 "Kari really responded to 'The F Word' and was very enthusiastic about its potential," Nancy noted. "She's been an incredible champion for the project." Now, when Nancy and Heather take meetings, they often end up spending the first half-hour fielding questions about the system and also about their own experiences. The script also led the writers to sign with literary manager Shelly Aronson of Aronson Management. Industry executives are so familiar with Nancy and Heather's work, the writing partners are often called on for advice from writers and producers to help make a scene more realistic or explain how the foster system works or what an appropriate reaction from a character might be.
"When we wrote 'The F Word' there was this immediate interest because the stories are compelling and relevant. Writers and producers want to explore this area, but the system is complicated, and often there's not enough time to research the particulars. That's where we come in," Heather explained. 
"The trend, unfortunately, is to portray the foster child as troubled, with bad behavior or mental illness. But there are so many other stories to tell," Nancy added.
The industry's calls for help prompted the writers to tackle a second foster TV pilot. The project, called "Social Work," is an hour-long procedural that follows a Los Angeles County social worker as she navigates the complicated and broken foster care system to help save kids. "Foster kids are regular targets for human trafficking, identity theft and bullying. In many cases, they're shuffled from home to home with no opportunity to establish meaningful connections," Nancy said.
"Former foster kids are quickly becoming the number one homeless population in Los Angeles," Heather added. "These social workers, they have to deal with some of the worst situations imaginable. They have enormous pressure and massive caseloads. And yet, they're often the difference between a kid who lands in permanency or successfully ages out and a kid who ends up on the streets."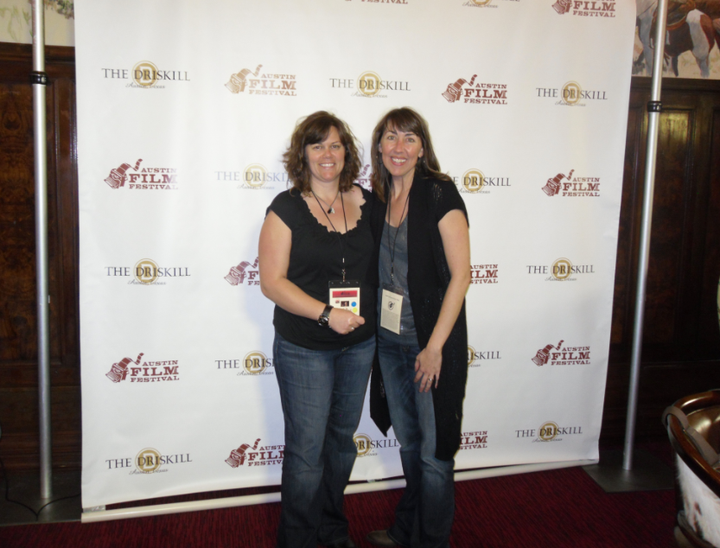 Nancy and Heather's knowledge and experience were certainly gained in realistic situations as foster Moms to three little ones, a four-year-old boy and brothers ages two and four. They also mentored an 18-year-old until he aged out at 21 and are currently fostering siblings Angela, who is 19, and 12-year-old Jason, with the goal of adopting them.
Angela and Jason chose to use pseudonyms for this story.
The four met about a year ago through Kidsave, a nonprofit organization that specializes in mentoring and outreach programs for older children in foster care.
"And, in this system, 'older' refers to kids over eight," Heather said, wryly.
Nancy and Heather became mentors to Angela and Jason and, after six months, they all decided they wanted a more permanent arrangement.
"Jason moved in July 1. We had a two bedroom two bathroom house at the time and, by law, we couldn't take them both because they have to have separate bedrooms. Angela, who had been a kind of surrogate mom for her brother as they moved from home to home, insisted Jason take the bedroom," Nancy explained. "It was heartbreaking!" Heather added. "And so brave. Angela hung out on weekends, came over to do homework and laundry. She hung around as much as possible while we went on this frantic search for a larger place. In December, we finally moved into a three bedroom house, and Angela got to move in. We were finally a family, "
Today, Angela is in college studying criminal justice with an eye toward joining the FBI. Jason, who went from straight F's to A's and B's, is playing baseball and was recently invited into the Junior Honor Society at his school.
"They're both so smart," Heather noted. "It's been fun to watch them thrive!"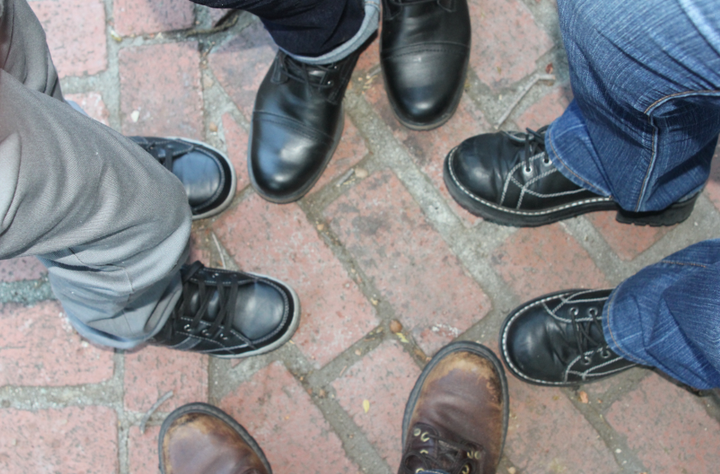 Nancy and Heather said they are directing their focus on the older children in foster care because they believe they are the most at-risk for problems once they "age out" or leave the system as adults. 
Heather explained, "The older kids can get bounced around a lot and that creates trust issues and problems in school," she said.
"The big difference between older and younger kids," Heather continued, "is the older ones can articulate their problems, the difficulties they are having and what's bothering them. Once you break through the trust issues, you can really have meaningful conversations and begin to address specific issues."
"A simple thing like tutoring, which could be the key to success in school, is like climbing a mountain. In California, a foster care liaison is mandated for every school, which is the right intention but doesn't always translate into a reliable resource. Fortunately, Jason's school is very communicative and supportive, but the more foster parents engage and participate and demand, the better the system will be," Nancy said.
"We speak a lot at events for Kidsave and RaiseAChild and we tell people there are so many ways to improve the foster care system - small, medium and large. Tutoring, volunteering, mentoring through organizations like Kidsave, helping recruit foster parents and other volunteers. There are so many ways to help that don't even involve having a foster child under your roof," Nancy said.
"When we got our first placement, the brothers that were two and four years old," Heather recalled, "we mentioned to a friend at Warner Brothers that we didn't have much in the way of supplies. The boys came to us with the clothes they were wearing, but that's it. They didn't even have shoes. Two days later, there were these enormous boxes on our doorstep. Our friend had organized a clothing and toy drive with her colleagues at the studio. It was so simple and yet so powerful. It completely rocked our world! And the boys – they couldn't believe that total strangers cared. 
Nancy added, "It's so worthwhile, so rewarding to help a child. You might think your contribution is too small, but what if what you do makes that one connection? That connection might ignite that one spark, the spark that helps that child. Even the smallest contribution can make our world a better place."
Have you ever thought of building a family through fostering, adopting, or weekend hosting? RaiseAChild.US is the nationwide leader in the recruitment and support of LGBT and all prospective parents interested in building families through fostering and adoption to meet the needs of the 415,000 children in the foster care system of the United States. RaiseAChild.US recruits, educates and nurtures supportive relationships equally with all prospective foster and adoptive parents while partnering with agencies to improve the process of advancing foster children to safe, loving and permanent homes. Take the Next Step to Parenthood at www.RaiseAChild.US or call us at (323) 417-1440.
Calling all HuffPost superfans!
Sign up for membership to become a founding member and help shape HuffPost's next chapter