What is it that five children see when they have two gay men for dads and two transgender women for nannies? One big loving and caring family. Contributing writer Beth Hallstrom explains the story in this installment of the Huffington Post Gay Voices / RaiseAChild.US "Let Love Define Family®" series.
Dustin Jolly and Kyler Katez catapulted from a carefree couple not ready to settle down to the fathers of five children literally overnight when they became guardians of Dustin's nieces and nephews. Four years later, as they revel in what they call "The Brady Bunch for the 21st century," the big question is who really rescued whom.
The children's mother is Dustin's sister, whose drug problem spiraled out of control until she could no longer care for the siblings, whose ages range from 7 to 13. A phone call from school officials concerned for the children's welfare gave Dustin and Kyler just 24 hours to prepare to become instant dads.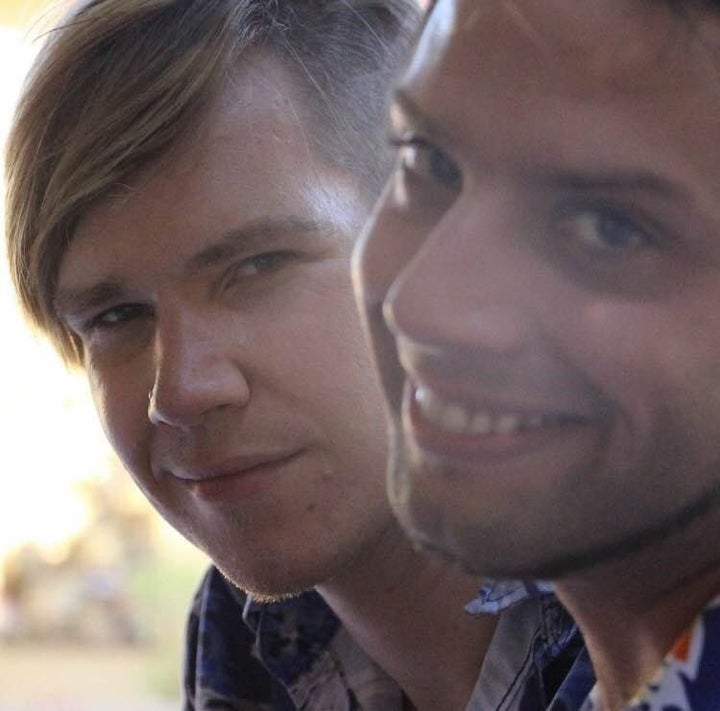 "We made the only choice we could -- the only choice we knew in our hearts was right. We had to take care of these kids," Dustin said.
Together for ten years after meeting in Spokane, Washington, Dustin, 33, and Kyler, 32, moved to Palm Springs, California and became Internet entrepreneurs. They were living in a condo and, as Dustin explained, "Having fun and doing all the things 20-somethings were supposed to be doing and having a good time. We were just big kids ourselves."
He continued, "We thought parenthood would be cool when we were a little older. We thought it would be great to adopt when we were around 35 but until then, we were going to enjoy life and see what happened. What happened was life and we knew we had to step up because these kids needed us. Sure, we're on a rollercoaster and, sure, some days are better than others, but we wouldn't trade our life now for anything."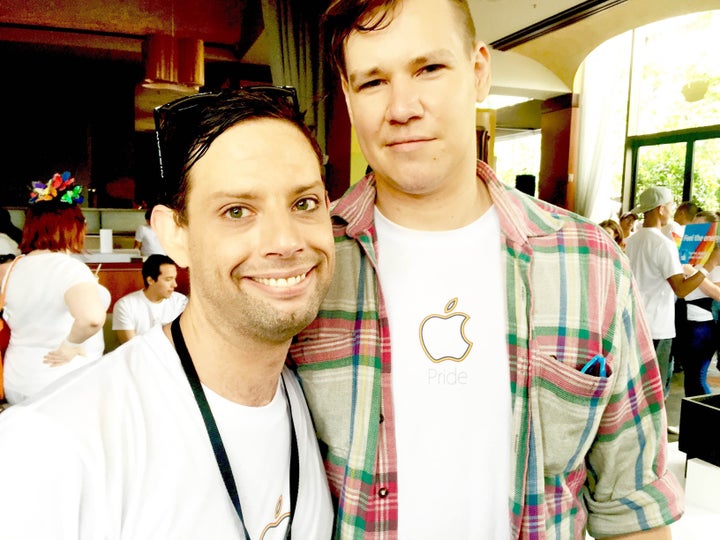 Dustin and Kyler's instant family includes 13-year old Ty; Matilda, who is 12; Marie, 11; Mia, 10 and Jason, who is the youngest at 7. These are pseudonyms the children chose to identify themselves, since their real names can't be used because they are not yet adopted by Dustin and Kyler.
Ever cognizant of the children's sometimes unstable home life, Dustin and Kyler always tried to keep in close contact with their nieces and nephews, especially when their mother moved the family from Washington to nearby Lake Elsinore, California.
"We always tried to go above and beyond as uncles by spending as much time as we could with them and taking them places, but the situation came to a point where someone had to step up and care for them. Nine months after we moved to Palm Springs, we got the phone call from the school," Dustin recalled.
Dustin and Kyler sped to Lake Elsinore and found the situation dire and Dustin's sister at the end of her rope.
"It was rough. When we walked in, the kids' faces lit up and we knew what we had to do. We couldn't stand the thought of them being split up," Dustin noted.
They returned to Palm Springs with the four older children, a dog, a cat, and two lizards and the new family crammed into the condo, which forcied Dustin and Kyler to make some quick decisions.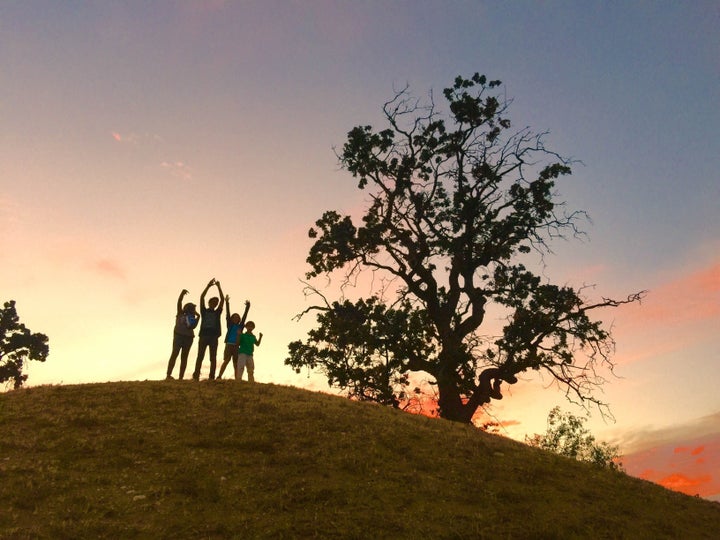 They moved to a house, then a larger house. Dustin and Kyler put their entrepreneur pursuits on the back burner and took jobs with Apple. They enlisted transgender friends Erica and Brandy as nannies and life soon centered on homework, chore boards, romping in the pool and what the instant dads call, "The wonderful chaos of having a family."
But, one piece of the perfect picture was missing. Dustin's sister returned to Washington, taking her youngest child with her when the others moved to Palm Springs. Frantic about the little boy's welfare, Dustin tracked them down and, once again, his sister pleaded for his help.
"When I saw him, he said to me, 'I missed you so much, Unkie!,' and ran into my arms," said Dustin, choking back tears. "He was so excited to see his brothers and sisters and they were overjoyed to see him. They had been separated for six months and were finally together again, the whole family."
Dustin said he and Kyler strive to be honest and direct with the children when it comes to their mother. "We stress that nothing that happened is their fault and that she loves them but she just can't take care of them. The older ones, especially, have some pretty harrowing stories to tell so it's very important to us that now they just be kids.
"We lie awake at night sometimes, wondering what if," he continued. "What if we hadn't taken them? Where would they be? Would they be hungry and cold? Would they even be together? Now they don't have to worry about anything but being kids."
And, today, they are happy kids with fathers who are raising them to be responsible and respectful and mindful of their siblings' feelings.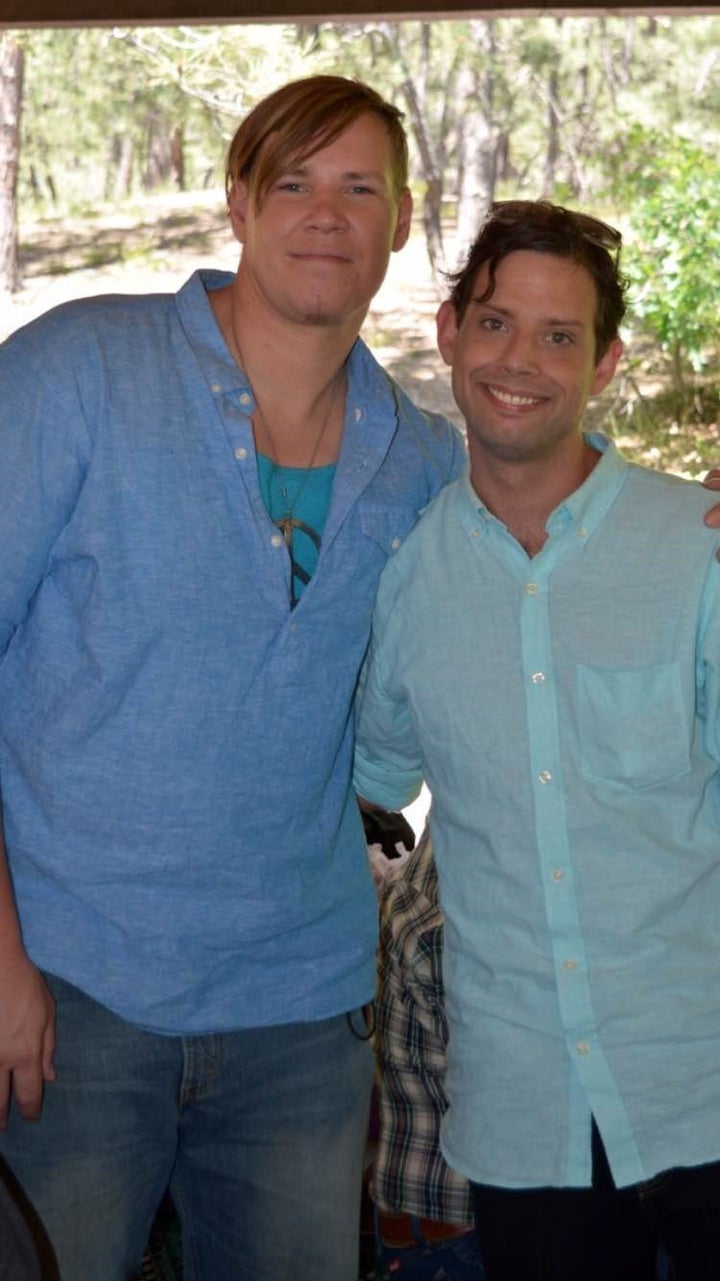 "I think they had to compete for everything before, especially attention, and it made them somewhat contentious with one another. We focus on getting along, having compassion and caring for one another. Each of us has chores to do. Everybody pitches in to keep our life running. Not always smoothly, but running," Dustin said, laughing.
With two gay Dads and their nannies, Brandy and Erica, the children are also being raised to be well-rounded and tolerant, Dustin noted.
"The two gay uncles and everything else doesn't really come up on their radar. We're just their parents who love them, take care of them and give them what they need. They know it's not the family we're born in to, it's the family we make," he added.
The future for this blended family includes a wedding for Dustin and Kyler, who became domestic partners in Washington, and formal adoption of the children.
"Our life is certainly different that what we imagined when we first got together. If we sacrificed anything, it comes back to us many times over in the form of a hug or a smile. We had a great life before and now we have an even better one," Dustin added.
RaiseAChild.US is the nationwide leader in the recruitment and support of LGBT and all prospective parents interested in building families through fostering and adoption to meet the needs of the 400,000 children in the foster care system. RaiseAChild.US recruits, educates and nurtures supportive relationships equally with all prospective foster and adoptive parents while partnering with agencies to improve the process of advancing foster children to safe, loving and permanent homes. For more information about how you can become a foster or adoptive parent, please visit www.RaiseAChild.US.
Popular in the Community