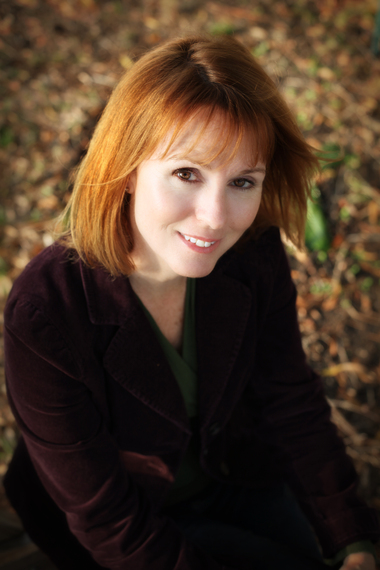 Lori Roy's debut novel, Bent Road, won the Edgar Award for Best First Novel. Her second, Until She Comes Home, received an Edgar Nomination.
Let Me Die In His Footsteps, her new novel, set in a 1952 Kentucky town, concerns Annie Holleran, a 15 year old girl who has an uncanny sense of knowing how things will turn out before they've played themselves through. A longstanding rift exists between the Hollerans and the Baines family, ever since one of the seven Baines brothers was hanged 16 years earlier for a vicious crime. What role did Annie's aunt, Juna Crowley, play; and why did Juna disappear right after the crime? What will happen when she returns?
To what does the title Let Me Die in His Footsteps refer?
It's inspired by a Bob Dylan song written during the Vietnam War. To me, the song was about not succumbing to fear or prejudice. To do so is to put ourselves into a figurative grave before we actually die. The title refers to a certain character in the novel.
Critics have compared your novels to those of Flannery O'Conner, Harper Lee and William Faulkner. To which stylistic aspects of your writing are they referring?
It's probably the tone of my work, and perhaps the point of view through the eyes of ordinary people immersed in extraordinary circumstances.
Anything specific in the writing style?
The novel's language is very important to me. I read it aloud, again and again. I don't waste words. It might even be considered sparse. In doing that, a somewhat Gothic or noir tone is created.
Your novels seem to concern, among other things, deeply-held family secrets. Will you talk about that?
I find myself drawn to writing about everyday people. I think in fiction, for a sense of drama, it's necessary to have a single defining moment for my character. All families have secrets, but the secrets bubble up when the stakes are at their highest; at the moment when my characters interact with those who mean the most to them in their lives.
An Author's Note at the end of Let me Die In His Footsteps states your story was loosely inspired by the last legal hanging in Kentucky, in 1936. How did you discover this bit of Kentucky history, and tell us how it provided impetus for the novel.
I learned the last lawful public hanging in the U.S. occurred in Kentucky. Many intriguing and disturbing facts surrounded the event. A young black man was arrested on suspicion of robbery, rape and the murder of a 70 year old white woman. The prosecution asked only for an indictment on the rape charge because at that time, in Kentucky, a rape conviction would result in a public hanging. No indictment was sought on the murder charge because a murder conviction would also result in a death sentence, but one carried out privately. They wanted him publically executed, and secured only an indictment on the rape charge.
As I mention in the Author's Note, as many as 20,000 people attended the hanging. Some reports described a carnival atmosphere, though other accounts contradicted that. I wondered why 20,000 people would want to watch a man hang. Many themes began to gel in the novel as I worked on the first draft. As I reworked and polished the manuscript, I understood more about the themes in my own book. They derived from that hanging and the questions it evoked in me. I think the heart of the novel came from that event.
Your novels have been characterized as Southern Gothic, literary, and also as crime novels. Any thoughts about these genre categorizations?
When I write, I don't' think about genre. I keep in mind the advice I received early on in my career: 'Write the book you would want to read'. I love a book deeply rooted in character; with language that creates tone; has a great setting; and a plot that makes you want to turn the page.
Which authors have inspired you?
Flannery O'Conner is at the top of my list. Right now, I'm reading Toni Morrison, who also inspires me. Then, there's John Steinbeck, Jane Smiley, Megan Abbot, and Pat Conroy. I love the music of Conroy's language.
If you could meet Flannery O'Conner and Pat Conroy, what question would you ask them?
I would ask them if writing ever got easier. (Laughter).
Tell us a bit more about it never getting easier.
Well, it doesn't. Over time, we learn the tricks of the trade, so now, when I sit down to write, I know to work very hard on that first act, so to speak, to make sure it's solid in its structure because it will make the rest of the book easier to write. But what never becomes easier is the question, 'What happens next?' The other issue that never gets easier is: 'Why do I want to spend two years with this story?' (Laughter).
When you say 'first act' are you referring to the first chapter, the opening lines, or the first draft?
It's usually the first 50 to 70 pages--when I'm crafting the characters, the setting, and the elements of the plotline.
What has surprised you about the writing life?
That it never gets easier.
What would it mean to you if writing did become easier?
For me, it would mean I'd become formulaic. It would mean the novel wouldn't have the elements I look for when I read a book. I wish it was easier, but I'm happy it's not.
If you could have dinner with any five people from any walk of life, living or dead, who would they be?
Jimmy Buffet would be invited first because I live in Florida. Flannery O'Conner would be there along with John Steinbeck. I'd invite Zora Neale Hurston, a writer I've always loved. And I'd have Roger Federer, the tennis player, who has a great work ethic.
What would you all be talking about?
I wouldn't be talking much because I would be star-struck. These are all people who seem to have a great passion for what they do or did. I would love to hear what they care about. While they're probably ordinary people like the rest of us, they pursued things with such passion that's not really beyond any of us. I think they provide great lessons in living life.
Congratulations on penning Let Me Die In His Footsteps, a richly detailed, highly suspenseful Gothic novel filled with indelible imagery.
Mark Rubinstein
Author of The Lovers' Tango and Return to Sandara.
Calling all HuffPost superfans!
Sign up for membership to become a founding member and help shape HuffPost's next chapter