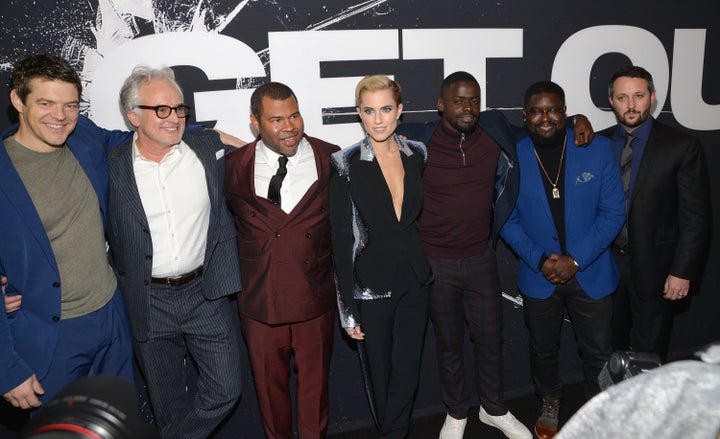 Hello, my name is Martin Morrow, and I studied film at the prestigious (¯\(ツ)_/¯ ) Auburn University. I've also studied white people for close to 23 tears ― I mean years; just know I'm an expert in my field.
Recently, the Jordan Peele written/directed movie "Get Out" has garnered rave reviews, media buzz and a breakout star in Chicago's own Lil Rel Howery. "Get Out" is the story of a young, Black photographer named Chris (Daniel Kaluuya) who heads to a secluded suburban neighborhood to meet his white girlfriend Rose's (Allison Williams) family... and everything isn't as it seems. It's a brilliant thriller with a satirical spin, and its commentary on race relations ― plus the fact that the villains are white and oppressive in nature ― have naturally caused the same white moviegoers who've spent the past four months saying "get over it" or calling people "snowflakes" to complain that "Get Out" is "racist against white people."
Did those same people who are upset about "Get Out" also speak out about the years-long white on white crime spree in the "Scream" series? Or the perpetual stereotype that white men kill their families glorified in the "Halloween" franchise? Or the idea that when our justice system fails to convict white men in sex offender cases, the public has to take matters into its own hands ― leading to a man being burnt to death, but then returning to murder people in their sleep, because his privilege has caused him to feel he's done nothing wrong like in all those "Nightmare on Elm Street" movies? But I digress.
Many white people may have reservations about seeing "Get Out," as it may cause them to think reflectively about racism, so I have opted to whitesplain the film for six different categories of white people in an attempt to ease any lingering viewing tension. I hope it helps.
For The "I Listen to Beyoncé, So I Think I Get It" White Person
We can all agree that Beyoncé is amazing, but downloading Tidal doesn't fully exonerate your problematic behavior. Hopefully, you'll go beyond the narrative of the white girl living in a big city and read the following out loud to really get into the flow of the movie:
"If I Were A (Black) Boy would people see my Halo? If I fell Crazy In Love with someone of a different race, would their family be potentially harvesting bodies that look like mine to Upgrade U white folks and could I find my Freedom? Would my white girlfriend's Daddy Lessons teach the family to call for the End of Times for the Black people who come to their home? After all, when white people get in Formation, they tend to Run The World and rarely Listen or say Sorry."
Can't get behind all of that? Good to know you're a Beautiful Liar.
For The "Um, I Dated A *Black* Person In College" White Person
So, like, you remember making out with that one "I think he played basketball or something" *whispers* Black guy at that party with all the Hunch Punch?
Okay, imagine if the Hunch Punch had a different effect on him, like in the Tuskegee experiments... oh, you didn't study that? Um... so, like, remember the story of the white lady who lied and said 14-year-old Emmett Till catcalled her, and then her boyfriend tortured and murdered him? No, not that one either, huh. Well, remember that episode of "Saved By the Bell" where Lisa finds out her ancestors were slaves, and Jesse finds out her ancestors were slave traders and then spends the rest of the show being super white guilt-ish and offering to buy Lisa a Coke and stuff?
Now you're on board! Alright, imagine if anytime that Coke was tapped with a spoon, Lisa sunk into a deep, scary space for the sole purpose of taking over her track-running body. (Honestly, doesn't change that show much.)
For The "I'm Not Racist, I Have A Black Friend" White Person
What's up, dude? Ah, there's that weird high five I only see you ever try and give me, ha ha! Anyways, you know how much you like your one Black friend, right? No, no, I get it, you don't really see color, but like what if your homie was in danger, and all of the bad guys kinda looked and acted just like you. CRAZY! Well, you'd want your friend to GET OUT of that situation, right? I mean...you're TOTALLY not racist, so hopefully you'd want to...
For The "I'm A Christian Parent" White Person
Deuteronomy 32:35 states, "It is mine to avenge; I will repay. In due time, their foot will slip; their day of disaster is near and their doom rushes upon this." "Get Out" explores history, love and the atonement of sins. From the passage of Romans 12:9, "Love must be sincere. Hate what is evil; cling to what is good."
Cling to the good of Chris, hate the wickedness of the Armitage family, and rejoice at our savior Rod.   
For The "But Ben Carson Said…" White Person
Ben Carson said that slaves were immigrants who came to pursue the American dream, just as Betsy DeVos said that Historically Black Colleges and Universities are "pioneers of school choice," so let's reframe "Get Out" as the concept that an African-American male is granted the opportunity to be a part of something wondrous as he visits a small town to embrace the niceties of white culture, such as alternative therapy, appropriation and awkward conversations at parties.
For The "Alex Jones Is Always Right!" White Person
Yeeeaaahhhh, you probably should just sit this one out, snowflake.
Calling all HuffPost superfans!
Sign up for membership to become a founding member and help shape HuffPost's next chapter