My grandma, Edna Brown, is one of the brightest stars in the constellation of people who have touched my life. She helped to raise me, made cookies with me at Christmastime, and helped show a painfully-shy girl that the world is actually a really wonderful place.
She also happens to be an All-American champion roller skater, who competed across the country between 1945 and 1956, making her the HBIC of women under and over the age of 85.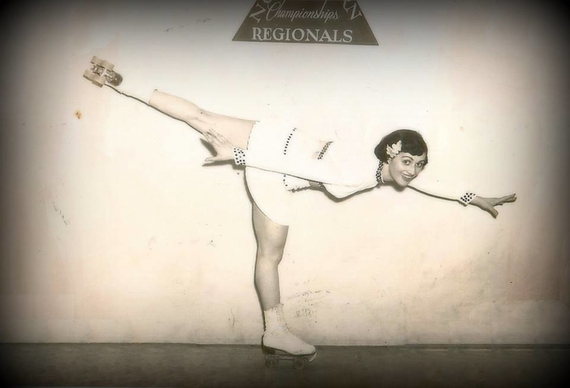 From humble beginnings in Borough Park, Brooklyn, Edna flourished into a champion, without money to pay for lessons or any support from her father, who thought she should be learning how to be a housewife instead of skating.
In the 60-something years after her skating career ended, she's been a champion in so many other ways: as a mother, a grandmother, a sister, a breast cancer survivor, a golfer, and now, an avid tennis player and spectator. If you go to her home in Boca Raton, FL, there's a 50% chance The Tennis Channel-- or Investigation Discovery -- is on.
Edna has always loved sports -- despite time, age, location, she'll never part with them. She is DNA-coded to be a champion in any and everything that she does.
With the Olympics now in full-swing -- and the sexism that still surrounds women's sports in general -- I thought Edna, in all her Brooklyn wisdom, would be the perfect person to offer insight into what has improved in women's sports and what glass ceilings still need to be cracked.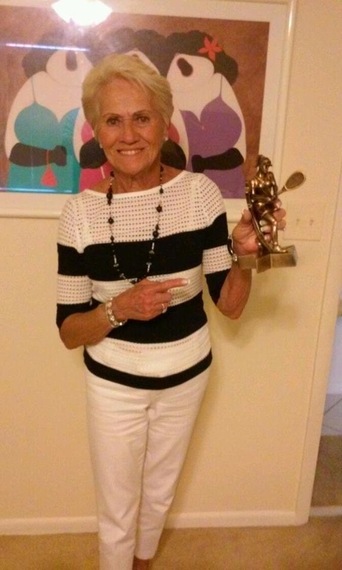 Revelist: What made you decide to get involved in skating?

Edna Brown: I started skating when I was 13, and the first time I went to the rink, my mother took me on two buses to get there. I loved it the minute I went in there. I could do things that I didn't think was possible for me to do! I could do a little jump; I could do a little spin -- all this on the very first time. So I immediately signed up for the junior class.
Things were very, very hard for us when I was young. I was 13 when I started skating, and by about 14 I had skated in Madison Square Garden. It was a benefit show for infantile paralysis, which was very bad at that time -- 60% of the money went to the [sick] kids, 40% went to Madison Square Garden.
Revelist: How did your parents react when you told them you wanted to pursue skating more seriously?

EB: My mother loved it, my father thought I was nuts. He said I was a tomboy, and that he didn't think women should be skating. He wasn't impressed with it at all -- my mother was.
My father had no interest in it at all. He thought it was going to cost a lot of money, and we didn't have much money.
He thought I should be learning how to sew, how to cook, and how to clean. I was a girl, and he came from a family where girls did nothing. They just cleaned their houses. They did nothing. So he couldn't understand this at all. He was a bit boring, let's put it that way. He was a real chauvinist, let me tell you!
He was not a bit happy about it, so my mother and I fought him together.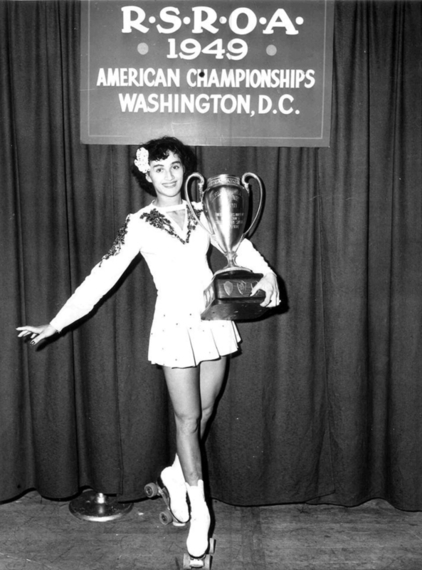 Revelist: What other discrimination did you experience while you competed?

EB: We were all taught equally by our coaches. But we had some girls that had a lot of money, and their mothers would rent the rink for the day, because they had more money.
My skating teacher believed that you didn't have to be very rich, but if you had talent, she was gonna work with you, and she did work with me a lot. I didn't pay anything for my lessons. My skating partner and I later on -- we never had to pay her anything.
I went out with guys that thought it was ridiculous that I skated. They told me skating was a stupid sport, 'cause they were into football and baseball -- baseball especially, that was big back then. Nobody was impressed with it.
Most of the guys I met in skating were gay. They were the nicest guys you'd wanna meet in the whole world. And some of them were treated like shit 'cause they were gay.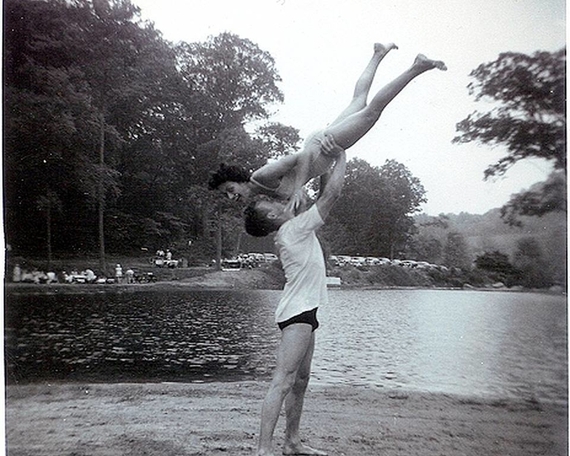 Revelist: So there was homophobia within skating?

EB: Oh, terrible. Terrible. People were not nice to them. My skating teacher taught them well, but when we had a contest, he would tell them "not to dress like a fairy" -- he would yell at them, "What are you a fairy?" if they wore a sheer top or something.
He was afraid they'd get knocked down by the judges because they were gay. It was looked upon as a terrible thing back then, and it was very sad, because they were some of the nicest people I ever met. They were nice guys, really good.
Revelist: Did anyone ever harass you when you were practicing or competing?

EB: Let me tell you a story about that: After I won my first skating championship (at age 16), one of the girls came up to me and said "Jackie [her skating partner] told some of the guys he had intercourse with you. I said, "What?" I didn't even know what the word meant!
So I came home and I said, "Ma, what is intercourse? Jackie said I had intercourse with him." She said, "Oh my God! Who'd he tell." I said, "A bunch of the guys, to make him feel like a big shot."
So [my mom] made me go up to my skating teacher to tell her. And she called him in, and she told him, "You will be suspended if I ever hear anything like that again. You wanna be a big man, so you're trying to spread lies about her? You better wise up or you're out of here."
She made a big to-do about it, which I was very proud of.
He apologized to me, and my teacher said, "No, no -- now you're going to go to the guys and tell them the truth." And she made him do that.
Revelist: You've stayed with sports throughout your life. How do you think things have changed for women?
EB: I can only tell you in tennis that it has gotten better. Some of that is because of Billie Jean King, who fought to get equal pay for women tennis players. She wants female champions to get the same money. I think what she did was fantastic.
And of course you heard, one of the jerks, in an interview with Serena Williams, said "We have to thank the men for bringing the crowds in." She pulled him up by the carpet, boy, right on TV! And he got fired for saying that. So it's changed a lot, for the better.
She and her sister [Venus Williams] are fantastic, both of them. And [Serena] deserves respect -- she's a great champion.
Calling all HuffPost superfans!
Sign up for membership to become a founding member and help shape HuffPost's next chapter