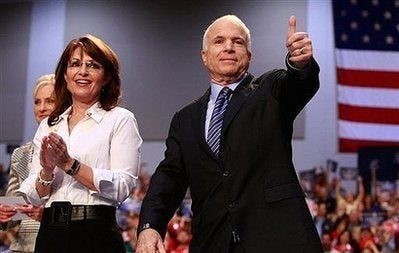 As Barack Obama and the Democrats appear poised for an historic sweep, we have a message for our Republican friends: It is time to point fingers.
We are pro-finger-pointing. We disagree strongly with Gov. Sarah Palin who said recently, "Do you notice that our opponents sure have spent a lot of time looking at the past and pointing fingers? You look to the past because that's where you find blame, but we're...looking to the future, because that's where you find solutions." On the contrary, Governor, blame assignment, while much maligned, is essential to determining what went wrong and how to set it right. Besides, it's a hell of a spectator sport. Here's our primer for a little game we like to call Big Losers Always Make Excuses (BLAME):
First -- a couple of ground rules. You can't blame the press or minorities. Sure, media-bashing is part of the conservative catechism, and minority voters are likely to support Barack Obama in record numbers. But finger-pointing is only interesting when you point at someone on your team. Republicans need a civil war -- a steel cage death match -- to sort out what they stand for. Scapegoating outsiders won't purge the party of what's rotting it on the inside.
Here's the most important thing about finger-pointing: you have to start early. If you're a Republican who wants to avoid blame for the current meltdown, you cannot afford to wait until after the election is over.
The smartest people in the conservative movement are already pointing like a bird dog on a South Georgia quail hunt. David Brooks and Bill Kristol are leading the way. Mr. Brooks, representing the intellectual wing of the conservative movement, called Ms. Palin, "a fatal cancer to the Republican Party." Attaboy, Brooksie. Score one for the brainiacs.
Mr. Kristol, on the other hand, blames neither Ms. Palin nor Sen. John McCain, but rather McCain's campaign advisers, writing of the campaign: "Its combination of strategic incoherence and operational incompetence has become toxic." See? That's how you do it. Kristol can't say McCain's problem is that he supported the Iraq war, (which Kristol advocated) or that he chose Sarah Palin (whom Kristol praised). So rather than play defense, Bill went on offense, blaming McCain's Steve Schmidt-led campaign. But we have a feeling this fight will only begin when the Schmidt hits the fan.
But where are the other voices? We need to hear, for example, from Karl Rove. Whom will he blame? We stipulate that Karl is a genius -- albeit a genius whose advice took Pres. Bush from a 91 percent approval rating down to 26. With the House of Bush ablaze, Karl is going to have to do some quick finger-pointing before they change they change his nickname from The Architect to The Arsonist.
How about Rush Limbaugh, Sean Hannity and other radio personalities? They never liked McCain much -- but his campaign cratered only when he embraced their wild attacks on Sen. Obama. It was only after Mr. McCain borrowed the Limbaugh-Hannity line on Bill Ayers, only after Gov. Palin accused Mr. Obama of "pallin' around with terrorists," that the bottom fell out for Mr. McCain and Ms. Palin. We're betting the hot air boys will blame the intellectuals. After all, if you want to make an omelet, you've got to break a few eggheads.
The Republican Party is atomizing, and each faction must participate in Project BLAME. The neocons may want to blame the theocons. The economic conservatives will likely blame the big spenders. The conflagration will be so multi-dimensional we'll need a program to sort out the players. They will need to answer fundamental questions: What does it mean to be a Republican? Do Republicans support laissez-faire or nationalized banking? Do Republicans support a balanced budget or half-trillion-dollar deficits? Do Republicans want a "humble foreign policy" like George W. Bush, or preventive war against countries that pose no threat, like, umm, George W. Bush? Are Republicans the party of limited government or a vast Medicare prescription drug benefit? Are they wary of Big Brother or eager to expand warrantless wiretaps? Do they support Christian values or torture? Are they the party that believes that cutting-edge technology can shoot a missile out of the sky or the party that believes humans and dinosaurs walked the earth simultaneously?
These questions should define the 2012 GOP presidential primaries. So start blaming, all you would-be candidates. That means you, Ms. Palin, Mike Huckabee, Mitt Romney, Jeb Bush and Charlie Crist. Hurry up. You only have 1,165 days left until the Iowa Caucuses.

James Carville and Paul Begala were senior strategists for the 1992 Clinton-Gore campaign. They'd like everyone to know it's not their fault.

Popular in the Community