 The granddaughter to the late President Tubman of Liberia, Barkue Tubman, tells her president, "stand firm madam Sirleaf Johnson; clean house if you must and let the Iron Lady roar. Make harsh decisions for the development of Liberia." Barkue represents the many Africans around the world screaming to be heard. Tales from Africans around the world continues...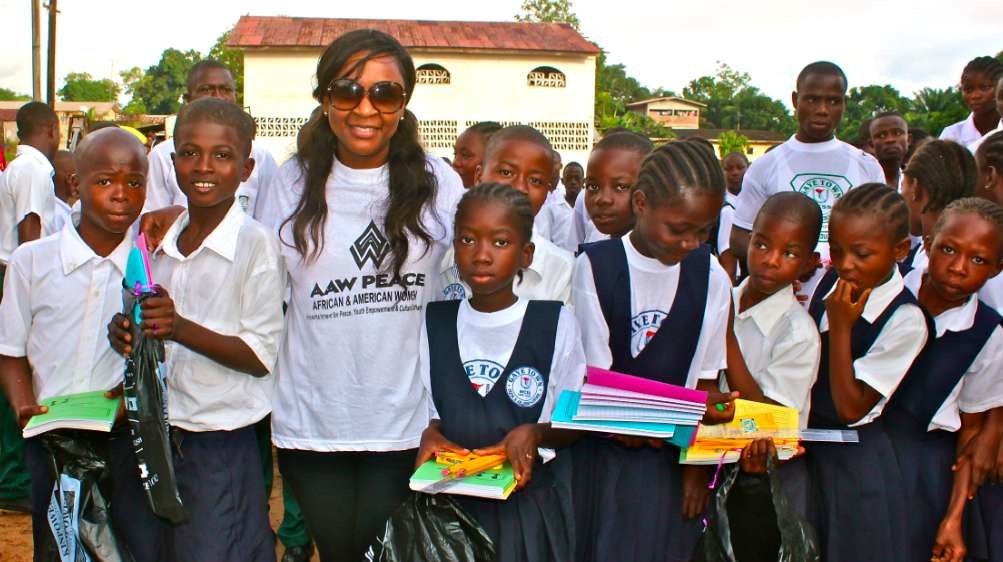 Being lied to -- tops my lists of many!
The young people of Liberia -- I envision a Liberia where the young people have a fighting chance, like every other young person in a developed country. A chance to dream big and a chance to achieve their dreams, however insurmountable they may seem.
The road that brought you here...
I would say my journey started in 1980, when Liberia experienced its first coup d'état. Then, I was in elementary school, my dad was in government and my stepmother's father was president. We were blessed to escape what would eventually become the hardships of living in Liberia. My family and I moved to New York City -- I'm a city girl -- I grew up in Manhattan, went to the United Nations International School (UNIS), where I was exposed to the whole world in one building.
At 16, my mother decided it was time for her to return to Liberia. For me, that meant leaving all my friends at UNIS, but to go where? I was distraught! After reviewing all of my options, I opted for a boarding school in Princeton, New Jersey: The Hun School. Hated it initially, but grew to love it. Next on my journey was the Elon University in North Carolina, another major learning experience in the south.
Being born in Liberia, growing up in New York City, attending an international school where prejudice didn't exist, going on to the Hun school where I was one of four black students and then onto college in North Carolina where segregation was still very much alive in the '90s gave me a jolt! Elon was my first experience of prejudice. To bridge the gaps between black and white students on campus, I became a Kappa Alpha Psi sweetheart and dated an Alpha, also ( this is oldest African American fraternity in the united states) and I also decided to pledge Phi Mu, a largely white sorority. Interesting things unraveled...
One day, as I pulled into the sorority house, one of the white rednecks was wearing a shirt that had a picture of buckwheat (the black character from the popular TV show The Little Rascals) the write up on the shirt was, "go ahead buckwheat, make my day." As I walked through the house, his unwelcoming stance sent the hairs at the back of my neck standing!
Another day, a "sorority sister" of mine and I went driving around in two different cars. Trying to poke fun at her, I blocked her route. She got very upset initially but, realizing what was going on, she said, "Oh thank God it's you cause I don't know any of these other 'black' people." This statement woke me up and I resigned from the sorority. Perhaps I should have stayed and fought, but that is the one time I quit. I try not be a quitter generally!
The reality of what the issues were really hit me. Contrary to what I believed in and expounded, the world did not believe that all humans are created equal! This was my wake up call and it set me firmly on the path I would follow. I knew then that I had to represent being African, Liberian, black and female with pride and dignity and allow no one to make me feel less of a person and strive to make sure the marks I make through my life represented something positive that would show everyone I came in contact with that no matter what life brings you, rise above obstacles.
I graduated with a degree in French and business management and moved back to New York City. I worked in fashion and entertainment, as a manager of Express, and then decided that I really wanted to be an artist, a Rapper, yes ☺(funny!). I was driven to understand the business side of the music industry and this is what sucked me in. I went on to manage or work on the management team of artists like Usher, New Edition, Donell Jones, Missy Elliott, Outkast and many more. This journey taught me perseverance... I was evicted, lived out of my car, braided hair to make ends meet all while still trying to climb this crazy world of the music biz, interning for a company called 617, managing in the unfamiliar territory of Los Angeles. I'd like to acknowledge a number of people for my success: Michael Blue Williams, Dedra Tate, Scott Felcher, Shakim Compere, Brooke Payne, Mona Scott Young, my artists and clients that believed in me, trusted and supported me. Most important it was simply because I didn't quit. It was tough, many doors where shut but with God's strength I never quit.
Fast forward to 2007; With the worst of the Liberian war behind us, and my need to find more fulfillment in my work, I saw a Liberia that was a blank canvas that I could paint whatever I wanted on... In a way, this was a completely new journey for me. All I knew was America and my music industry family and friends. The need to spend more time with my mother, who I hadn't seen for 12 years and who had suffered a mild stroke, was also a motivating factor to move to Liberia.
I believed my unique struggles in the United States, away from adequate family support, has prepared me to understand and empathize with the many brave young people in Liberia, many of them born in times of war, and it is with and for them,I stand today.
Sadly, I am a workaholic! I love what I do and see it as an extension of me. I'm what you call "a serial social entrepreneur." I own a company, MBL Intl Group. We are a boutique event planning, marketing; PR and entertainment firm and some of our clients include the government of Liberia, USAID, UN women and corporations. I am currently a business development consultant to the National Port authority of Liberia. I'm also a partner in a media and entertainment company called Mad Media. I'm opening a café called Peace Café, a community development project that will also enable under-privileged young Liberians access to basic computers, as many of them have never experienced a computer. Most importantly, I am the founder of the not for profit, African & American Women for Peace, Youth Empowerment and Cultural Exchange (AAW-Peace). There is a global network of well-meaning women only, board members, committed to accelerating the pace of socio-economic development in Liberia through the implementation of youth-focused programs in entrepreneurship, education, media, arts and culture. AAW-Peace organizes the annual Dare to Dream conference chaired by Her Excellency, Madame Ellen Johnson Sirleaf, 2012 Nobel peace laureate, and President of the Republic of Liberia. It is AAW-Peace's goal to expand the minds of young people by providing them the platform to experiment with innovative ideas, dream outside the box and grow above the confines of their present realities.
As I have gotten older, maintaining a healthy relationship with my man who is super supportive, who understands and encourages me to dream bigger also helps! my nephew Noah and the rest of my family who teach me to love unconditionally.
The special background of your name
My first name Barkue, I was named after my headstrong paternal grandmother, whose name was Rebecca and nicknamed Barku. My last name, Tubman, was made famous many years ago by slave abolitionist Harriet Tubman of the Underground Railroad fame and then by my grandfather, the 18th and longest serving president of Liberia, William V. S. Tubman Sr.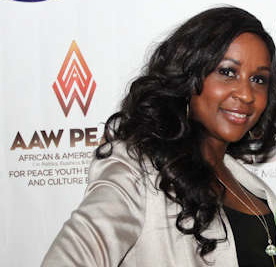 Limits and opportunities of your name
Living in America, no one cared about my name, really, except the few that did recognize it, but it didn't limit me nor help to create any special opportunities...
What is the one thing you wish you had done?
Probably had kids earlier
Your vision for your country:
Liberia is a beautiful country with many riches. I often refer to Liberia as the richest poorest country today because of her great potential for growth. My vision is that Liberia becomes a key destination on the continent for tourism and investment opportunities and for Liberia to become a post-war development success story in Africa. A Liberia where no child is striped of his/her rights as a child; access to quality education, healthcare, peace and stability, and food.
Why should the world notice your country and what does it bring to the table?
This rich little poor country has incredible potential. Liberians are extremely hospitable. Liberia has the best climate for oil palm production in the world, after Malaysia. Liberia has a lot of untapped land and industries that needs to be developed. The land is rich in minerals and agriculture and the potential to become a major tourist destination. We are on the verge of discovering Oil; companies like chevron are on the ground and Exxon is in negotiations amongst others. This is a country to watch out for. After many years of war and disruptions Liberia has a chance to finally step into a power player amongst West African nations.
As an African, what do you see?
The continent as a whole is encouraging. The rest of world has started paying close attention to the African continent. China has its eyes set on Africa. Africans need to make sure as much as we embrace the partnerships we must structure them to benefit the future of Africa and Its children.
What is the one problem of Africa?
Leadership. Most Africans leaders are selfish; I honestly believe female leaders are better for Africa today. Most African countries have been through conflicts and need mothers, leadership mixed with nurturing.
What is the one opportunity of Africa?
Africa's potential is huge. A super rich continent in everything: agriculture, oil and gas, mining, energy, raw material etc. I strongly would like Africa to become more viable in the manufacturing industry as well as more exports, It would create thousands of jobs and help alleviate poverty. I know you said one but ...
Speak to your 20-year-old self...
Take advantage of opportunities that are afforded you. Do not accept everything you are being told, question your leaders, make sure you become exposed to other cultures, countries and developments happening around the world and your surroundings. DO NOT ACCEPT mediocrity from self, friends, family or government. Shut up and listen, at 20 you don't know anything. You are never too old to learn. Have fun, but strive to be great. Be well rounded. Stand tall, take pride in anything you do and never stop dreaming... as a Christian, I say have faith.
Funny thing -- I feel like I have two: my Liberian side is Madame President, Ellen Johnson Sirleaf and my American side is, of course, President Obama. I love that they are both firsts -- first African American President of the United States and first female president, not only in Liberia but also on the continent. Glad I am around to experience both.
But I will speak to Madame Sirleaf; I would like to call on her at this time to let the Iron Lady out of the box. You have made amazing strides in Liberia considering the very dilapidated physical and mental state you met the country in. You inherited a Liberia that after many years of civil conflict needed a mother and God.
You fought almost all your life to serve your people and as you serve your people, you must make harsh decisions for the development of Liberia. Many of those you trusted to represent you are letting you down. You cannot afford to continue giving them chances as these chances are taking your work thus far on a backward trajectory.
Madame President, I commend you for your accomplishments as you continue to represent a woman that I respect and look up to and will continue to support. However, I am asking you at this time to ensure that your legacy is even greater than you can even imagine. Remove those who are not contributing to your vision.
Take a keen look into the education system because it is in a sad state. You must hold school governing agencies and administrators responsible for the learning environment people send their children to. When you came to power, there was no water and lights; now there is some. You have allowed a lot Liberians to experience democracy like they never have before. Because of you, Liberians feel they have a voice... stand firm, clean house if you must and let the Iron Lady roar. You broke the glass ceiling and I will continue to support your efforts. Strengthen the public private partnerships with small- and medium-size enterprises, as these are the job creators. You have done a lot but the task ahead is even greater, stay strong, continue standing on your God and stay focus on the Liberian people, especially the children.
REAL LIFE. REAL NEWS. REAL VOICES.
Help us tell more of the stories that matter from voices that too often remain unheard.