The host was in Washington D.C., while I was in New York City with various staff members necessary for the shows production. I engaged in nervous chatter with those around me, mostly the cameraman.
He began to tell me how his son, a pre-teen, had a peanut allergy but because of the new study that had been released a few months prior, he had begun to give him tiny bits of peanut. He said he was seeing mini-responses, which had been escalating. He told me that he believed this strategy would ultimately cure his child.
As he said these words to me, the only response I was able to barely mutter was, "Oh no, that's not what the study showed at all; that's dangerous." The live light went on and I looked like a deer in headlights as the camera panned around to my face.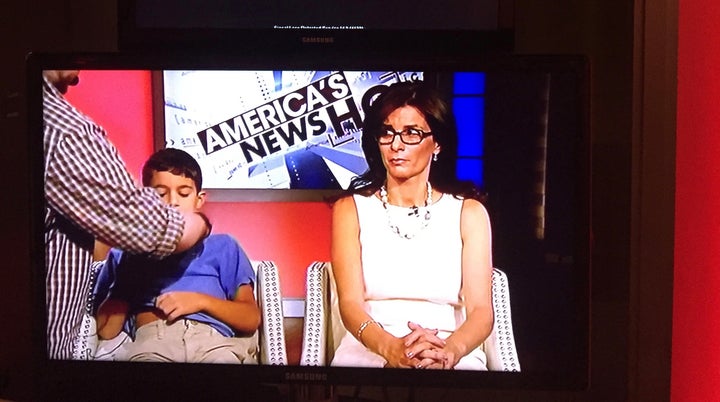 Several months prior to my FOX interview, the LEAP ( Learning Early About Peanut Allergy) study was published in the New England Journal of Medicine. The unbridled enthusiasm and coverage on the topic by the press and medical community was based on the findings that there did actually seem to be a way to prevent the development of peanut allergies by feeding your child peanuts at an early age.
Unlike what the cameraman had thought, however, this study, concluded that there existed a narrow window between 4 and 11 months of age where consuming peanuts would be beneficial in the prevention of peanut allergies. For my son, age 11, and his son – this research was not talking about them. It was not referring to them at all.
The science geek in me was also enthralled by this research. As I said in my Huff Post blog at the time titled "Let Them Eat Peanuts," "This is about as exciting as science gets, because there may be way to affect the path of the immune system, especially if it was heading down that dark alley towards developing a peanut allergy."
My encounter with the cameraman shows us, however, that it can be quite easy and dangerous to misinterpret the topic of peanut allergy prevention.
This week, new peanut allergy prevention guidelines sponsored by the National Institute of Allergy and Infectious Diseases were released and the media predictably has been flooded by titles such as "Feed Your Kids Peanuts, Early and Often, New Guidelines Urge."
I am truly worried that the coverage and suggestive titles that naturally abound will serve to confuse those who don't take the time to read what the guidelines actually mean and to whom they are directed.
I woke up this morning to receive multiple emails from friends and family asking me if I had read about the exciting news about prevention of peanut allergies. Many of my well intentioned intelligent friends and family truly thought that I could now somehow "fix" my 11-year-old son's allergy.
Let me be clear once more, these guidelines are for NEW parents of very young children ONLY.
Many of the questions I posed in my blog at the time of LEAP study release have been answered, such as what is thought to be the optimum amount of peanuts one must consume to keep the allergy at bay, and what will happen if you discontinue eating peanuts?
I also wondered how we would determine who needs to be tested before consumption of peanuts. An expert panel that was convened issued recommendations on such testing based upon your child being put into one of three risk categories to help new parents and doctors understand who needs supervision when being fed peanuts. Related resources, including a summary for Clinicians and summary for Parents and Caregivers, are also accessible on the NIAID food allergy guidelines webpage.
I am so grateful for the work of everyone who participated in this study, and for those groups who sponsored this groundbreaking research.
This past October, I met and was thrilled to hear Dr. George Du Toit, Co-Investigator of the LEAP and LEAP-On study at the FAAM (Food Allergy & Anaphylaxis Meeting ) in Rome, Italy. He spoke so passionately of the opportunity to stem this epidemic by exposing young babies to peanuts.
I was inspired by his zealous commitment, not only to his patients, but toward the world-wide food allergic population.
My son was the classic LEAP baby; he had severe eczema and an egg allergy. While I cannot go back in time to know if he would have been excluded (meaning if he was already severely allergic to peanuts), I would have tested him and tried (under supervision) to feed him peanut butter.
I hope in my heart that new parents, as a result of these guidelines, will not repeat our journey as a peanut allergic family.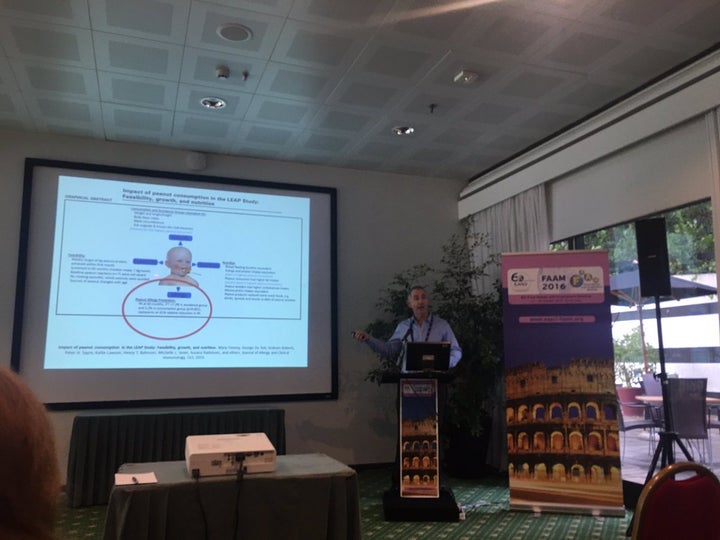 But I worry about misinterpretations that this study is a cure for older children and adults. Many people already complain about regulations and guidelines set to protect my food allergic son and others like him. Some people have even started to blame parents for creating their children's peanut allergy because they did not feed their children peanuts early enough in life.
Please know that the guidelines at the time instructed us to delay introducing peanuts to our young children. We simply followed our doctors advice.
Most importantly, the public must realize that these prevention guidelines have the enormous potential to reduce the prevalence of food allergies, but not eliminate them.
It may take years before we see significant changes in the numbers of the food allergic population. In the meantime, we need to keep the children and adults who have these allergies safe. We need to educate the public, and advocate for those people who suffer from this disease on the ground and in the air.
Food allergies are unique, as they require the help of those around us to keep us safe. I truly hope and am optimistic that the prevalence of peanut allergies will decrease based upon parents following the new guidelines but I also hope to see the day when a cure for food allergies is celebrated to help people like my son whose window has passed.