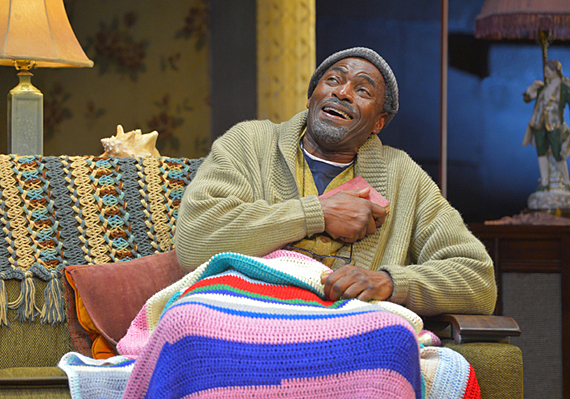 Carl Lumbly as Alfred: a portrait of fury and frailty in contemporary London
Racial conflict is a recurring element of Kwame Kwei-Armah's Let There Be Love. Ditto for hostility among ethnic groups, rivalries between old and new immigrants, the indignities of aging, the concept of death with dignity, abuse of women, sexuality and probably other issues that don't immediately come to mind.
For a family drama, that's quite a load, especially since the play's themes involve forgiveness, healing and love.
All those elements add up to a huge order, but ACT is serving it with compelling passion and humor, thanks in large part to an extraordinary performance by Carl Lumbly. The veteran actor plays a bitter, hot-tempered West Indian immigrant to England.
The character, named Alfred, is elderly, ailing and hostile to virtually everyone and everything, including two estranged daughters and a wife whose memory he cannot erase. She left him many years earlier and returned to their native Grenada.
Living alone in a large house, Alfred rebuffs an appeal by daughter Gemma (Donnetta Lavinia Grays), who needs a place to live after breaking up with her partner. He refuses to speak with his other daughter, who is mentioned but never appears in the play.
But the daughters, out of concern or perhaps self-interest, arrange for him to receive visits from a home-care worker. The arrangement takes unusual if not unique directions.
Although the narrative follows a tired formula -- antagonism and suspicion evolving into kindness and affection -- Kwei-Armah invested it with fresh twists, made magnetic by Lumbly and Greta Wohlrabe, in the play's third role. Their characters' bonds can genuinely be called love, without a carnal moment.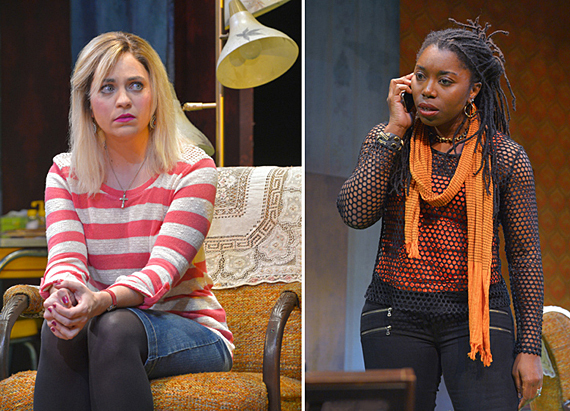 Greta Wohlrabe as aide Maria, Donnetta Lavinia Grays as daughter Gemma
Wohlrabe plays Maria, an immigrant with a background vastly different from Alfred's. She is Polish, a newcomer to England, and some 40 years younger. Even after he tries to swat her with a cane as she walks through his door, she perseveres, stays, and does her assigned care and cleaning tasks. She needs the job.
As something of an equal-opportunity bigot, Alfred scorns not only newcomers like Maria, on the premise that they steal jobs from current residents, but also whites, Asians and others.
He is not beyond redemption, however. With a boost from music that touches both of them, his antagonism gradually dissolves. Trust builds, along with concern for each other's dreams and needs. That music starts with an LP of Nat King Cole singing "Let There Be Love," played on Alfred's most precious possession, an elaborate record player that he bought in 1963.
Wohlrabe turns Maria into an immensely likeable personality, brimming with effervescence as well as strength and compassion. And Grays, as daughter Gemma, delivers a sympathetic portrait of a young woman who can match her father's bile with equal fury while retaining hope that they can reconnect.
But it is Lumbly who delivers the performance that erases any quibbles about the scripts's shortcomings. His Alfred is larger than life when he rages, vibrant and engaging when events brighten his spirits, stoic when spasms of illness strike him, poignant in his moments of compassion and of frailty. At the opening night curtain call, he looked both looked exhausted and elated, for well-deserved reasons.
I doubt that the playwright or director Maria Mileaf could have asked or hoped for more.

Let There Be Love runs through May 3 in ACT's Geary Theater, 415 Geary St., San Francisco. Tickets ate $20-$105, from 415-749-2228 or act-sf.org
REAL LIFE. REAL NEWS. REAL VOICES.
Help us tell more of the stories that matter from voices that too often remain unheard.