All across the country, we actively stymie the college dreams of undocumented youth. This perpetuation of dashed hopes is not a direct legacy of past oppression. No, these dreams deferred and dreams forgone are, in part, a result of policy decisions written in this new century that effectively limit the movement, educational attainment, and economic vitality of undocumented youth -- children who have spent most of their lives living, playing, and learning in the United States.
This unfortunate reality was brought painfully into high relief for me last month. I was meeting up with a girl that I had recently begun mentoring through a local program. When I walked into the coffee shop, I found Jessica with a wide, self-accomplished smile. She was brimming with excitement, anxious to announce that she had been accepted into most of the seven colleges and universities she had applied to including her dream school - the University of North Carolina at Chapel Hill.
Thrilled, yet, unsurprised, I congratulated Jessica before double-checking that she had remembered to dot the i's and cross the t's:
"Have you told all your recommenders the good news?" I asked.
"Of course!" (with laughter)
"Cool. Do you have to declare a major? Is there a deadline for that?"
"No deadline, but I'm thinking I want to major in mathematics."
"Math?! So legit. Oh and what about FAFSA and financial aid? When is the deadline for that?"
Jessica grew silent. Her countenance shifted in phases, quickly moving from shock to discomfort before finally settling on a hybrid between disappointment and embarrassment.
"I'm not going to apply for financial aid," Jessica responded.
She switched the subject.
Within a couple weeks, Jessica confided in me that she was undocumented. Through conversation, I learned more about Jessica's story.
She had come to the United States at the age of two, long before she could recall her first memories. She worked hard and excelled in school in her early years. As Jessica neared high school, she began to consider the obstacles associated with being undocumented. Determined to not let her legal status define her destiny, she shrewdly sought out and enrolled in a statewide career and college promise program that enabled her to take college level courses throughout her last two years of high school. By the end of this semester, she will have earned over 50 college credit hours. Jessica remains involved at her school as a member of Student Government and the Year Book Club, while working to better her community as part of a youth group focused on increasing the voice and feedback of young people in the city's decision-making processes.
When I think of Jessica, I cannot help but think about myself at her age - and I am left astonished. In almost every aspect, she has lived her life better than I did. At 17, I had squandered numerous opportunities to live a life that reflected my true potential. I ignored the advice of educators to challenge myself academically. I was one of the class clowns. I concentrated exclusively on sports and earned below-average grades. I was, to say it plainly, just a mediocre student.
Yet, I was able to turn my life around through a litany of supports - in-state tuition at my local community college, Pell Grants and Federal Work-Study when I transferred, and institutional aid that sustained me through graduation - that Jessica is legally barred from due to a decision she had no choice in making.
Jessica - through her work ethic, determination, and commitment to help others - embodies American traditions, American values, and an American way of life. She represents all that we would expect from our country's best and brightest. And yet we stifle her potential by constructing monumental roadblocks: in the state of North Carolina, Jessica cannot obtain work verification, a driver's license, in-state tuition, or federal financial aid.
How do we expect Jessica to contribute to her community and America writ large when we have blocked every traditional avenue to work and upward mobility? What does our nation gain when we obstruct the path to prosperity for young people in the only country they have ever known? Equally important, what does our country lose - in both human and moral capital - when we postpone or completely blunt the dreams of our undocumented youth?
Given the political climate in Washington, there is little to suggest that Congress will pass comprehensive immigration reform that would dismantle the unnecessary barriers that inhibit the success of Jessica and the two million other undocumented children just like her. However, there are steps that we - every day educators, administrators, employer, and workers - can begin taking right now to better open up opportunity for undocumented youth by applying the We Got This framework developed by Opportunity Nation.
Opportunity Nation, a cross-sector, bipartisan coalition, has developed a five-part plan to tackle unacceptably high levels of youth unemployment and disconnection. Here are some ways the "We Got This" action plan can be applied to undocumented youth: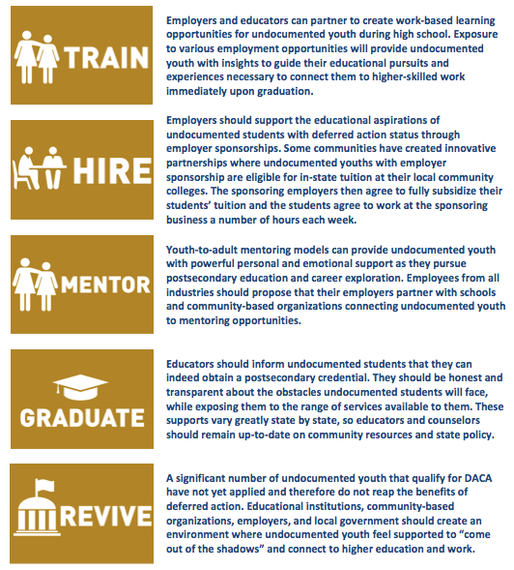 As I reflect on the injustice of dreams unfulfilled- on wasted talent and on lost potential - intentionally designed through imprudent policy, I am reminded of Dr. King's words: "this generation will have to repent not merely for the vitriolic words and actions of the bad people, but for the appalling silence of the good people."
We cannot afford to lose a generation of scientists, mathematicians, entrepreneurs, and faith leaders of Jessica's caliber. We must provide equitable postsecondary educational opportunities for undocumented children. And as we wait on public policy to match up with the depth of our moral imagination, we must not remain silent either in our words or our actions. We must do our part in our workplace, in our religious institutions, and in our communities to close the chasm between the ambitions of undocumented youth and the opportunities they need to actualize those ambitions.
Calling all HuffPost superfans!
Sign up for membership to become a founding member and help shape HuffPost's next chapter