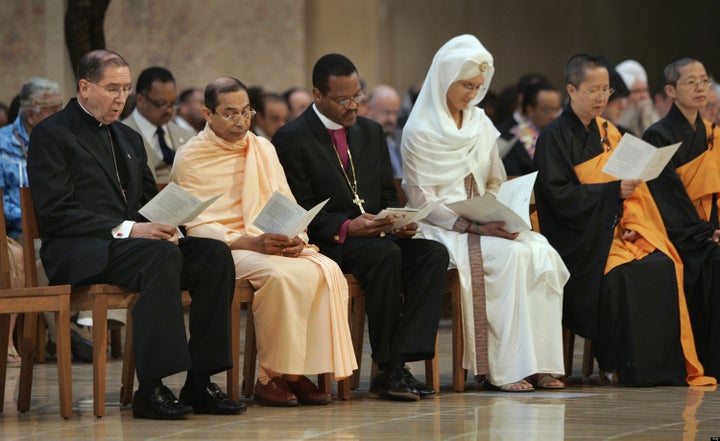 In the midst of the controversy swirling around the National Day of Prayer, maybe we should all stop, take a deep breath and -- pray! We are at this moment caught up in whether or not it is constitutional for the government to proclaim a National Day of Prayer. I wonder if the more critical issue is whether or not we can find it within ourselves to pray together as a nation -- one whose citizenry is increasingly "of many faiths." For Aa day of prayer to be authentically deemed national, it should reflect the pluralism that now defines us.
As executive director of an organization dedicated to interfaith prayer for peace, I phoned the local organizing committee for the National Day of Prayer last spring. I was told that the planning retreat was for Christians only (I qualified -- at least I think I qualified), but when I asked how I could be helpful in engaging those from diverse faiths in the upcoming event, there was a brief but awkward silence. I was then cheerfully informed that everyone, even non-Christian groups, were welcome to pray on the capitol steps -- as long as it happened separately from and before the organizing committee held their event. After all, she said, they wanted to be "the clean-up hitters." Evangelical groups are being criticized for "hijacking" the National Day of Prayer, but perhaps the rest of us have allowed that to happen. It would be wonderful if the current controversy would prompt a national conversation challenging us to move beyond tolerance to respect for all religions and no religion. I believe our Constitution was formed on principles of freedom and respect for all.
A similar conversation about government edict and spiritual values led to the founding of Fellowship in Prayer 60 years ago, when a group of concerned New Yorkers led by Carl Evans responded to an ad entitled "God and the Atom" that had been posted in The New York Times. The author called on President Truman to form a World Spiritual Bloc under US leadership, suggesting "God as the only defense against the atomic bomb and atheism." The Fellowship in Prayer ad, conversely, affirmed the importance of religious values and practices in addressing the crises of the times but in place of executive order, it proposed a grassroots movement, a spiritual renaissance in which people of all religions and wisdom traditions would come together to pray, thereby effecting peace. Fellowship in Prayer has been calling people to interfaith spiritual practice ever since.
If "we the people" want to pray together, we don't need the government's endorsement as much as we need generosity of spirit so that we can be all-inclusive. On May 6, whether the National Day of Prayer is declared constitutional or not, Fellowship in Prayer will pray for our country and our leaders that we may be a nation that embraces everyone's right to "life, liberty and the pursuit of happiness." Consider joining us by reaching out to pray with people of religions or wisdom traditions other than your own, so that those of us who believe in the power of prayer will be praying as the nation for our nation. We can pray in words or in silence, we can hold the nation in our thoughts, and we can commit ourselves to living from a place of greater compassion. As a number of wise people have observed, "Prayer doesn't change God; prayer changes us." We are in need of such transformation -- to become reconcilers, peacemakers, and justice-bearers. I think these values are shared by theists, non-theists, atheists -- all who hope for a better world.
If you would like to become a part of Fellowship in Prayer, visit our website, www.fellowshipinprayer.org. To further explore how prayer within and across religious traditions can be an answer for the 21st century, take action and join us for our conference, June 24-27, 2010, on the campus of Princeton University. Visionaries like Sister Joan Chittister, Gustav Niebuhr, Zen Master Bernie Glassman, Daisy Kahn, Dr. Uma Mysorekar, Fr. Edward Beck, Rev. James Forbes, and many others will be there.
REAL LIFE. REAL NEWS. REAL VOICES.
Help us tell more of the stories that matter from voices that too often remain unheard.