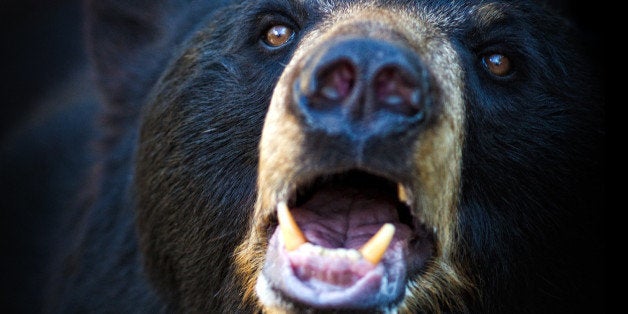 Since 1993, the images of suffering brown eyes have haunted those of us in Animals Asia who have made investigations of over one hundred bear bile farms across Asia. Despite ongoing reassurances from farmers that methods of bile extraction are "humane" we have seen not one bear to this day who would lay willingly down for such an invasive procedure that compromises their physical and psychological health.
Today, our sanctuaries in China and Vietnam bear witness to the reality of surgical mutilation and exploitation on a scale hard to comprehend. As over 500 bears are welcomed in to new lives, where their fear and pain are understood and brought to an end, we persevere to retain the patience and resilience necessary for working on the ground, until this cruelty ends.
In Vietnam we have made multiple investigations of these miserable farms; catching the farmers in the act of bile extraction, despite laws that make this practice illegal today.
One such trip saw Tuan Bendixsen, our Vietnam Director and I, seeing bear farm staff fleeing in the other direction when we made a visit to Halong Bay. A coach filled with tourists was also seen driving quickly away from the scene, leaving us in no doubt that there would be unconscious bears on the farm, having had their "fresh" bile extracted and sold to gullible people who believed that it would cure cancers and hangovers, and anything else in between.
How I wished we'd had a Traditional Medicine doctor with us at the time -- someone who could detail the real truth of bear bile remedies, how historically it has been used in such small amounts for specific illnesses, and that for every single medical problem there was a herbal or synthetic remedy instead. Thankfully, since then, we've worked with thousands of Traditional Medicine doctors across Asia, "Healing without Harm" and spreading the message that people won't die from a lack of bear bile.
Here on the farm, as anticipated, there was a moon bear lying prone in the cage, with what was left of the bear farm staff swearing that he was asleep. Despite reaching in and shaking the bear's head by the ears, I failed to wake him (thus proving that he had been drugged), and Tuan and I continued to film the shopping list of proof that this animal had just been cruelly milked of his bile.
Old swabs stained with the yellow/brown bile, the nooses that had restrained the bear's head and limbs whilst anaesthetised, the bottles of the illegal drug Ketamine -- all carefully filmed and documented, while the now twitching bear began waking up in to consciousness, after his abdomen and gall bladder had been punctured time and time again by a 4 inch needle locating and draining his bile.
Still, despite the film, the evidence of our own eyes, and the subsequent world wide appeals to close this farm, the government were unable to act under the provisions of the law.
Today, this cruel and barbaric act is repeated almost every day in the three bile farms that remain in Halong Bay -- a remarkable UNESCO World Heritage Site in the Gulf of Tonkin, with its beautiful islands and seascape of limestone pillars... and with its dirty little secret of bear bile extraction.
Bear farming is illegal in Vietnam but, in 2004 bear bile farmers were given the opportunity of officially micro-chipping and registering their bears, thus keeping them for public display, and as "pets". Any bears found without microchips from 2005 were deemed illegal, and confiscated by the authorities, where NGO's like ourselves could provide sanctuary for the rest of their lives.
Just this past November our team were once again at Halong Bay. Flanked by government officials, and a police guard - Tuan and our veterinary staff were investigating the three remaining farms. On the worst they recoiled, healthchecking emaciated bears that were severely malnourished, wounded, obviously continuing to have their bile extracted - and dying in front of their eyes.
Since visiting the three farms that day, 26 of the 49 bears have died -- and still government departments have failed to take decisive action and give Animals Asia a mandate to rescue the bears.
It breaks our hearts to think how these bears have died. Where are the bodies, or the body parts of these bears? How is the farmer being held accountable? And how are the owners of all of these farms allowed to continue flouting the law and laughing all the way to the bank?
The Prime Minister is the only person who can make the critical decision of closing the farms -- and we stand by, ready to rescue these bears and give them the help and sanctuary they need.
Please join this campaign now, and help us to urgently close Halong Bay's bear farms -- together we can offer a beautiful life for these unwanted, unfed, and unloved bears.
Calling all HuffPost superfans!
Sign up for membership to become a founding member and help shape HuffPost's next chapter