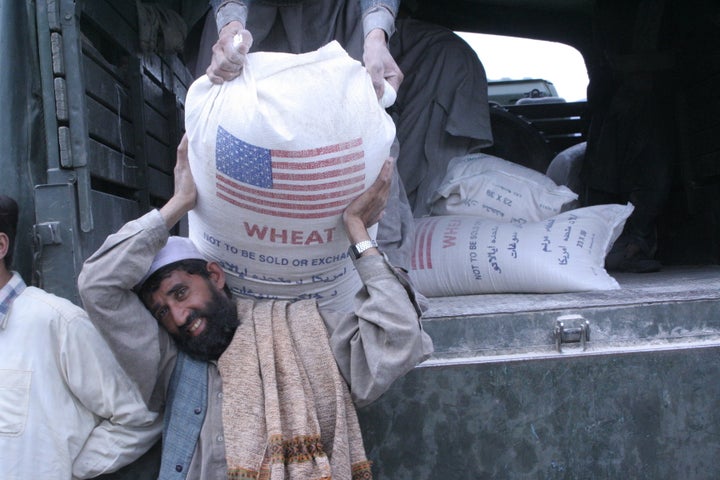 LET USAID HELP PUERTO RICO
U.S. disaster relief agencies are struggling but failing to restore electricity, water, food and medical care to 3.4 million citizens on Puerto Rico since two hurricanes hit last month.
Despite problems in helping the island territory, there has been a failure to employ the U.S. government's top humanitarian response teams. These foreign aid workers have the trained staff, resources and expertise needed to save lives in Puerto Rico.
I'm speaking of US government's Disaster Assistance Response Teams (DART). These small but efficient teams are fielded round the world by the U.S. Agency for International Development – USAID. I've seen them tackle gigantic crises worldwide, such as the 2004 Great Tsunami, the 2005 Kashmir quake, and so on.
Back then I worked as a writer at USAID, which sent me to report on recovery work in several major disasters. I saw how a solitary staffer wearing a USAID hat guided a lineup of a half dozen huge cargo airplanes in Aceh, Indonesia, after 230,000 people died in the Tsunami.
In Sri Lanka, about 30,000 people died in the 2004 Tsunami. A few days later, I saw a single USAID development worker help jump start food, medicine, schools, reconstruction of homes and repairs to fishing boats. He was familiar with the towns and leaders of the hard-hit east coast of the island nation. And this aid worker was armed only with a checkbook, able to dispense small payments for recovery teams.
In Aceh, Indonesia, where the majority of Tsunami deaths took place, I saw USAID staff helping set up an airbridge of assistance, keeping the plane engines running. As soon as they unloaded the aircraft (forklifts were on the first flights) the planes screamed off to clear the runway and pick up more food, fuel and water treatment systems.
In some disasters the first cargo out of the planes were tents and cots to house emergency medical and logistic teams.
But why does the U.S. government refuse to let USAID join the relief effort to speed up delivery of aid to Puerto Rico?
Instead, a DART team went to non-U.S. islands near Puerto Rico, and delivered aid to foreign victims while American citizens on Puerto Rico languish in a steamy mosquito-ridden hell, lacking clean water and power.
After hurricanes Irma and Maria, the US government sent a DART team to foreign owned Caribbean islands, and on Oct 9 said the job was done. The world's top disaster experts were told to come back home. But Puerto Rico was left to suffer.
"The USAID Caribbean Hurricanes Disaster Assistance Response Team (DART) successfully concluded field operations in the region on October 9.," said a statement on the USAID website.
"While continuing to monitor humanitarian needs, USAID has transitioned focus to early recovery activities. A field-based USAID regional team, including three USAID/OFDA disaster risk management specialists . . . will continue to support relief activities."
The failure to allow USAID to join in rescue and relief operations in Puerto Rico is a classic form of turf war, so beloved by the Washington bureaucracy.
"There is no love lost between FEMA and USAID," said a former senior USAID official. And asking the foreign aid agency to help would amount to an admission it could not do the job.
Although officials from FEMA and USAID note that funding for foreign aid is separate from U.S. disasters, the former USAID official said the U.S. president has the authority to shift funds and cover a USAID foray into American territory.
And aside from FEMA and other domestic agencies dissing the foreign aid experts, the US military is another source of putdowns.
We saw this in Iraq and Afghanistan. The military with its huge troop and logistics capacity often excluded USAID from its operations and declined to even provide security to civilian USAID staff. We had to hire Dyncorps and other private security guards to travel outside the perimeter of secure bases.
When it comes to FEMA – the Federal Emergency Management Agency – the turf is not just who has more braid and scrambled eggs on the shoulders. There is a feeling that USAID is meant for the poor hell holes of the world, not U.S. soil and cities.
Why can't USAID – the agency with the most experience in delivering humanitarian assistance – join in the apparently weak effort to help out the victims of hurricanes Irma and Maria?
It is time to change the way we keep USAID disaster experts blocked off from U.S. territory emergencies. With dozens of years of expertise responding to tsunamis, earthquakes, fires, drought and other emergencies, the foreign aid agency is a world leader and should be engaged in Puerto Rico.
Ben Barber has been a journalist since 1980. For seven years he was senior writer at USAID. His photojournalism book GROUNDTRUTH, Work, Play and Conflict in the Third World, is available on Amazon.
Popular in the Community