There's lot of mixed reaction to Groupon these days. If you're a local retailer and you haven't heard of Groupon, this New York Times article is a great, great overview. This paragraph sums up what it is nicely:
For those of you not familiar with Groupon, the company partners with local businesses to send a daily coupon e-blast to its members. The members who buy the coupon get 50 to 70 percent off on a product or service, and Groupon splits the proceeds with the retailer -- usually leaving the retailer with about 20 to 25 cents on the dollar of retail value.
From the customer's point of view Groupon is a great thing with almost astonishing surprises and deals daily. But retailers are struggling with practically giving their services away, often to their very own customer base.
For me personally, here's the real rub of that and a real world example. The yoga studio I love and adore did a $30 one-month Groupon deal.
For a long time now I have been a genuine evangelist for them and frankly it was a bit hurtful when I walked into an unusually overcrowded studio one day -- having just paid my normal $99 a month fee. Huh? When I heard what happened I had to ask: Really? I actually said it out loud. And others nodded in understanding.
Hmmm. I have to wonder how much more successful it would have been if they had quietly given me that same $30 deal as a reward for being so faithful and also given me the chance to invite five others into our little yoga community with that amazing deal.
I am not saying Groupon is all bad. Groupon may or may not be a good thing for the retailer. As the article above clearly spells out, you have to do the math.
But here is another creative solution to finding new clients. I think it's a simple, brilliant, real world example of loving your best customers and inviting your advocates to spread your message.
My friend Lauren is the owner of a beautiful spa in downtown Greenville, South Carolina called River Falls Spa. Lauren, along with the help of her advocate and friend Heather Hough came up with this simple idea. (For the sake of transparency Heather is part of the Brains on Fire tribe, so she has learned first hand the lessons in our book, Brains on Fire, Igniting Powerful Sustainable Word of Mouth Movements.)

So here is the plan they came up with:
Lauren identified a handful of the spa's key advocates.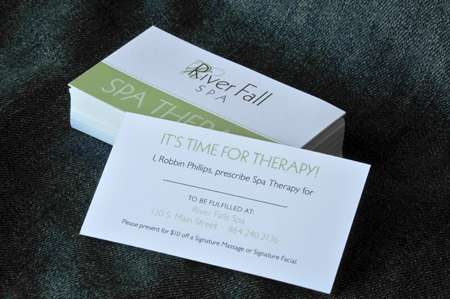 She had 100 cards personalized and printed for each of them with this message:

It's time for therapy!
I, Robbin Phillips, prescribe Spa Therapy for __________________
To be fulfilled at
River Falls Spa
130 S. Main Street
864.240.2136
Please present for $10 off a Signature Massage or Signature Facial.
Lets just say I am one of the lucky people to get a set of those cards. Cause I am.
I get to give these super cool, personalized $10 dollar off cards to friends and family for a treat I truly LOVE. And each time 10 are used with my name on it, I get a reward.
Yup. A free massage or facial.

Very cool, and in keeping with the NYT article, let's do the math.
I give out ten cards for $10 off a service that gets used.
($100 discount on $1100 worth of services.)
I get a free massage.
($110 value)
I'm thrilled. And feel valued. My 10 friends are thrilled. And perhaps become regular customers. (Because the spa is awesome. And we all know birds of a feather flock together. My friends most likely are like me and love a good massage or pedicure once in a while.)
AND the spa still makes $1000 and has spent only $210 to be introduced to ten of my friends.
Love the people who love you and they will love you back.
I propose small business owners think hard about keeping this "Groupon kind of love" in the family.
By the way, let me know if you are coming to Greenville. I have a deal for you!

Calling all HuffPost superfans!
Sign up for membership to become a founding member and help shape HuffPost's next chapter