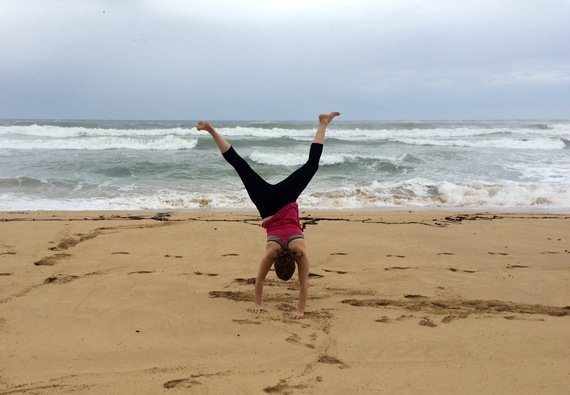 Before having my daughter, my husband and I had an incredible babymoon. I was 30 weeks pregnant and it was our one year wedding anniversary. I was exhausted, uncomfortable and flying high with excitement of the pending arrival of our baby. We stayed at a beautiful bed and breakfast nestled in the mountains of Estes Park, Colorado. It was a magical weekend that allowed us to feel deeply connected before the arrival of our daughter.
Do not get me wrong, I think that taking a babymoon is great and important. But after baby arrives, all attention and focus swirls around the new addition and we often forget that as parents we need to feel nurtured. I have come to realize that an after-the-baby moon is an absolute must; it is like a date night on steroids. Quick definition: after-the-baby moon is a getaway without the baby.
I am suggesting that new parents get away. GET AWAY. For a few days. For a weekend. For a week. Whatever works for your schedule and for your budget. Just get away and do not feel guilty. Your baby (or babies) will be fine! My husband and I recently returned from our after-the-baby moon. We spent a week in Punta Cana at an all-inclusive resort and I am still over the moon. I would like to share five reasons why an after-the-baby moon is an absolute must for new parents.
1.) Time to reconnect with your partner. Let's be honest, the first year is a complete shit show. You and your partner are in survival mode. Your conversations with your partner typically involve your newborn's bowel movements, spit up, attempts to soothe a screaming mini human, etc. An after-the-baby moon is a time to reconnect with your partner and focus on your relationship. Sleep. Make out. Get crazy. Read a book. Lay in bed all day. It's an opportunity to focus on making your relationship stronger.
2.) It's good for you and baby. Before having my daughter, I thought there was absolutely no way I would leave my sweet baby at any point or for any reason during the first year. And especially as long as she was nursing. I now realize how important and healthy it is for parent and baby to take a break from each other. Missing your baby is a good thing. Do not feel guilty about It being away from your baby. She will be fine.
3.) It's good for the caretaker. My parents live out of state so they only get to see my daughter every few months. When we asked my parents to watch our daughter for a week they were thrilled. They spent an entire week in grandparent bliss and showered our daughter with love and affection, attention and gifts.
4.) It allows you time to reminisce on the person you were before becoming a parent. This is a special time for self reflection. To feel like the person you were before you became a parent. And to be reminded that your former childless self is still alive and well and is now even more of a bad ass.
5.) Time to recharge. I'm willing to bet that pregnancy, birth, and raising an infant has left your battery drained or on empty. Taking an after the baby moon will help you and your partner to come back feeling refreshed and ready to tackle parenthood. Happy and relaxed parents are better parents.
I am urging all parents (but most importantly new parents) to take a break and get away. You have earned some serious R&R and deserve to feel over the moon with joy and appreciation for the life you have created.