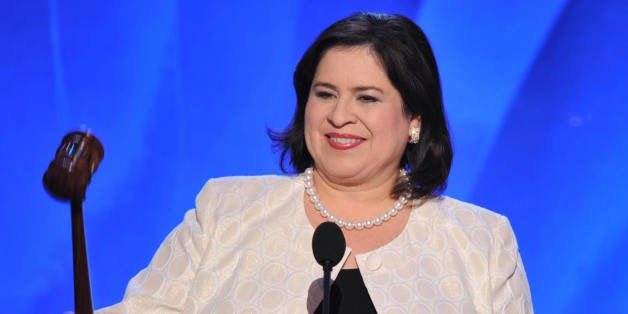 AUSTIN -- State Sen. Leticia Van de Putte is taking her campaign for lieutenant governor on the road, embarking on a 16-city bus tour that over nine days will swing the Democratic nominee through every major corner of Texas, including Houstson.
Van de Putte will kick off the bus tour Sunday in the Alamo City and is set to wrap up April 7 in Austin after trekking an estimated 2,500 miles around the state.
"Starting Sunday, I'm traveling all around Texas," Van de Putte told supporters this week. "I'll be in a community near you, because I want to hear from you and discuss our vision for the Lone Star State."
After launching in San Antonio, the campaign bus will make stops in Pharr and Laredo before shifting west to El Paso.
From there, the bus tour heads to Midland, Lubbock and Wichita Falls.
Van de Putte, a pharmacist who served in the Texas House and has been in the state Senate since 1999, will face either Lt. Gov. David Dewhurst or state Sen. Dan Patrick, R-Houston, in the November general election.
Dewhurst and Patrick are squaring off in a May 27 runoff.
And while the GOP candidates continue to tear into each other, Van de Putte is hoping to parlay a statewide bus tour into more support for her campaign.
Cal Jillson, a political scientist from Southern Methodist University, called bus tours an "old-school but very effective" tool to promote candidates and said the move could help Van de Putte's campaign broaden its message.
"In Sen. Van de Putte's situation, she's very well respected in Austin and San Antonio and in her district, but she's not well known around the state," Jillson said. "She needs to introduce herself, and this is one way to do that."
Aside from spreading her campaign message, Van de Putte's statewide tour could also help Sen. Wendy Davis' gubernatorial campaign.
Jillson noted that Davis, D-Fort Worth, lost some heavily Latino counties to a little-known primary opponent, Ray Madrigal, so Van de Putte's visits to the Rio Grande Valley and El Paso become even more important for the top of the Democratic ticket.
Also important, Jillson said, is for Van de Putte to promulgate the campaign's agenda in areas of the state where Republicans tend to dominate.
"When you talk about East Texas and the Panhandle, that's sort of a lightning raid into enemy territory," he said. "But you've got to go in there and try to move up your percentage so your stronger areas can carry you into a competitive position statewide."
Van de Putte's bus tour is also scheduled to make stops in Fort Worth, Dallas, Tyler, Lufkin and Nacogdoches.
The tour will stop in Houston on April 5 before heading to Corpus Christi and concluding in Austin.
"It's a big responsibility in a big state, and I know I'm up to the challenge," Van de Putte said in the message. ___
(c)2014 the Houston Chronicle
Distributed by MCT Information Services
Calling all HuffPost superfans!
Sign up for membership to become a founding member and help shape HuffPost's next chapter