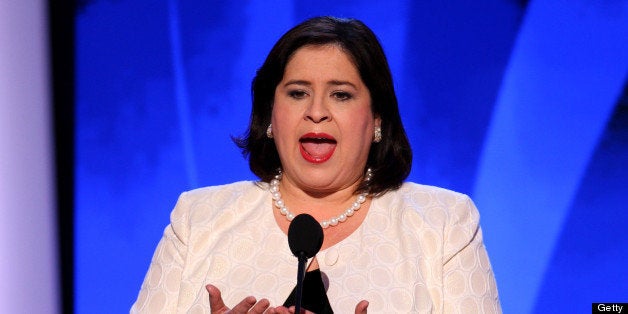 Texas state Sen. Leticia Van De Putte (D), one of the lawmakers who stood up and defended Sen. Wendy Davis (D) after Davis' 11-hour filibuster of an anti-abortion bill on Tuesday, said the government will likely investigate Senate Republicans for changing the timestamp on official government documents to indicate that the bill had passed before the legislative session had ended.
"I think there will be an investigation," she told The Huffington Post in an interview. "You can't try to change a government document. The length they were willing to go to to break Senate rules -- tampering with a government document? That's a felony."
During the last few minutes of the Texas legislature's special session, which ended at midnight on Tuesday, Republicans tried to rush a vote on S.B. 5, a bill that would severely restrict abortion access in the state. While the timestamp on the vote originally said it took place on Wednesday, June 26, several news organizations noticed that the timestamp was changed within hours to indicate that the vote took place on June 25 before midnight.
There was so much confusion after the special session ended Tuesday night that the Associated Press initially reported that the bill had passed. But on Wednesday morning, after an hours-long conference with some of his colleagues, Lt. Gov. David Dewhurst (R) conceded that the bill had not passed before the midnight deadline.
"They got caught by the media and by everyone trying to change the time at which the bill passed, and they didn't know how to get out of it," Van de Putte said. "I think that Republicans severely miscalculated if they thought women would go quietly into the night as they tried to pass this egregious bill."
Dewhurst's office did not respond to requests for comment about the timestamp change or a possible investigation.
Following news that the bill had failed, Gov. Rick Perry (R) announced another special legislative session would convene on July 1, and he added the same abortion bill to the agenda.
Van de Putte said she is not surprised by Perry's move. "Even though we may lose, and this bill may be passed, I think the effect is that people will remember," she said, "and women will remember and translate their anger and displeasure at the ballot box."
Popular in the Community