New York City Public Advocate Letitia James says the city needs to strengthen the current regulations that are on the books to combat lead poisoning, following an investigation published by The Huffington Post and WNYC on March 31. It revealed that some landlords fail to remove peeling lead paint from apartments with children, because it is more cost-effective to make repairs only after city inspectors notify them of dangerous lead conditions.
"All of the agencies have to do better enforcement, better inspection," James said, adding that addressing dangerous lead conditions should be a priority.
While lead in water has been making headlines in places like Flint, Michigan, in New York lead paint is one of the biggest sources of lead poisoning for small children, according to the health department. The Local Law 1, that was passed in 2004, requires landlords to remove chipping or chalking lead paint from apartments with children under the age of six.  
But advocates have criticized the New York City Department of Housing Preservation and Development for failing to implement an effective system to conduct inspections that are not complaint-driven and collect fines from violators.
Ian Davie, a housing lawyer formerly with the Bronx Legal Services, told HuffPost that it's very difficult to hold landlords accountable. "You need to have a license to run a hotdog stand but you don't need a license to rent an apartment where people live," he said.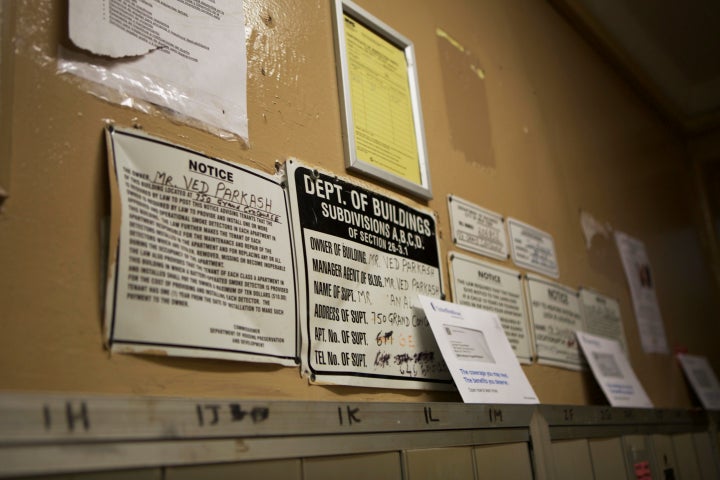 From November 2013 to January 2016, the HPD has issued more than 10,000 violations for dangerous lead paint conditions, according to the HuffPost/WNYC analysis. A few zip codes in Northern Manhattan, the Bronx and Brooklyn accounted for half of those violations. About 10 percent of the nearly 2,000 landlords who were issued lead paint violations during that two-year span were responsible for most of the violations. The HuffPost/WNYC analysis was based on the HPD database of housing code violations, owner registration and property records.
"We are committed to identifying children who may be at risk of lead exposure," said a health department spokesperson in an emailed statement. "We will continue to zero in our efforts in the communities that are the most vulnerable."
The housing department did not respond to requests for comment.
Since 2004, when the law was implemented, there has been an 80 percent drop in the number of New York children with a blood lead level above the Centers for Disease Control threshold of 5 micrograms per deciliter. However, in 2014 more than 6,000 had a blood lead level above that threshold, according to health department data.
The HuffPost/WNYC report identified landlords Moshe Piller and Ved Parkash among those with the highest number of lead paint violations over the past two years. And in the past decade more than 10 families have sued the landlords alleging their children were exposed to the toxic metal because peeling lead paint had not been removed from their apartments.
On Monday, 38 tenants filed a lawsuit against Parkash claiming their homes, in one of his buildings in the Bronx, don't meet the standards of habitability and have hundreds of uncorrected maintenance issues, including peeling lead paint, according to the New York Daily News. The building, at 750 Grand Concourse had three lead paint violations between November 2013 and January 2016, according to the HuffPost/WNYC report.
"It's unconscionable," said James. "These people live in these conditions and he continues to collect the rent."
Calling all HuffPost superfans!
Sign up for membership to become a founding member and help shape HuffPost's next chapter