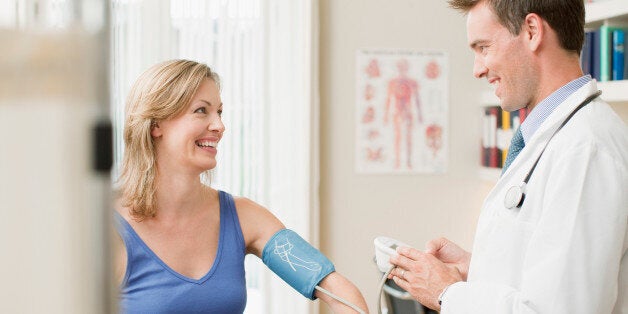 Growing numbers of busy Americans are seeking convenient, affordable alternatives to the everyday activities they are finding less time to accomplish -- including health care.
Just as major food stores have evolved to meet the needs of their customers by delivering groceries to their front doors, so have the nation's leading pharmacy chains.
Staffed by medical professionals such as nurse practitioners and physicians' assistants, pharmacy-based clinics now offer local -- and low-cost -- options for diagnosis and treatment of various health problems.
The new offerings provided by these pharmacies suggest a promising shift within the health care community to do more to meet patients' needs, and for that they should be applauded.
Unfortunately the places that tens of millions of Americans, particularly busy and burdened working women, turn to for care -- from pharmacies to community health clinics and even OB/GYNs -- are not consistently initiating basic lifesaving services that a patient would receive from a traditional primary care doctor.
Further compounding this problem is the fact that many patients only seek basic medical care when they are in urgent need, resulting in some of their gravest underlying health care issues going undiagnosed.
For many of the nation's women, this issue is heart disease.
While the health care system has made significant progress in providing more comprehensive, convenient care, heart disease continues to remain the number-one killer of women in the U.S., accounting for one in four female deaths -- more than every form of cancer combined. Studies show that nearly one in five women relies on her OB/GYN for all her primary care needs, yet only one third of women recall having ever discussed heart disease with their OB/GYN.
Often, the first step toward motivating a woman to get on the path to heart health is to identify and inform her about her areas of risk. Through early, preventive screening and healthy lifestyle modifications, women can reduce their risk of heart disease by up to 82 percent.
Uniting some of our nation's top cardiologists, members of Congress, other stakeholders and, most importantly, women, this campaign is calling upon providers, insurers and policy makers to identify and put forth solutions to tear down the barriers that prevent women from being screened for heart disease and counseled on heart healthy habits.
With early diagnosis and immediate improvements in the health habits, women can save their own lives and spare themselves and their families untold suffering.
Today, coronary disease kills almost 300,000 American women every year. In economic terms, heart disease and stroke among all Americans -- women and men -- cost more than $312.6 billion a year in health care and lost productivity. Basic, preventive cardiovascular screenings can and will reduce the social and economic burden of heart disease in this country, and making that screening a routine part of a woman's visit to any primary care provider can and must be part of the solution.
Make no mistake: Screening for cardiovascular disease saves women's lives.
It's time for every health care stakeholder to take this message to heart.
Related
Popular in the Community