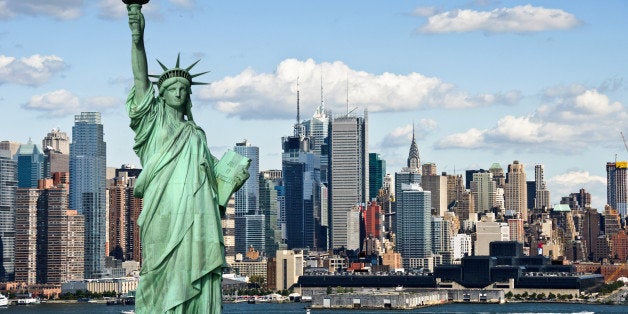 Hand-in-hand with the war on workers, affordable housing is under attack. When the Furman Center reported recently that 31 percent of New Yorkers pay 50 percent or more of their income in rent and utilities, it wasn't shocking. This confirmed a routine budgeting nightmare for many of us.
As the president of Teamsters Local 237, which represents more than 24,000 public workers, I know firsthand the challenges that workers face to make ends meet in a city where average wages lag far behind rents and the cost of living.
One of this city's biggest problems is properly defining "affordable housing." Right now New York City's formula for calculating affordable housing rents is based on a family earning $100,000 a year. That sets the bar way too high, more than double the $30,000 to $50,000 that many New Yorkers earn.
It's clear that we need more truly affordable housing. One way to get it is to build it, but real-estate interests are powerful, and they often get their way, preferring to build new luxury towers in our neighborhoods. Don't get me wrong: We live in an old city, and if we don't grow, we deteriorate. But the city makes it all too easy for developers to tear down existing, rent-stabilized buildings to build glass-covered luxury condo towers.
Despite electing an ally in Mayor Bill de Blasio, whose campaign slogan, "A Tale of Two Cities," highlighted glaring inequities between the haves and have-nots, the need for more affordable housing in our city is a tale that bears constant repeating until the crisis is relieved. The mayor has promised to create more affordable housing in our city, and I look forward to working with him in achieving this goal.
In the meantime, many residents still struggle to pay rent as developers build new housing to drive rents higher and price average workers out of their own neighborhoods. Therefore, we must also talk about how to preserve the affordable housing we do have and keep families in their current homes.
I am horrified every time I hear about a landlord harassing tenants to get them out of their rent-stabilized apartments, or when long-time elderly residents are forced out after their new landlords decide they want to raise rents. Often landlords neglect repairs and ignore complaints until living conditions become unbearable.
One particular landlord, the New York City Housing Authority (NYCHA), affects the lives of half a million New Yorkers. More than 8,000 members of Local 237 work at NYCHA, which is New York City's largest source of affordable housing. But at times, this agency appears to be the city's worst slumlord. No one would put up with them if they had a choice.
On Feb. 27, for the first time, the New York City Council held a public hearing at a NYCHA housing complex, where I raised concerns about the continued use of outsourcing, specifically its rental of temporary boilers to replace ones damaged by Hurricane Sandy. These boilers are inefficient and unreliable and cost $3 million a month, but NYCHA continues to outsource them. Taking action got results, however. Following the hearing, federal funds became available to replace the temporary boilers in all 110 public housing buildings starting in about six months.
We must stand together to combat abusive landlords and misguided city policies. The average individual tenant cannot hire lawyers to fight city agencies and sue slumlords on their own, but if thousands of residents come together and fight, we will become a powerful and influential voice to save affordable housing in New York.
I believe diverse communities including all income levels are far healthier communities and should be the goal for all our neighborhoods. The only way to achieve this is through a broad-based commitment to fair and regulated housing policies, and tireless activism to protect people from losing their homes and preserve our dwindling stock of affordable housing.
REAL LIFE. REAL NEWS. REAL VOICES.
Help us tell more of the stories that matter from voices that too often remain unheard.