Tonight Vogue and the MET Costume Institute will co-host their annual gala, considered by many to be fashion's most glamorous event. This year's theme - "Model as Muse" - seems like a fairly unimaginative concept for a fashion event, until you remember that popular actresses have been elbowing models off magazine covers in recent years.
When asked to name a supermodel, most people would conjure up Linda ("We don't wake up for less than $10,000 a day") Evangelista, maid-assaulter Naomi Campbell, and the lovely model-turned-yogi Christy Turlington, who reigned supreme in the 1980s and 90s, along with Claudia Schiffer and Cindy Crawford.
Watching some of these creatures in fashion documentary Unzipped (1994) - especially Evangelista, whose piercing, nasal voice could be made into a weapon of sorts -- makes me long for days when models made their impressions silently on paper, not running around in menacing, Alaïa-clad packs.
Contrary to popular perception, the supermodel phenomenon did not begin (or end) with the trio named above; it largely began in the late 1940s with Dorian Leigh and her sister Suzy Parker, the first model to earn $100,000 per year. These ladies, along with Lisa Fonssagrives (pictured below) were among the first to make modeling big business - to this day, modeling is one of the few industries in which women regularly out-earn their male counterparts, often by significant margins.
This special edition of Let's Bring Back ..., my recurring column that celebrates personae and rituals from past eras, will look at some of the most prominent models of the twentieth century. Some, like Fonssagrives, have faded from public memory, while others, like Twiggy, have reinvented themselves as contemporary pop figures.
These ladies epitomized the styles of their times. While each eventually became a celebrity in her own right, it was a very different sort of celebrity -- a far cry from bratty variety that emerged during the Supermodel Era of the 80s and 90s. One really can't imagine Suzy Parker beaning her maid in the head with a cellphone.
Models are meant to showcase someone else's creativity, which is something that seems to have been forgotten in recent years. If a model is lucky, she'll usher in a new era with her aesthetic. Without further ado, Let's Bring Back ... five ladies who did precisely that.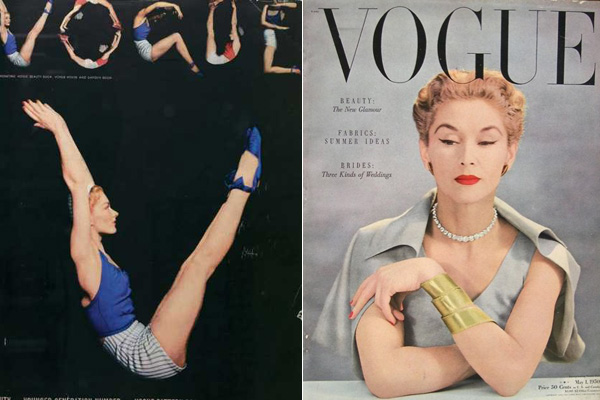 British Vogue, August 1940 and Vogue, 1960
Born Lisa Bernstone in Sweden in 1911, Fonssagrives studied ballet until she married photographer Fernand Fonssagrives and gave up dancing to model. At first, she modeled hats, but soon a Vogue cover followed, with Fonssagrives posing as each letter in the magazine's title (see above). She became a regular cover model for Vogue and Bazaar; in 1949, Time magazine called her "the million dollar baby" in a cover-story feature. Eventually she divorced Fernand and married famed photographer Irving Penn.
Widely credited with being one of the world's first supermodels, Fonssagrives once humbly described herself as a "good clothes hanger."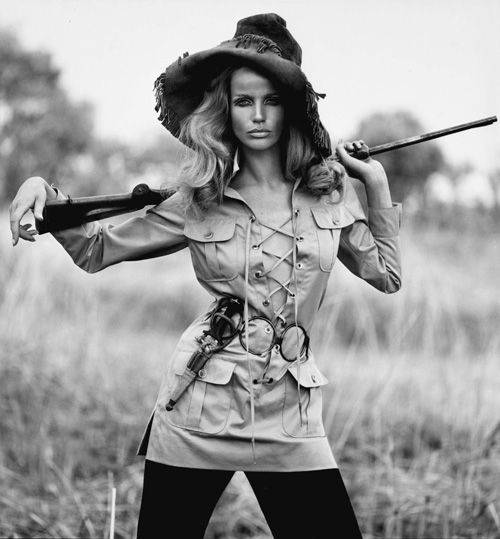 Veruschka in YSL by Rubaretlli 1968; Courtesy of the Costume Institute
Not only was Veruschka unstoppably gorgeous, she also gets snaps for having one of the world's longest birthnames: Vera Gottliebe Anna Gräfin von Lehndorff-Steinort. Born in 1939 in East Prussia, Veruschka's father was executed for participating in an assassination attempt against Hitler; she was five years old at the time.
As a model, Veruschka helped move fashion away from the prim, highly-structured styles of the 1950s and into the realm of unbridled, bed-head sexuality of the 1960s. In the mid-60s, she wore nothing but body paint to a shoot, which became a calling-card of sorts for her. In one shoot in Kenya, on which she collaborated with artist Salvador Dalí and photographer Peter Beard, Veruschka covered herself entirely with black paint to resemble the "surreal" plants in the landscape -- and the natives who lived there.
3. Jean Shrimpton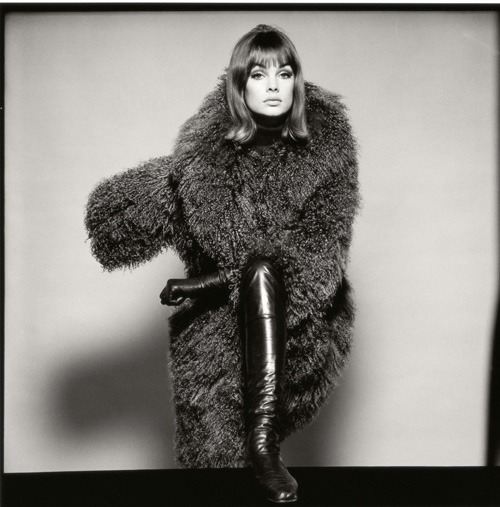 Jean Shrimpton by David Bailey, 1964; Courtesy of the Costume Institute
Born in 1942 in England, "the Shrimp" was one of the original gamines and an icon of Swinging Sixties London. By the age of 18, she had already graced the covers of the major fashion and lifestyle mags. Some credit Shrimpton with starting the original mini-skirt craze in 1965, when she wore an above-knee white shift dress to the Victoria Derby race in Melbourne, causing a scandal/sensation.
Incidentally, now she owns a ramshackle seaside hotel in Cornwall called the Abbey, which is one of the most charming places I've ever been.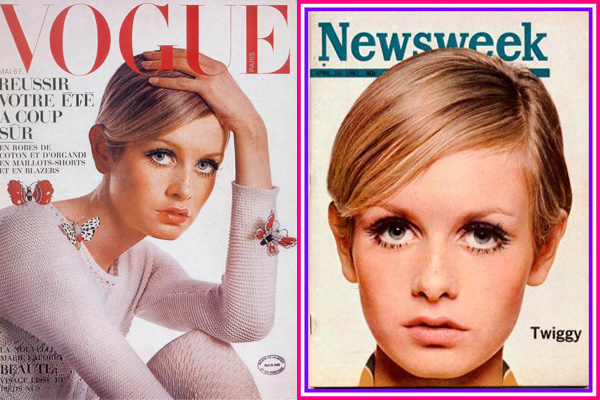 On the covers of French Vogue and Newsweekin 1967
Her birth name was Lesley Hornby; she became known as Twiggy for obvious reasons. At age sixteen and weighing an estimated 90 pounds, in 1966 she became England's most popular model and the mod postergirl around the world. With her short-haired androgynous look, Twiggy revolutionized the concept of high-fashion. By 1967, Mattel had released a 'Twiggy' doll. The original waif, Twiggy foreshadowed the success of equally-bony icon Kate Moss. She retired from modeling after only four years.
Today's audiences likely know Twiggy as a former judge on America's Next Top Model.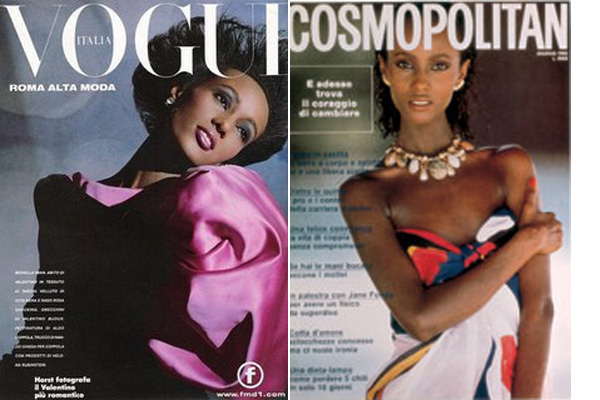 On the covers of ItalianVogue and Italian Cosmopolitan in 1980
Born in 1955 in Mogadisha, Somalia, Iman was 'discovered' by photographer Peter Beard twenty years later and became one of the first black women to rise to supermodel status (along with under-credited model Donyale Luna - who, in 1966, became the first African American model to grace an edition of Vogue).
Throughout the 1980s, Iman modeled for Calvin Klein, Donna Karan, and Yves Saint Laurent, whom she inspired to create an "Africa Queen" collection." Her success paved the road for other black supermodels such as Campbell, Tyra Banks, and today's runway darling, Chanel Iman.
In 1994, Iman launched an eponymous cosmetics line marketed to women of color. She is famously married to David Bowie.
With special thanks to Patrick O'Connell and Nancy Chilton.