For Mad Men obsessives like myself, this week brings with it the exquisite torture of anticipation. You see, the fourth season of this AMC series begins on Sunday. We've been through absolute hell since the last season ended: surviving without these characters and the Mad Men world has taken all the strength we've got.
Fortunately, we've had DVDs of the first three seasons to sustain us. As I eagerly await the return of Don Draper and company as they prepare to launch their lives anew (A new firm! New marriages! A new hair-do for Peggy!), I've been pouring over old episodes, immersing myself in this sepia-colored realm once again.
Time-wise, the Mad Men era is so close to our own, and yet so far away culturally. Elaborate social ritual is of paramount importance in the Mad Men realm; details are to be fussed over, not shunted aside in favor of soulless efficiency. The Mad Men world makes a fetish of ornamentation and deifies mysterious artifice; our culture, on the other hand, prizes an almost apathetic informality and rewards the tackiest forms of extroversion.
I once saw Mad Men brilliantly described as an exercise in "loathing nostalgia;" indeed, the epoch's glamor co-mingles uneasily with many of its deplorable practices and attitudes. The sexism, the homophobia, the racism: those things can stay done and dusted.
Yet there are other things from that decade that are acutely missed, perhaps especially by style-minded people who didn't get to experience them the first time around. For those of us who grew up in the subsequent era of Gap-sponsored khaki casualness and fast food, the Mad Men world represents a glamor lacking in our lives today.
This seems like the perfect opportunity to present a special Mad Men edition of Let's Bring Back, my longstanding column celebrating forgotten objects, rituals, curiosities, and personae from bygone eras. Like Mad Men, Let's Bring Back is, at heart, a celebration of stylish, ritualized living.
Without further ado, let's bring back the following things from the era of cocktails, pearl chokers, and unrepentant adornment: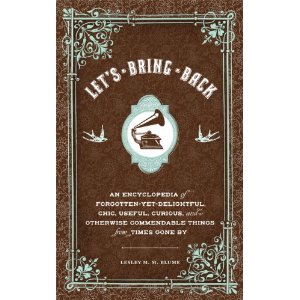 Much of Let's Bring Back is devoted to Mad Men-era fashions, foods, objects, and pastimes; the book also includes special guest contributions from Mad Men costume designer Janie Bryant and Jacqueline Kennedy's White House social secretary, Letitia Baldrige.