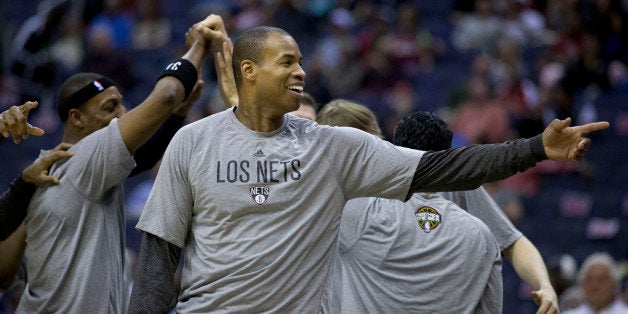 This Sunday, millions of basketball fans will join together in homes, bars and public spaces to watch the NBA's annual All-Star Game, celebrating the league's finest players like LeBron James and Kevin Durant. While these might be some of the biggest success stories out of the league, perhaps it's time to pause and celebrate the league itself for its efforts to create a more inclusive environment for LBGT players and fans.
We know that homophobia in sports has deep roots and is an issue that requires systemic change. Though it may seem obvious, we must continue proactively educating athletes about why LGBT respect and inclusion matters. The NBA has been a leader in this practice; in fact, it was the first professional sports league to provide its rookies with LGBT-specific training and resources in partnership with Athlete Ally-- a non-profit I founded which works every day to foster inclusive sports communities. Other leagues are taking on this mantle as well. The WNBA, the MLB and the NFL are providing LGBT resources to their rookies and are trying to build a culture of acceptance by recruiting inclusion educators to support individual teams.
While important, education alone cannot end homophobia. Policies must protect LGBT athletes from discrimination and harassment. In 2011, the NBA added a non-discrimination policy that covers sexual orientation as part of its collective bargaining agreement. The NBA walks the walk, too. They were the first to issue reactive fines to players that make homophobic slurs - a blanket $50,000 fine levied on players who use anti-LGBT oppressive language. Other leagues should strive to be so progressive.
With viewership for professional sports continuing to rise, we have an opportunity to leverage these broadcasts to promote LGBT inclusion and diversity practices. We can make great contributions to ending homophobia in sports and supporting broader LGBT acceptance. We can reach the young athletes who might be afraid to stand up and be proud of themselves.
As a long-time basketball fan, I am not only proud of my favorite team and players, but I am also proud of the progress the NBA has made in championing LGBT respect and inclusion. It's no surprise that when Jason Collins came out in 2013, it was met with widespread support from the NBA and his peers. While cheering on Sunday, I'll be ever mindful of how far we have come - since Jason first felt comfortable to come out. We must take time to celebrate the progress so far. To achieve real change, we will be relentless in our drive toward more action with a laser focus.
Hudson Taylor is a wrestling coach and a prominent straight ally and LGBT rights activist. He is the founder and executive director of Athlete Ally, an organization that works to foster inclusive sports communities.

Calling all HuffPost superfans!
Sign up for membership to become a founding member and help shape HuffPost's next chapter