A lot has changed since YWCA hosted the first Week Without Violence in 1995. Domestic violence may still be considered a dark, ugly issue, but today, it's no longer a private issue to be kept locked inside the home, behind closed doors. Today, we see police departments, yoga classes, college campuses, doctors and even some of our sports heroes raising their voices to demand an end to the violence.
There are countless stories about abusers who set up credit cards in their partner's name and then refuse to pay the bills, ruining their victim's credit. Abusers who force their victim to put her paycheck into a bank account and then deny her access. Abusers who hide all financial documents and won't share account passwords. Abusers who make harassing phone calls at work that cause the victim to get fired from her job.
So, regardless of the family's financial status, the woman often has no access to money, no or poor credit, few ways to earn a living and a limited understanding of her financial situation. Even if she is desperate to leave and has the courage to move to a local domestic violence shelter, she could have no money for transportation, food or clothing. And, what's worse, local domestic violence organizations are facing severe funding shortages. On a typical day in 2014, nearly 11,000 pleas for help went unanswered because local shelters didn't have the resources to offer assistance.
Let's change the conversation from "Why does she stay?" to "How do we help her escape and rebuild?"
Evidence shows that arming victims with the right tools and information can help. Victims need to protect and reclaim their financial resources, rebuild their credit and gain a complete understanding of their financial picture. According to a long-term study by The Center for Violence Against Women and Children at Rutgers University, abused women who participated in a financial education curriculum developed by The Allstate Foundation and the National Network to End Domestic Violence were twice as likely to take the financial steps necessary to rebuild their lives.

At Allstate, we take domestic violence very seriously. Through The Allstate Foundation, we have donated $43 million to the cause since 2005, focusing on the core issue of financial empowerment for victims, and have helped nearly 600,000 domestic violence survivors take steps to financial independence. We have great partners in this important work, including the YWCA USA and dozens of local YWCAs through the nation who have been incredibly passionate leaders on this issue for decades.
But, we need more people to understand that financial empowerment is a promising strategy for breaking the cycle of domestic violence and more financial resources are needed to give hope to survivors. It doesn't always take a lot of money to transform a life. A $500 loan can help a survivor fix or gain credit. With a respectable credit score, a woman can get a safe apartment, obtain a loan for a used car to get to work or help pay college costs.
This month, the fifth annual Allstate Foundation Purple Purse provides a variety of ways you can help support financial empowerment services for survivors throughout the nation. Actress and domestic violence activist, Kerry Washington has designed a purple purse available for purchase at Saks Fifth Avenue online with proceeds going to survivor services. Any purse can become a Purple Purse with Purple Purse charms available for just $10 for survivors programs. Or until Oct. 27, more than 160 community organizations are competing in the Purple Purse Challenge to raise funding for services. The more money each organizations raises, the more incentive funding they can earn from The Allstate Foundation. Go to PurplePurse.com and find a way that you can let survivors know there's hope, tell abusers their actions are unacceptable and bring us all a little closer to a world free of violence.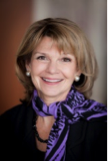 Victoria Dinges is Allstate's Senior Vice President of Corporate Responsibility. She brings Allstate's "Good Hands" to life among employees and in communities across the United States. As senior vice president, Corporate Responsibility, she leads the company's reputation strategy, integrating public affairs, strategic philanthropy and corporate responsibility. She is also responsible for employee communications and a range of business communications. Vicky's efforts shape Allstate's culture and reputation, build a better society and drive business growth. She is Chair of the National Network to End Domestic Violence Board, serves on the Board of Directors of the YWCA U.S.A. the YWCA Evanston/North Shore and the Illinois Coalition Against Domestic Violence, and is a member of the Adler University Board of Trustees.
YWCA's Week Without Violence is an annual campaign that takes place nationally and in communities across the country to end violence in all of its form, wherever it occurs. As the largest network of domestic service providers in the United States, YWCA is focusing our efforts on ending domestic violence -- NOW. Everyday YWCA addresses the root causes and immediate needs associated with domestic violence. As we mark our 20th annual Week Without Violence, we invite you to join us. To learn more visit www.ywca.org/wwv and join the conversation with #endDVnow. Read more great Week Without Violence blogs!
REAL LIFE. REAL NEWS. REAL VOICES.
Help us tell more of the stories that matter from voices that too often remain unheard.