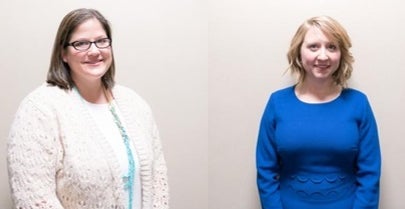 By Christy Diehl and Allison Larty
As newly-graduated teachers with a degree in hand and ready to conquer the world, we were armed with advice from older, wiser teachers: If you're going to teach for forty years, be sure that you don't teach one year forty times. This seemed obvious, for most new teachers today want to actively learn about effective teaching methods and the latest research. New teachers walk into classrooms across America hoping to be the next big success story. Having a growth mindset as an early educator is at an all-time high.
In fact, growth mindset is the latest buzzword in education; students are encouraged to find the intrinsic desire to become lifelong learners. However, as teachers, we are not encouraged to think about how we grow beyond simply being "good" teachers. For us to become true examples of growth mindset in action, we must have the opportunity to model what we preach.
On any given day, we are encouraging our students to learn from their mistakes, to embrace a challenge, to take feedback as stepping stone to move forward, and to celebrate successes. This is all in preparation to building fidelity in our 21st century learners. If we're telling students that anything is possible and that personal development will only lead to future success, why not apply the same ideals to teaching?
Here are some of the ways we can create opportunities for teachers to grow:
1. Provide ways for teachers to develop as leaders within their schools.
We as teachers are the ones in the classrooms every day, so we should be the ones implementing positive changes that impact our students on a daily basis. Teachers' expertise should be utilized, and we should be encouraged to innovate beyond the mandates of the school administration. Teachers could serve in curriculum development roles or as instructional coaches, capitalizing on the knowledge and skills built in the classroom. Teachers who show success in preparing students for standardized tests could assist other teachers in test preparation.
2. Use experienced teachers as a weapon in the fight for teacher retention.
In order to continuously better ourselves as educators, we need to learn from the successes and challenges of other effective and experienced educators in our building. After all, continuous improvement is the cornerstone of a growth-minded educator. Teachers need mentors. Teachers need to know that there are others who understand the difficulties they face in their classroom. Research shows that when teachers are part of a bigger networking teacher support system there is an increase in commitment and retention, effective classroom instructional practices, and student achievement. Just as teachers act as supports for their students, new teachers need support structures as beginning professionals.
3. Create a system to incentivize teacher growth
In the business world, compensation and recognition are tied to professional growth: climbing the corporate ladder brings not only increased responsibility, but also acclaim and financial rewards. This is lacking within the teaching profession. Many highly motivated teachers leave the classroom and sometimes the entire profession because of lack of upward mobility. Offering additional leadership roles to educators would help protect our schools' greatest resources: our strongest teachers.
Great teachers are our best resource for creating great teachers. Growth mindset is believing that abilities are not predetermined but flexible, and we should not limit a teacher's potential. We need to create opportunities to better encourage and incentive growth in our teachers.
Christy Diehl is a media specialist at Jefferson High School in Lafayette, Indiana. Allison Larty teaches Spanish II at Noblesville High School in Noblesville. They are Teach Plus Indiana Teaching Policy Fellows.
Popular in the Community