Think about fairy tales and where does the mind wonder first?
Germany!
Think about myths and legends and then what - back to Germany, right?
So when you think about seeing the best collection of witches and devils dancing around a big bonfire and reveling in a good time then where are you going to go?
Well, if you said Germany you'd be right once again.
Of course, it's all in fun.


Most folks know the May 1 holiday as May Day or Beltane, but in Germany it is called Walpurgis Night. Walpurgis Night is held on April 30 in the Harz Mountains in the Brocken. The Brocken is the highest peak in the Harz Mountains and the focal point for what is the yearly and much loved celebration in those parts called Walpurgisnacht.
Walpurgis is an old pagan festival and the name was derived from Saint Walburga whose feast day is on May 1. It is on April 30 that it was believed (and still is by some in this area) that witches ride their broomsticks to places that were scenes of old pagan sacrifices and that would be... you guessed it, the Harz Mountains in Germany.
Discovering the Harz Mountain area is half the fun so there is no better way to do it than in the 2016 Land Rover Discovery Sport. The Land Rover is not only stylish, but offers pure comfort and it's not so bad on the mountain roads during these slushy spring months either. Considered a luxury mid-size SUV with a capital L on the luxury part, the Land Rover Discovery Sport was all new in 2015 so for 2016 there have only been minor tweaks added.
With five person seating there is a third row and you can choose from three trim levels; SE, HSE and HSE Lux. Under the hood on the 2016 Land Rover Discovery Sport it's a turbocharged 2.0-liter four-cylinder with 240 horsepower and 250 pound-feet of torque and a nine-speed automatic transmission. When this Discovery Sport is equipped properly it can also tow up to 4,409 pounds and the powertrain includes the Land Rover driver-adjustable Terrain Response system with four settings; General, Grass/Gravel/Snow, Mud/Ruts and Sand. These settings help with proper steering, gears, stability and differential engagement depending on the terrain.
With a price tag of $52,443 for the Discovery Sport HSE LUX you get 20 miles per gallon in the city and 26 miles per gallon on the highway.
An enjoyable drive it's much like the Range Rover Evoque behind the wheel and you can count on a stable and strong ride that will give you a feeling of being connected to the road whether it's on the highway, city streets or off road where this 2016 Land Rover Discovery really shines.
So head on over to Germany to and attend this lively event this year and you will find, like I did a mountainous range in the Harz that is certainly alluring and mystical. It is shrouded in mist and clouds, which lends to the air of mystery and in Germany it is rumored to still be the home of witches (Hexen) and devils (Teufel). At the festival you can see all sorts of folks; men, women and children dancing around bonfires in costume and there are also booths set up selling local wares, tasty German food and live music.
And sure, even a couple of bonfires too.
Walpurgis has been the stuff of legend for many years. Case in point, back in the late 1700s even the writer Johann Wolfgang von Goethe mentioned the area in his play "Faust." He wrote "Now to the Brocken the witches ride; the stubble is gold and the corn is green; There is the carnival crew to be seen, And Squire Urianus will come to preside. So over the valleys our company floats, with witches a-farting on stinking old goats."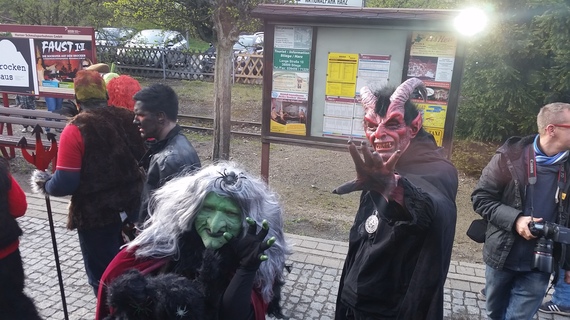 It is most likely that the witches celebrating on the Brocken were ordinary humans that were forced to Christianity by Charlemagne. Even so, they still kept the, what would have been considered, pagan rituals and went secretly in the mountains to worship their gods, hooded or masked to protect themselves.
Jacob Grimm wrote in 1883 "There is a mountain very high and bare...whereon it is given out that witches hold their dance on Walpurgis night."
So is your curiosity up yet? I know mine was and that's why I attended the festival of Walpurgis and found a lively group of folks in the thousands heading up the mountain most dressed like witches and devils. We all rode what was called the Witches Express, a train that leaves every year on this night from the charming city of Wernigerode.
Wernigerode has its own unique charm and even before the Walpurgis Night festival begins up on the mountain the townsfolk welcome the witches in the town square where there are booths and vendors set up for the day.
The charming hotel I stayed in while visiting called Weiser Hirsch was right on the square and I could see the procession out my window. I also had dinner there my first night and was not disappointed with the local flavors.
On April 30 leading up to the big event in the Harz I took a scenic train ride to the castle overlooking Wernigrode where yet another festival was going on. It was a medieval festival with amazing music on the grounds as well as all types of food stands and vendors open for business. It was a time of celebration because finally spring had properly arrived.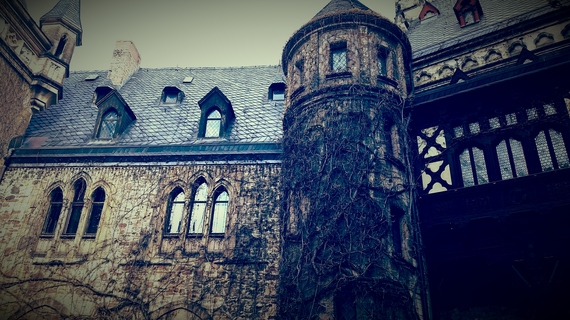 There is much to say about the enchanting Wernigrode castle first mentioned in 1213. It appears to have been lifted straight out of a fairy tale. Some might call it imposing as the strong structure sits high above the town, I simply call it enchanting. The stories this amazing castle has to tell are many and the architecture displays a range of styles from its original Romanesque style to Neo-Gothic, Renaissance, Baroque and Neo-Romantic, the latter added in the 19th century by a man named Count Otto.
Back down in Wernigerode, which was by the way first chartered in 1121, you will find old buildings and landmarks, namely the Town Hall in Town Square. You will certainly be able to feel the strong history that is associated with this area of Germany that is dominated by its proximity to the magical Harz Mountains.
The churches and monasteries in the Harz mountains also have stories to tell since the area was once a center of religious power and church influence. Translated that means many well preserved structures still standing like massive cathedrals and Romanesque buildings - some boasting the moniker of the most impressive Gothic churches in Germany. Visit Halberstadt of St Stephen and St Sixtus for an example of this architecture or check out the Woeltingerode Monastery founded in 1147 as a Benedictine Monastery and later converted to a Cistercian nunnery.
Indeed, the Harz is a secret little gem located right in the middle of the country where you will discover layer upon layer of little gems. Keep in mind too that in this region there are entire villages that have been designated as UNESCO World Heritage Sites like the medieval towns of Quedlinburg and Goslar and there are also the mines of Rammelsberg that draw visitors to the area.
After my time with the witches on Walpurgis it was time for another widely popular reason that folks head to Germany and that is the spas. In Bad Homburg I stayed at the centrally located Maritime Hotel and took in the atmosphere at the Kur Royal Day Spa and enjoyed a lovely lunch looking out on the grounds of this magnificent property. Afterward there was a delightful city tour where I learned about the history of Bad Homburg and then it was time to eat again, this time at Restaurant Romerbrunnen.
There is also a casino in Bad Homburg and for the most part it is still European old school, you know, the way it should be like in the James Bond movies. I thoroughly enjoyed a tour of the casino and was even given a lesson in gambling before dinner at the posh casino restaurant called Crystal.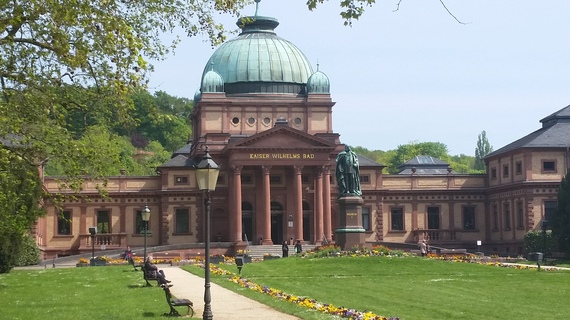 For more information visit www.germanytravel.com.
For more auto tips and information follow Rita @RitaCook13.