Over 30 years ago at the height of the AIDS epidemic, President Reagan did little to stem its spread. Today, President Obama said, "Ending HIV is within our reach." Has this country ever permitted a public health issue that impacts so many lives and financial resources to continue unabated year after year when we have the knowledge and resources to end it?
Dr. Fauci, director of NIH's National Institute of Allergy and Infectious Diseases, who oversees an extensive research portfolio to prevent, diagnose and treat infectious diseases, such as HIV/AIDS, said, "Enough is enough. We have enough data, so let's do it." Dr. Fauci is referring to pre-exposure prophylaxis, or PrEP. PrEP is a medical regime, basically a once-a-day-pill, taken by HIV- people to significantly lower their risk of getting HIV when not using a condom. Several studies have found that when taken as directed, people on PrEP lowered their risk of getting HIV by as much as 90 percent.
In the meantime, public interest in the HIV epidemic has waned. In 1995, 44 percent of the general public indicated that HIV/AIDS was the most urgent health problem facing the nation, compared to only six percent in March 2009. Fewer people die from AIDS because of new advances in treatment and fewer side effects, which allow HIV+ individuals to lead longer, healthier lives.
Current funding for HIV/AIDS continues to reflect a lack of national commitment, with less than three percent of the budget allocated for prevention. This amount of funding has remained essentially flat over the last ten years, despite the fact it has not curbed the HIV epidemic. The proposed 2016 budget allocates only $1 billion more to HIV/AIDS care. Ryan White will increase just 0.2 percent to $2.3 billion. The AIDS Drug Assistance Program (ADAP) remains funded at 2015 levels. Contrast the federal government's tepid response to HIV prevention to that of New York State, which has committed to spending $2.5 billion a year to end HIV by 2020.
HIV is a public health issue that requires a national commitment to end new infections. Each year, 50,000 new HIV infections represent a potential cost of more than $2 billion to treat. If you compare the cost to fully fund the five-year federal HIV/AIDS plan for prevention to the cost of treating HIV+ people, the cost of PrEP is cost-effective and would potentially save thousands of lives. Dr. Fauci said, "We know if we prevent an [HIV] infection, it saves $350,000 over a lifetime for a person in health costs, so it's definitely an economically sound approach."
HIV is no longer a death sentence. Nor is it restricted to gay men: all races, generations and sexual orientations are affected by HIV. Although major cities are still epicenters of infection, HIV is geographically dispersed across the U.S., impacting many rural and small communities.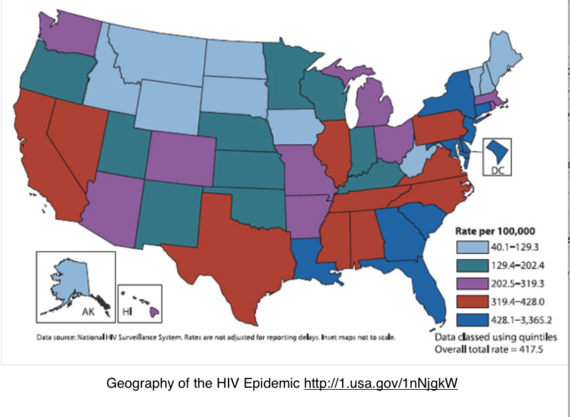 Tragically, 18-34 year olds represent more than 40 percent of new HIV infections, a generation that never experienced the AIDS crisis that unfolded during the 1980's. Today, more than 10,000 Americans still die from AIDS every year.
Is there any hope that HIV prevention might change with a new president? What are the presidential candidates and party positions on this public health crisis? The only candidate that appears to have an understanding of HIV is Hillary Clinton, and she promises to, "cap out-of-pocket expenses for people living with chronic illnesses, including HIV and AIDS... I will also increase our investment in HIV prevention medications, including pre-exposure prophylaxis (PrEP), to ensure populations at greatest risk of infection have access to the drug." Not one Republican candidate even responded to the GMHC Survey on HIV/AIDS Concerns.
I began writing a book about HIV prevention more than four years ago because I felt there was little hope to end this epidemic. Missing from this equation of prevention are targeted messaging to both clients and to the medical community. I was at an Association of Nurses in AIDS Care (ANAC) meeting two years ago where one of the nurses said she was "tired of people telling her that her message of prevention was not effective." I told her point blank, "I'm a living example of 'her' failure." PrEP may have kept me negative. PrEP would  have kept many of the 50,000 who are infected each year, HIV-. PrEP is not just a pill, it's a cascade of care that includes regular counseling and testing. I am an advocate of whichever HIV prevention method works for you. My goal is to significantly reduce new infections and to get this public health epidemic under control. Everyday, I find more young Twitter followers that are newly diagnosed with HIV.
Why is the U.S. not a global leader in HIV prevention? We have the proven treatments to end the HIV epidemic, so now let's use them.
Calling all HuffPost superfans!
Sign up for membership to become a founding member and help shape HuffPost's next chapter