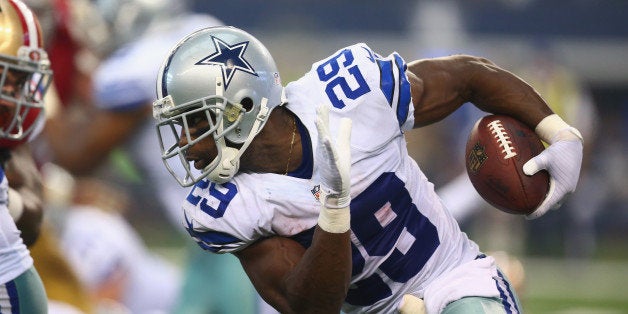 This is an article about a NFL running back. No it's not sad. And no, it's not about Ray Rice or Adrian Peterson. It's not about drama, and no legal issues will be discussed. No violence, no sadness. It's actually a feel-good moment... which is something we all need right now as NFL fans. 
Let's talk about the start by NFL's leading rusher through Week 2: DeMarco Murray. 
In the Dallas Cowboys' defeat at the hands of the San Francisco 49ers in Week 1, the lone bright spot was Murray, as he carried the ball 22 times for 118 yards and a rushing touchdown. Averaging 5.4 yards per carry, he was trusted to carry the load in the backfield against a stout 49ers defense. He passed with flying colors, especially since his team's passing attack was sub-par. 
Sunday, though, he absolutely blew up, gaining 167 yards with a touchdown on 29 carries, averaging 5.8 yards per carry, en route to a 26-10 Dallas victory. He had 17 carries for 115 yards in the first half alone. 
What's most impressive (or maddening from a different perspective) is that he fumbled the ball on his first carry in Week 1 and on his fourth carry in Week 2. But, guess what? He fought through those mishaps and came through for his team. According to ESPN.com, after his most recent fumble, Murray slammed his helmet down, spent some time alone, and then went up to each and every offensive lineman and said he'd make up for his mistake... and he did. 
While in a different context, it's nice to see a NFL running back own up for his mistakes. (Too soon, Ray Rice and Adrian Peterson?) A true measure of one's character and ability is how he or she can handle the path of adversity and the detriment that those struggles can have, even in the context of a game. 
Murray missed 11 regular-season games in his first three seasons, and his heavy workload of 51 carries through three games speaks volumes of the trust his coaches have in him, the player he has made himself into, and how much he means to the Dallas Cowboys. Last season, he played in 14 games and had 1,121 yards rushing after a 2012 season in which he played just 10 games and put up 663 yards on the ground. 
We've talked about him being a guy who can be a bell cow... and there's never been any evidence to me from the minute he showed up at the Dallas Cowboys that he couldn't do these kinds of things.
Despite Murray's eye-popping start, his Cowboys don't have much of a chance to win the NFC East, according to the crowd on Tradesports.com. Right now, the team is trading at just 15 percent after trading as high as 31 percent in the preseason. 
Regardless, it seems like Murray is turning into Dallas' most prized possession, and if he stays healthy, is on his way to a career-year during the final year of his rookie contract and should cash in big in the offseason. Most of all, it's a positive start and a positive role model for young, aspiring football players... something we have not seen a lot of in the last couple weeks. 
REAL LIFE. REAL NEWS. REAL VOICES.
Help us tell more of the stories that matter from voices that too often remain unheard.