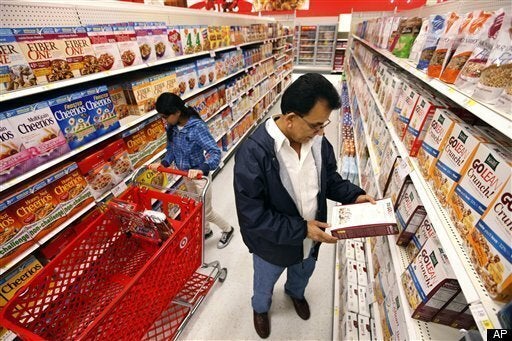 Last week, the U.S. Department of Agriculture released its annual report on 'food insecurity' in America. What it showed is astounding. Forty-nine million Americans do not have dependable access to adequate food. That's nearly 15 percent -- or one of every 7 Americans -- who struggle to get enough to eat, up from 11 percent a year earlier.
Even more staggering is that 17 million kids in the United States don't have access to adequate food; a huge increase from the 12 million children only a year earlier.
If nothing else, the USDA report shows conclusively that the economic recession continues to take a toll on our nation's most vulnerable populations. And action is needed to halt the drastic increase in the number of Americans going hungry each and every day.
At the city and local level, there are several important steps the public and nonprofit sectors can, and must, take to reverse this trend.
First, it's clear that the greatest impact can be achieved by improving outreach and education about eligibility for the USDA Food Stamp program. To put it in perspective, the Food Stamp program alone reaches over 27 million low-income people every month (all of the nonprofits nationwide combined don't even come close to providing food aid to that many people). That's significant, but evidently not enough.
Only about half of those reporting a level of 'food insecurity' in the USDA report said they had participated in a government funded anti-hunger program in the last month. The most common barriers to the utilization of Food Stamps include: a lack of information and misperceptions about eligibility, confusion about immigrant eligibility, and limited access for working families due to inflexible office hours. With these barriers in mind, outreach and education programs need to be taken to 'scale' by convening and engaging a collaboration of partners such as community-based organizations, faith-based organizations, and government agencies.
Second, healthy and nutritious foods need to be made readily available (and affordable) in underserved communities. Low-income families often don't have access to nutritious fresh foods and are forced to buy lower quality, lower cost options. Study after study has shown that access to healthy food is a key ingredient to improving food security levels in low-income communities.
This is one area that his received a significant amount of attention over the past few years. In New York City for instance, the city has introduced the Food Retail Expansion to Support Health (FRESH) Food Stores initiative. FRESH provides financial incentives to existing food retailers, encouraging their investment in capital improvements and renovations to increase capacity to sell fresh fruits and vegetables. Although the initiative is in the early stages, it is a promising step in the right direction and many other cities have been successfully with similar programs.
Finally, it's important that emergency food programs -- like those supported by City Harvest, the Food Bank of New York, and United Way of NYC -- continue to increase their capacity. Local soup kitchens and food pantries help feed thousands of individuals throughout the five boroughs of New York and millions nationwide. As essential partners of government, emergency food providers have a critical role to play in reducing food insecurity.
It's time to get serious about ending the problem of hunger in America. In this week of thanks giving, we must not rest on our laurels. Rather, we should take concerted steps to address and eradicate the hunger crisis in this country.
Calling all HuffPost superfans!
Sign up for membership to become a founding member and help shape HuffPost's next chapter