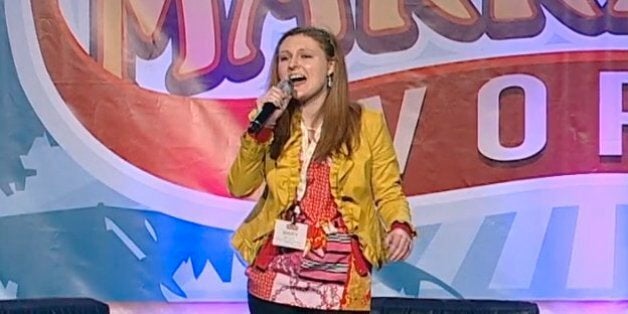 For the past two days, 22-year-old Mary McCoy has been mercilessly mocked and ridiculed by what feels like the entire internet -- and she says she's loving it.
McCoy is the accidental "star" of a video called "Let's Get Social" that went massively viral this week, not because it's good but because it is so cringe-indiucingly awful. The five-minute video, shot at a social media conference a few weeks ago, shows McCoy singing off-key and also features an awkward and unforgettable rap performance by a nerdy middle-aged white man wearing sunglasses and trying to be hip. But guess what? McCoy says now she's getting offers to sing at other conferences.
From there the story spread to The Huffington Post, Mashable, Buzzfeed and Boston.com. Most were unkind, but not nearly as unkind as the comments people posted under the articles and under the video itself, which has become something of a "hit" and now has received more than 240,000 views and 371 comments on YouTube.
I caught up with Mary McCoy this morning. I wanted to find out what it felt like to get swept up in one of these internet maelstroms.
Most people in her shoes would probably want to go just go crawl into a hole and hide. But it turns out McCoy has a pretty good sense of humor, and she's taking the whole thing surprisingly well.
"I'm actually doing great," she told me. "This whole thing has actually been a very positive experience."
"I think it speaks to the power of social media," she said. "People might put this video down, but either way they are reacting or interacting with it. They're contributing to social media. What matters is the conversation. I think it's great. Businesses can look at this and say, 'Wow, social media can really make a difference. Just look at how my content can get out there.'"
McCoy is a marketing associate at Continuum, an IT services company in Boston. Her job involves running Continuum's social media feeds on Twitter, Facebook and other networks
The funny thing is, McCoy just started this job last month, on April 10. It's her first full-time job since graduating from the University of Virginia in 2013. She'd only been at Continuum two weeks when they sent her off to the conference.
Talk about a rough first month on the first job.
The folks at Continuum are being supportive. "As a new member of the marketing team, Mary McCoy showed great poise when asked to sing at Social Media Marketing World. In fact, it was amazing to watch her perform a new song and make it her own in front of 2000 people," said Jeanne Hopkins, senior vice president and CMO at Continuum. (Disclosure: Hopkins is a former HubSpot executive, and Continuum is a HubSpot customer.)
Hopkins continued: "The recent brouhaha over the meaning of social and the construct of a melody has only added to her awesomeness. You cannot control talent any more than you can control the viral nature of content."
She Actually Can Sing, Honest
McCoy majored in economics at Unversity of Virginia and sang in an a cappella group called Hoos in Treble. Since moving to Boston last year she's joined another a cappella group, The Eight Tracks.
McCoy didn't write Let's Get Social. That credit goes to Phil Mershon, the guy who does the awkward rapping in the video.
But oddly enough, McCoy's newfound celebrity is opening some doors. McCoy says she's already received an offer via LinkedIn to perform at another conference.
Her story picked up steam on Twitter, with the hashtag #letsgetsocial getting some traction. "Someone told me they heard someone singing the song at the gym the other night," McCoy says. One guy has threatened to make an auto-tune version. Another created an acoustic cover of the song:
McCoy insists it's all good. Positive or negative, the video is still a viral hit. "This is the whole point -- no matter how much people might resist it, they can't help but be social. People are so tempted to interact with this song. Even if you think it's so awkward and cringe-worthy, you still say, 'Let's share it.' And then you're doing it. You're doing what I was singing about."
As for the haters? "If there's any negativity, I'm not taking it to heart," she says. "I'm making lemons into lemonade."
Dan Lyons is a marketing fellow at HubSpot, a software company in Cambridge, Mass. He was previously the tech editor at Newsweek, a tech columnist at Forbes, and the creator of "The Secret Diary of Steve Jobs," written in the person of "Fake Steve Jobs."
Support HuffPost
The Stakes Have Never Been Higher
Related
Popular in the Community