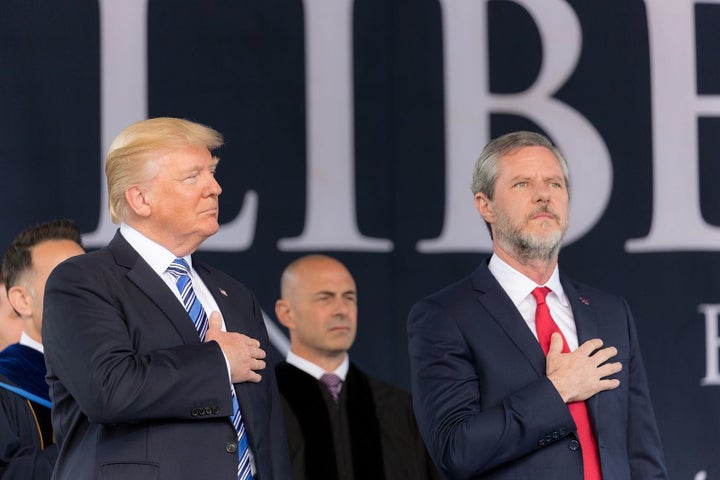 It's no secret that Donald Trump relies on his evangelical council to support him, especially when he is under heavy criticism. Just this morning he tweeted out his thanks to Jerry Falwell Jr.

What Trump may not realize is that there is a faith and resistance movement which is growing daily via social media. According to The Washington Post, "Liberty University graduates are calling on fellow alumni to take a stand by returning their diplomas. They are also writing letters to Falwell's office and to the Board of Trustees, calling for his removal. More than 260 people have joined a Facebook group titled 'Return your diploma to LU.'"
Guthrie Graves-Fitzsimmons, founder of ResistancePrays, states that "Trump made a terrible response to the attack in Charlottesville, then condemned white supremacists/KKK on Tuesday only to revert back to the 'all sides to blame' rhetoric on Wednesday. We need Trump's evangelical advisory members to take positions on whether they can stay post-Charlottesville. So many CEOs quit Trump's two business boards that he disbanded the boards entirely to save face. His entire Arts Advisory Board quit in protest. Yet only one evangelical board member resigned."
In answer to such complacency and outright support from pastors such as Falwell, Graves-Fitzsimmons created a GoogleDocs which lists every member of the evangelical advisory board, their professional phone number, email, and Twitter account here. He wants this Tuesday be Quit The Council Faith Day, when we call up members and ask them to resign the council in light of Charlottesville and the racial schism Trump continues to perpetuate.
A script could something go like this:
I want to ask that (insert name here) leave Trump's evangelical advisory board after their remarks about Charlottesville. By resigning (name) can send a stronger message that Trump has not been acting in accordance with God's message of love, mercy, and justice than by remaining with Trump and giving unspoken approval to his actions.
It's about time we start talking to the evangelical council as opposed to just talking about them. Here's your chance to call those leaders—keep the conversation short, logical, with the end goal that this week we can get a few more to leave.
REAL LIFE. REAL NEWS. REAL VOICES.
Help us tell more of the stories that matter from voices that too often remain unheard.