Alice Waters has been taking a lot of heat lately and not just in the kitchen. The pioneering chef has been criticized for being elitist with her "organic for all" attitude, but is there really anything wrong with bringing talk of sustainable, local, safe and healthy food to the table? Chefs like Anthony Bourdain, who said, "Alice Waters annoys the living [expletive] out of me. We're all in the middle of a recession, like we're all going to start buying expensive organic food and running to the green market," have criticized her in recent months.
"I feel that good food should be a right and not a privilege and it needs to be without pesticides and herbicides. And everybody deserves this food. And that's not elitist," Waters remarked on 60 Minutes. While most of us agree with the sentiments, it is a fact that not everyone can afford to eat and live this way. I know I can't, but I do enjoying buying from my local farmers market and buy organic when I can. A world of vegetable gardens and farm-to-table family dinners may seem like a pipe dream, but hey, at least it's starting the conversation.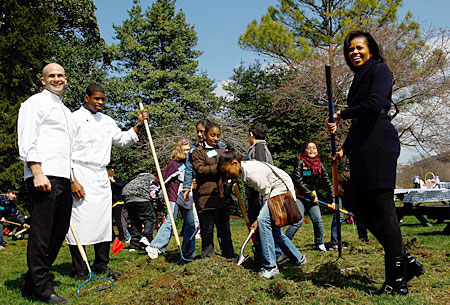 Lets give her some credit. Waters has helped make terms like "organic" and "sustainable" part of the Zeitgeist and she's drawn attention to the "slow food movement," which is a phenomenon in the U.S., U.K., France, Japan, Italy and beyond (her slow food event in San Francisco drew 85,000 last year). She's inspired countless chefs to focus on local and sustainable goods, which is how things are done at Chez Panisse, Waters' iconic Berkeley, California restaurant. And that patch of lawn that Michelle Obama recently dug up in preparation for an organic garden featuring a variety of veggies? Waters has talked about her dream of an organic garden on the White House lawn for more than a decade. It probably wouldn't have happened without her influence over the years.
Rather than chastise Waters shouldn't we try to embrace her? Sure, it's unlikely that middle or working class families have the time or resources to do everything the Waters way, but as organic fare turns up even at Wal-Mart, things could be changing and people can certainly do what they can. I appreciate the countless restaurants that are focused on the market-to-table concept in my neck of the woods. Of course I am dining out less because of the economic climate, but I am thrilled to find purple curly mustard greens from McGrath Family Farms in my endive salad and proscuitto that comes from pasture-raised, organic Berkshire farm pigs when I do. If I can't always cook in this way, at least I can support the chefs who can.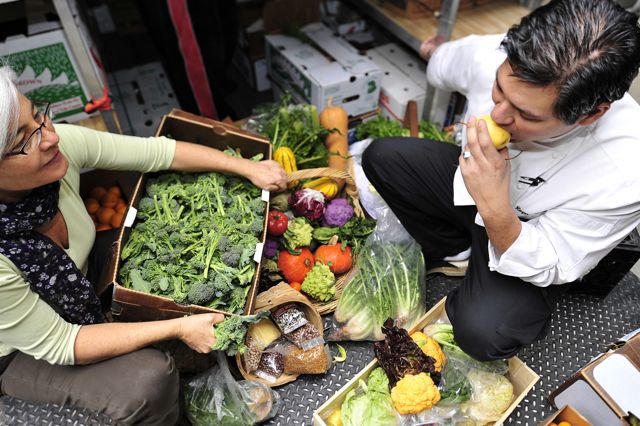 At Santa Monica, California's FIG Restaurant, chef Ray Garcia visits the Santa Monica Farmer's Market twice weekly to speak to the farmers and obtain first-hand insight as to what is truly in season. Ninety percent of his ingredients are locally and organically grown, and as a result, FIG's menu changes monthly. Garcia works directly with forager Kerry Clasby, who helps him find the freshest produce. "I am blessed to be a chef in California and the state's natural resources are bountiful," Garcia says. "This notion of eating seasonally and locally can be seen by chefs around the country. Work with what you have. If a region is known for its wild salmon and apples, then incorporate them into the menu."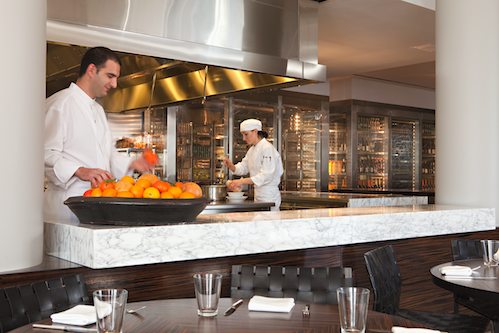 Lunch and dinner guests at RH at Andaz West Hollywood have the luxury of creating their meals, from salads and sandwiches to fresh yellow fin tuna or grilled filet mignon, via a Market List. Everything is made to order from the freshest local ingredients. Executive Chef Sebastien Archambault, who cooks in a transparent and open kitchen (glass-fronted refrigerators present market vegetables, fruits, fish and meats for all to admire) and visits the farmers market several times a week.
Typically, what we eat is a choice not a commandment from Waters or anyone else. Let's spend more time trying to make better food accessible to all and less time criticizing those who want to present alternative options that are proven to help us live healthier, longer lives. When the general public demands it the cost will go down. I know I will look forward to that day.
Popular in the Community