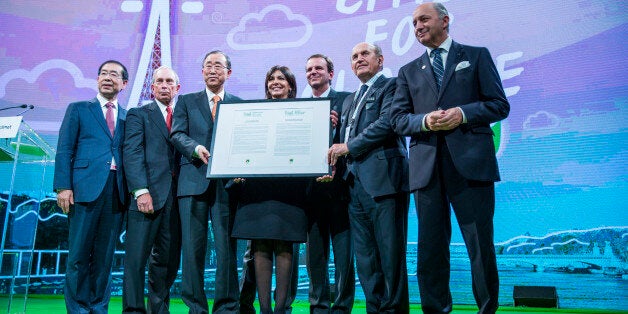 Our cities are on the frontline of the climate change crisis. Rising sea levels threaten millions of citizens with flooding, while colder winters and hotter summers take their toll on the most vulnerable in our cities. The noxious emissions from vehicles passing through our city centres pollute the air that our children breathe.
As mayors and climate leaders, we see every day the scale of the threat posed by climate change and the impact it has on the lives of our constituents. Gradual change and incremental reforms to energy markets, transport systems and recycling rates are no longer enough. Every citizen, business leader, president, prime-minister and mayor must seize this moment to transform our cities. By doing that, we can transform our world.
Today is a great day to start this transformation. The Paris Agreement on Climate Change enters into force, binding more than 190 nations to move towards a sustainable future. This agreement specifically aims keep the rise in global temperatures below 1.5 degrees Celsius above pre-industrial averages.
The Paris Agreement represents a turning point in our collective history. The moment when we chose a different path to secure our planet for future generations. And we know that it is in our cities that this new path is being forged.
Cities are responsible for more than 70% of global greenhouse gas emissions and by 2050, more than two thirds of the world population will live in cities. It is logical that the solutions to climate change will be found in and led by cities. That is what we have been concretely working towards since 2005 with the 86 most important cities around the world, through the C40 Cities network. More and more cities are also committing to bold reduction targets and inclusive climate actions each day through the platform of the Global Covenant of Mayors.
As a matter of fact: cities are getting the job done!
From the rollout of fleets of electric buses in Chinese and South African cities; efforts by European, South American and Indian cities to ban the most polluting cars from city centres; the retrofitting of tens of thousands of buildings across North American and Asian cities to deliver greater energy efficiency, we are taking bold actions to cut emissions and prepare for the worst effects of a warming planet.
As the Paris Agreement comes into force, cities are once again redoubling their efforts and their commitment to action. The world's most influential mayors will gather in Mexico City for the C40 Mayors Summit from November 30th-December 2nd. Representing 650 million citizens and 25% of global GDP, we will reveal new bold commitments to tackle climate change and air pollution. We will also call for national governments and international financial institutions to concretely help us to finance our low-carbon infrastructure projects that are vitally needed to make our cities truly sustainable.
One of the reasons that mayors have been able to be particularly bold is because we work together. Through networks like C40 we are learning from each other, so that success gets copied and replicated around the world. The cost of innovation is reduced and we are all able to learn from inevitable mistakes. Paris' Velib cycle hire scheme, for example, set the standard for urban bike-hire schemes in cities worldwide, and a great many cities have adopted the idea. At least 43 major cities globally have now launched cycle hire programmes.
The next years are crucial as global greenhouse gas emissions must peak by 2020 and then fall rapidly. There is no time to waste and the risk of failure could not be more serious. As mayors we stand ready for the immense challenges that climate change will bring. But we cannot realise our ambition for a sustainable future without the support of the millions of citizens that we represent and those most vulnerable among us who are on the front lines.
As actor and environmentalist, Leonardo DiCaprio warns in his recent climate change documentary, Before The Flood: the science is clear, the future is not. Now is the moment for every citizen of the world's great cities to join us in defining what the future will be in their cities for climate.
Michael R. Bloomberg, UN Secretary-General's Special Envoy for Cities and Climate Change
Anne Hidalgo, Mayor of Paris
Eduardo Paes, Mayor of Rio de Janeiro
Bill de Blasio, Mayor of New York
Miguel Ángel Mancera, Mayor of Mexico City
Ed Lee, Mayor of San Francisco
Martin J. Walsh, Mayor of Boston
Ed Murray, Mayor of Seattle
Gregor Robertson, Mayor of Vancouver
Denis Coderre, Mayor of Montreal
Patricia de Lille, Mayor of Cape Town
Park Won-soon, Mayor of Seoul
Frank Jensen, Lord Mayor of Copenhagen
Giuseppe Sala, Mayor of Milan
Manuela Carmena, Mayor of Madrid
Raymond Johansen, Governing Mayor of Oslo
Karin Wanngård, Mayor of Stockholm
Hanna Gronkiewicz-Waltz, Mayor of Warsaw
Yorgos Kaminis, Mayor of Athens
Guy Morin, Mayor of Basel
Ahmed Aboutaleb, Mayor of Rotterdam
Horacio Rodríguez Larreta, Mayor of Buenos Aires
Mauricio Rodas, Mayor of Quito
Enrique Peñalosa, Mayor of Bogota
Helen Fernández, Mayor of Caracas
Herbert M Bautista, Mayor of Quezon City
Akel Biltaji, Mayor of Amman
Eric Garcetti, Mayor of Los Angeles
This post is part of a series produced by The Huffington Post, in conjunction with the U.N.'s 22nd Conference of the Parties(COP22) in Morocco (Nov. 7-18), aka the climate-change conference. The series will put a spotlight on climate-change issues and the conference itself. To view the entire series, visit here.
Popular in the Community