Too bad Kris Humphries has to learn -- again -- that life can sell you short. As if it weren't enough that his marriage to Kim Kardashian only lasted a mere 72 days, he is now auctioning off Kim's former engagement ring, trying to recoup the $2 million dollars he reportedly originally paid for the approximately 20 carat iceberg masterpiece. Poor Kris spent less time being married to Kim than the 535 days it took to finalize the divorce. In both the cases -- the $2 million bridal bling and the sham of a marriage to Kim -- Kris clearly made some bad judgment calls.
Maybe that's why he's keeping a low profile about his identity as the owner of the ring. Christie's auctioning house only identified the ring as the "Property of a Gentleman" -- though the description of the ring matches oh so fortuitously with Kim's former eye candy.
Christie's is setting its estimate of the ring's value at $300,000-$500,000 -- a far cry from what the media reported of the $2 million sale of this Lorraine Schwartz custom-designed Emerald-cut diamond ring. So, if Kris did, in fact, pay $2 million for this engagement ring, he can now only expect to recoup around a quarter of the original value.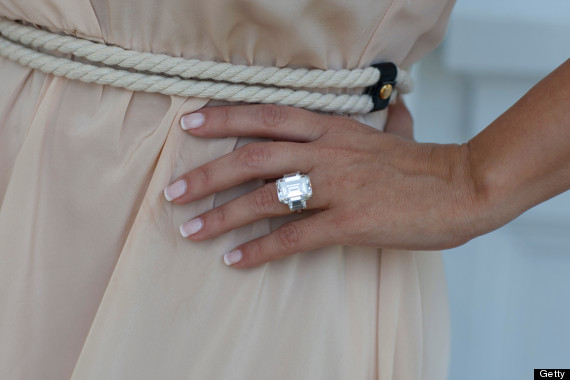 Well, Kris, I hate to say it, but... I told you so. Or at least I was quoted as saying that you could have found an equally stunning Emerald cut VS2 clarity H color diamond online for $1 million -- instead of overpaying for features the average person can't appreciate. And that's what happens to many uneducated men today who overspend on features like clarity and color when a lesser-grade diamond would still look just as sparkly but cost a lot less. Intending to buy a flawless stone because you want it to symbolize your perfect new life together is not only wildly wasteful, but it means you've been duped to believe the marketing game of perfect diamonds = perfect love.
No, Kris, that equation doesn't work, as you sadly found out. That equation is one that the industry has worked hard to brainwash the minds of millions of American couples. And though most couples don't have wallets as deep as Kris, they can still learn a lesson from his mistake: don't overspend on diamond features the naked eye can't appreciate -- it will be more romantic to save the cash for a more auspicious future than the Kim and Kris duo ever enjoyed.
Related