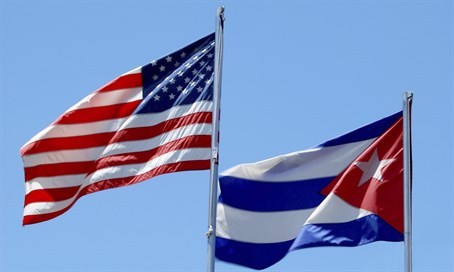 By the first anniversary of President Barack Obama and Cuban President Raúl Castro's decision to normalize relations last December 17, much had been achieved on the diplomatic front. But progress on the commercial front has been lagging, and unless both sides realize significant economic gains before Obama leaves office, the momentum toward lifting the embargo and fully normalizing relations could be lost.
The initial surge of excitement among U.S. businesses after December 17 was palpable: finally, an opportunity to enter a largely unexploited market, forbidden for half a century. In the past year, a parade of trade delegations has visited Havana. In April 2015, Democratic Governor Andrew Cuomo took a group of 20 New York business leaders. In September, Republican Governor Asa Hutchinson of Arkansas led an agricultural trade mission hoping to expand food sales. In November, Texas Governor Greg Abbott followed suit. Legislators and local officials led other trade delegations from Alabama, California, Kentucky, Illinois, Indiana, Louisiana, Missouri, New Mexico, North Carolina, Ohio, and Tampa, Florida.
In March 2015, the U.S. Agriculture Coalition for Cuba--a broad-based group formed after December 17 to promote agricultural trade--took 95 people to Cuba, including two former secretaries of agriculture. The U.S. Chamber of Commerce launched the U.S.-Cuba Business Council representing over two dozen major corporations, including Caterpillar, Kraft Heinz, Sprint, Boeing, Home Depot, and American Airlines. In October, Commerce Secretary Penny Pritzker went to Cuba, followed in November by Secretary of Agriculture Tom Vilsack.
Cuba needs the trade and investment that U.S. businesses can offer, and Cuban leaders appear eager to expand commercial ties. Yet despite this enthusiasm, few deals have actually been signed. "Up until now it has been going down. looking around, and saying, 'this is an interesting place, but how do I make money here'?" explained deputy assistant secretary of state Alex Lee at a forum on doing business with Cuba organized by The Economist.

The case of The Home Depot, Inc. illustrates both the opportunities and the obstacles. Some 90 percent of Cubans own their own homes, most of which are in desperate need of repair. Dilapidated structures dot the island, from houses in need of a new coat of paint to apartment buildings literally falling down.
One way Havana has tried to ease the housing problem is by letting people do it themselves. Tens of thousands of families have taken advantage of new government grants and loans to finance home renovations. In 2015, private owners and contractors built more new housing units than the state construction company. That boom translates into a huge demand for tools and building materials--and a huge business opportunity for Home Depot.

The giant home improvement retailer is clearly interested. It is a founding member of the new U.S.-Cuba Business Council, and regional export manager, Heriberto Correa, attended the council's inaugural meeting held in Cuba during Havana's International Trade Fair. The Obama administration's new regulations specifically license the sale of construction materials for private buildings, so Home Depot could legally sell to private Cuban construction cooperatives, contractors, and private home-owners.

It could even rent or build a warehouse in Cuba's new Special Development Zone at the port of Mariel, where imports are duty-free and new businesses enjoy a ten-year tax holiday. In fact, any U.S. business legally selling goods to Cuba could take advantage of the favorable terms available for establishing facilities in the Mariel zone. And if the Cuban government would allow it, the company could open its own retail outlets and import a fleet of delivery trucks to ship goods from the warehouse to the stores.

Yet when asked if Home Depot planned to enter the Cuban market, the company's CEO Craig Menear replied cautiously. "Cuba is an area we're watching carefully," he said. "We know at some in time when the environment is right, there's opportunity for The Home Depot to be there. But we believe that before we go in there, it needs to benefit the people of Cuba."

Caterpillar is another company well-situated to enter the Cuban market. Obama has licensed sales to Cuba's private farms and cooperative, which are in serious need of better equipment. Moreover, Caterpillar is no late-comer to the island: it first called for an end to the U.S. embargo in 1998, and in 2004 donated generators to Cuban hospitals. "Caterpillar wants to do business in Cuba," said Bill Lane, senior director of global government and corporate affairs. "Everything Caterpillar makes in the United States is needed in Cuba." The company hopes to open a dealership on the island, Lane told The Economist's Cuba Summit in December, but it has yet to sign any contracts.

So why has progress been so slow?
To be sure, there are difficulties in doing business with Havana. Cuba's infrastructure-- its roads, energy grid, and digital network-- lags behind neighboring countries. Foreign companies must still hire labor through the state's hiring agency. Cuba's bureaucracy is notoriously slow to make decisions and opaque, making dispute resolution problematic. But, as David Pathe, CEO of Canada's Sherritt Corp., one of the island's largest foreign investors, put it, "There is nothing unique about Cuba"-- these are the kinds of problems companies face in any new foreign market.

The larger issue making U.S. companies reluctant to enter the Cuban market is uncertainty on the U.S. side. Although the Obama administration wants to see U.S. businesses engage with Cuba to demonstrate the benefits of the president's new policy, the regulatory changes made thus far still leave too many obstacles in the way. If companies are not absolutely certain that their business plan is legal, they will not take the risk.

Financial regulations are a particular problem. Finance is the life blood of commerce; if funds cannot be easily transferred between Cuba and the United States, business will remain negligible. Although U.S. regulations allow for fund transfers involving licensed activities, companies are terrified of inadvertently violating the rules and being hit with enormous fines.

For example, it took months for the State Department to find a bank willing to handle accounts for Cuba's diplomatic mission in Washington because the costs of regulatory compliance far outweighed the profit. Stonegate Bank in Florida finally agreed to do it because, as CEO David Seleski put it, they regarded it as a "moral obligation" to help re-establish diplomatic relations. Earlier this month, the Treasury Department had to reassure U.S. banks that they could process fund transfers to Cuba involving authorized travel without themselves having to certify that the travel was, indeed, legal.

The ultimate solution to these problems is to lift the U.S. embargo in its entirety, but that is not likely to happen in an election year when Republicans control Congress. In the meantime, President Obama should issue another round of regulatory changes that clarify what can and cannot be done.

In the financial area, Obama could license U.S. businesses to provide credit to Cuban customers to stimulate nonagricultural trade (agricultural credits are prohibited by law). He could authorize Cuban banks to establish correspondence accounts with U.S. banks to facilitate payments to Cuban customers. Finally, he could issue a general license to U.S. banks to process dollar-denominated transactions conducted by foreign banks (so-called "U-turn" transactions) that must be processed through a U.S. financial institution.

President Obama's opening to Cuba was historic, but to make it irreversible, the policy needs to produce results--especially in the field of commerce. The interest is clearly there on both sides, but the barriers are still formidable. The exceptions to the embargo that the president has authorized thus far are impressive and lay the groundwork, but they have not yet gone far enough to reassure U.S. businesses that they can safely enter the Cuban market without running afoul of U.S. law.

As Cuba's economic reforms open the country to foreign trade and investment, U.S. companies risk being left behind as competitors from Canada, China, and Europe jump in ahead of them. Companies that enter the market early and build relationships with their Cuban counterparts stand to benefit the most in the long run. As Caterpillar's Bill Lane, an aficionado of the seafood in Havana's private restaurants, put it, "The first movers in Cuba get the lobster."
Related
Popular in the Community