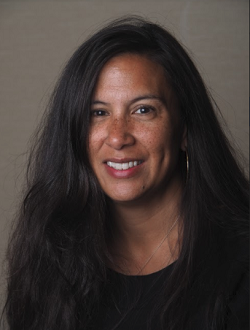 I recently asked my 11th graders "What does it mean to be American?" Not one of them mentioned citizenship or papers. The majority of them talked about rights and freedom. One student in particular said something that stood out.
To me, what it means to be an American goes beyond your place of birth or the documents you have. What it means to be an American is less about who you are than what you are about— how you live your life, how you contribute to this country, how you pledge allegiance to a flag hoping and praying it will make room for you.
For many of my students, whose families have come from another country, this statement embodies their existence. Being American means understanding democratic rights like freedom and liberty. Being American means the ability to participate in a system in which citizens have voice. Citizenship is an action. It's something you do.
I later had the opportunity to attend a naturalization ceremony at the Colorado History Museum. I asked a few of my advisement students to go with me and so seven of us watched 38 people from 17 different countries become citizens that day. Four out of six students I brought have immigrant parents as do I, so this was an emotional moment. When we discussed the event afterwards, one student said to me, "I kept imagining my parents up there and what it would be like for them in that moment." This is the same student who helped organize the DACA walkouts at our school, the same student who so passionately advocates for immigration issues in class and the same student who is determined to live the American Dream citizenship in action. Dreaming is a common human experience. We all dream and the dream of citizenship for our DACA students is grounded in the dreams that all of us have for our children and our communities.
I believe deeply that President Trump's reversal of DACA is a travesty for our country and for DACA recipients. The efforts of our DACA students need to be recognized and validated by providing a legislative pathway to citizenship. These kids are American in every sense of the word except social security numbers. They contribute to the American economy and attend many of our great higher education institutions. They are part of our society and culture, woven into our communities, striving for the same shared appreciation for Life, Liberty, and Pursuit of Happiness.
We can do more. Here is what you can do as a teacher:
Help your students find their voice
We all need to take collective ownership of our communities and demonstrate the compassion that is necessary right now. Help your students find their voice. Show them how to access democracy by volunteering, calling legislators, writing to representatives, and working with organizations that support their ideas and needs. Empower them.
Help your students understand
Talk about DACA. Help your students understand relevant legislation and why it is important for the DREAM Act to pass Congress.
Advocate for your students
Write and call your federal legislators and advocate for these kids. They deserve their natural rights and access to the means of progress in our society through education and meaningful work.
I am a first generation American so I know firsthand what it means for one's parents to come to this nation and want the best for their children. Nobody wants to leave their homeland unless they feel the necessity to do so. Being an immigrant in this country can be hard. We have an opportunity as a nation to validate these children who can help defend some of our greatest democratic institutions. Help them stay out of the shadows and embrace them as you would any other member of your community.
Carla Cariño teaches 11th grade civics, AP government and politics and ethnic studies at North High School in Denver. She is a Teach Plus Colorado Teaching Policy Fellow.
Popular in the Community