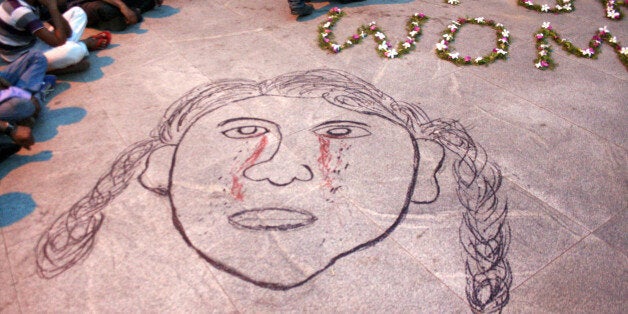 Two Nepalese women, working as maids in Gurgaon, India, were allegedly raped and sodomised repeatedly by their employer and potentiallyhis male friends. This came to light when a third woman, who was also working as a cook in the same household, reached out to Maiti, a local NGO, for help. Though two sets of medical examinations have revealed the brutal torture and inhuman atrocities that these women suffered, their employer is not being charged or arrested because he is a Saudi diplomat.
Under the 1961 Vienna Convention, foreign officials, their spouses, children and staff are protected from prosecution by their host country. Thus foreign diplomats can literally get away with murder, as well as escape prosecution for rape, sexual abuse, domestic violence, child sexual abuse, and indecent assault.
This case involving the two Nepali women came to light a week ago and the Indian police were hesitant to press charges claiming the diplomat has immunity and it is the embassy's responsibility, whilst the embassy officials have refuted all charges. This begs the question: where do the Nepali women go for justice? Do they not have rights on Indian soil and should their case not be heard and justice delivered?
Finally, due to pressure from Maiti and media, the police have registered a case of rape, sodomy and illegal confinement against the Saudi official, without naming him. The Ambassador of Nepal has formally requested for a speedy and thorough inquiry into the case whilst the Saudi Arabian embassy has denied all allegations, describing them as "completely baseless", and in return has lodged a counter complaint calling the raid on the apartment as a breach of diplomatic privilege. This is a diplomatic dilemma for the Indians as Prime Minister Modi is due to visit Saudi Arabia later this year.
These complications aside, what has happened with the Nepali women and Saudi diplomat is not an isolated case. Diplomats in various countries have shielded themselves from being prosecuted from gender-based violence crimes using their privilege of diplomatic immunity. Statistics are hard to come by but in 2002, the UK released figures showing that between 1999 and 2004, 122 serious offences were allegedly committed by embassy staff - and Britain was powerless to prosecute. A few years ago, a senior Indian diplomat at the high commission in London, was accused of assaulting his wife repeatedly but he escaped prosecution by the British Police by claiming diplomatic immunity. Last year, a Malaysian defense staff assistant in New Zealand used diplomatic immunity after being found guilty of following a 21-year-old woman home and sexually assaulting her.
Currently, the only way diplomats and their family and staff can be prosecuted for crimes is if their own country chooses to waive off the immunity, which is very rare. One example is Colombia which decided to waive off diplomatic immunity for two of its staff who were wanted for questioning in a murder investigation in the UK. But in most cases when a home country does take action, the diplomat is simply expelled from the country where the crime was committed, as was the case for the Malaysian diplomat in New Zealand.
It is atrocious that these "ambassadors at large" are misusing their privileges to commit crimes which would be punishable under normal circumstances, including crimes against women and children, and that the law in essence backs them up.
A closer look at the Vienna convention shows that the immunity is not all-encompassing, however. Article 31 reveals there are three exceptions to the immunity:
"(a) A real action relating to private immovable property situated in the territory of the receiving State, unless he holds it on behalf of the sending State for the purposes of the mission; (b) An action relating to succession in which the diplomatic agent is involved as executor, administrator, heir or legatee as a private person and not on behalf of the sending State; (c) An action relating to any professional or commercial activity exercised by the diplomatic agent in the receiving State outside his official functions."
If the UN is seriously considering implementing its Sustainable Development Goals, in particular, Goal 5, "achieve gender equality and empower all women and girls," they should push to change the Vienna Convention to include a (d): "An action that violates the human rights of another, including sexual violence."
Of course, even with more regulations in place, undoubtedly some -- or many -- countries will hesitate to prosecute diplomats, fearing a backlash in respect to trade and other relations. In the case of the Saudis, for example, no matter how severe the crime is, another country may feel hesitant to take them on because they are not only wealthy but also control large amounts of oil and the holy sites of Mecca and Medina.
But it is possible to challenge such sensitive diplomatic relations. A few months ago, Swedish foreign minister Margot Wallstrom not only criticised the human rights record of Saudi Arabia but also denounced the flogging of a Saudi blogger as medieval. She incurred the wrath of the Saudis and ignited a diplomatic crisis and also infuriated business leaders who were fearful for trade losses.
Following the incident, however, Foreign Minister Wallstorm said, "I have almost never in my political career experienced such enormous support from around the world....The instinct was: if we don't defend democracy and human rights, what are we?"
India has a chance now to take a tough stand against Saudi Arabia too by insisting the law of the land prevail rather than take the easy route of expulsion of the diplomat. Taking this stand in favour of the Nepali women and human rights is the right thing to do.
ElsaMarie D'Silva is the CoFounder & Managing Director of Safecity that crowdmaps sexual harassment in public spaces, and is a 2015 Aspen New Voices Fellow. You can follow her on twitter @elsamariedsilva
Related
Popular in the Community