Over the past three months, the budget standoff has dominated the news cycle in Illinois, but it's important not to forget about the $105 billion unsolved problem that is the state's pension crisis.
When the Illinois Supreme Court in May issued its decision throwing out a 2013 pension reform law, it made one thing abundantly clear: State government can't wiggle out of paying the pension liability it has accrued. That means the state needs to figure out how to get $105 billion into its pension funds between now and 2045.
On last week's "Only in Illinois," we talked about a few ideas out there to accomplish that, and possibly to lessen the amount owed.
One idea comes from state Rep. Mark Batinick, who has proposed allowing retirees to receive all or part of their pension benefit in a lump sum. He explains in this op-ed that there are advantages to both retirees and the state in this system, which has been used in private-sector pension plans.
Senate President John Cullerton for years has advocated a pension reform plan he says will both survive a court challenge and save the state $1 billion annually on pension costs.
Then there's Chicago, which has its own pension trouble. Businessman and Center for Pension Integrity Chairman Ed Bachrach writes that Chicagoans need to make sure the $500 million raised in Rahm Emanuel's proposed property tax increase goes only to pensions as promised.
Also this week we hear from four pension experts who plumb the history of the state pension trouble. They identify specific bad policies that, repeated over many decades, allowed the state to artificially balance its annual operating budgets by piling more debt on the pension systems.
Not to minimize the problem, but the state budget impasse eventually will break. We'll see services cut and taxes raised. The pension issue is something else entirely. We have no idea at this point how the state will meet the obligation it now knows it can't avoid. The longer we wait, the worse it gets.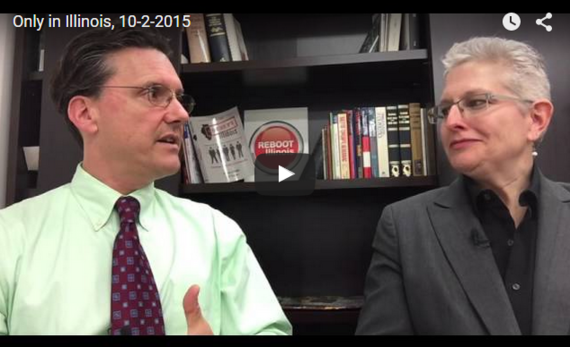 Calling all HuffPost superfans!
Sign up for membership to become a founding member and help shape HuffPost's next chapter