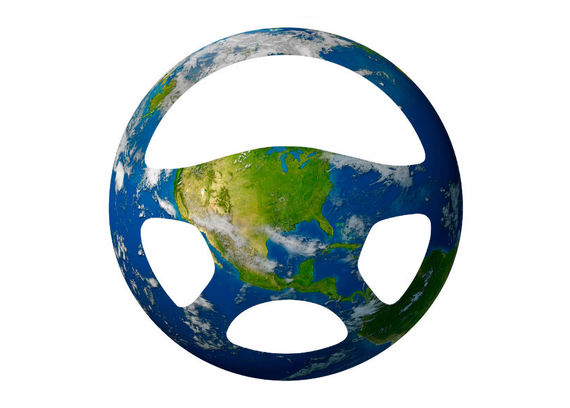 Earlier last week, the Obama administration unveiled a blueprint for cutting greenhouse gas emissions in the United States by up to 28 percent over the next decade and submitted the formal statement to the to the United Nations Framework Convention on Climate Change (UNFCCC). Not surprisingly, Congressional Republicans reflexively savaged the plan. House Majority Leader Mitch McConnell called the plan "job-killing" "likely illegal" and, for good measure, claimed that the United States "could not meet the targets" anyway. What McConnell and other critics don't seem to have noticed is that one major element of the proposed plan that addresses one third of the greenhouse gas emissions in the US is already implemented and working.
The President's Climate Action Plan, announced in June 2013 which provides the basis for the UN blueprint, brings together several domestic initiatives across the economy, one of which is a successful set of rules that were adopted beginning in 2010 and are already reducing greenhouse gas emissions from transportation. Between 2012 and 2025, these rules will double fuel economy for cars and light trucks to 54.5mpg. At the same time, they will halve the amount of greenhouse gases emissions from these vehicles--the equivalent of removing 88 million cars from American roads by 2030.
The rules dramatically enhance national security by reducing oil imports by 3.1 million barrels per day or as much as we import from Venezuela and the Persian Gulf combined. Perhaps most impressively, the rules were enacted with the full support of the car and light duty truck manufacturers -- so much for the complaints that these regulations would kill industry.
The auto industry has become profitable again under these rules because the regulations don't demand the development of radical new technologies. Though consumer choices have skyrocketed in recent years -- today, there are 76 models of alternative technology powertrain vehicles available in the US, including electric, hybrid and fuel cell -- car companies can meet the 2025 goals almost entirely by making their internal combustion models more efficient. With smaller, turbo-charged engines, better transmissions, stop-start technology and lightweight materials and, EPA's, DOT's and California's extensive engineering analyses determined that only one to three percent of new cars in 2025 would need to be plug-in hybrids or electrics. As a result, car companies are ahead of the curve. Fuel economy in 2013 was 1.4 mpg higher than required at a record high of 24.1 miles per gallon. In addition three were three times more vehicles meeting 30mpg than five years ago. These fuel-efficient models will also have a big market. Despite today's low gas prices, fuel economy is still the number one criteria for car shoppers according to JD Powers. As prices nose back upwards, the number of consumers looking for efficient cars will only grow.
The Republican objections also warned off other countries from partnering with the Unites States because the country could easily renege on commitments. Again, it's too little, too late. Globally, more than 70 percent of new cars produced are now subject to some form of fuel economy or greenhouse gas emissions targets and standards. The Unites States is not alone. In fact, by 2025 China, the European Union and Japan will all have relatively similar greenhouse gas and fuel economy requirements as the Obama rules require.
These successes are huge. In fact, the Economist recently ranked the Obama 2025 greenhouse gas and fuel economy rules as the world's sixth most effective effort to reduce greenhouse gases ever undertaken.
We must do much more to meaningfully reduce greenhouse gases, but instead of pushing back at anything that sniffs of cleaner, smarter energy policy, Americans should be excited. Our government has driven innovation and jobs while putting us on the path to a decarbonized economy. Let's not take our foot off the pedal now.
REAL LIFE. REAL NEWS. REAL VOICES.
Help us tell more of the stories that matter from voices that too often remain unheard.