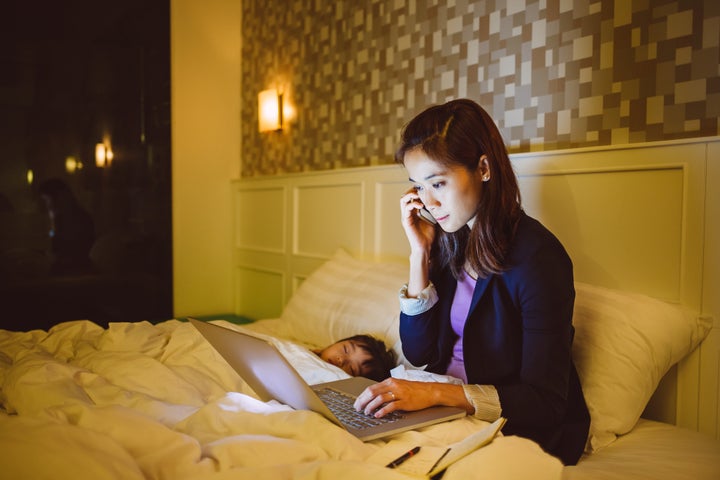 This Mother's Day will be my first as a new mom. While this holiday carries new significance for me, it also makes me reflect on the millions of moms out there for whom the arbitrary recognition of Mother's Day is a meaningless blip in their day-to-day struggle to stay afloat.
The Mother's Day applause for the heroics, strength, and selflessness of moms on May 14 is deserved. But applause is not enough for us to succeed. Bringing my child into the world and raising him is the most challenging (and yet best) thing I've done. I had a relatively easy pregnancy, but an unexpected C-section extended my recovery time. Thankfully, my son was born healthy and continues to thrive. It's been a fun ride of baby's firsts – the first laugh, the first crawl, and the first time he slept through the night! But it's given me a new perspective on just how hard this actually is.
As a society, we claim to revere motherhood. And we should – but a closer look reveals our words and actions towards mothers are at odds. Despite the fact that 70 percent of women with children under the age of 18 participate in the workforce, our workplace policies still treat women primarily as caregivers, not breadwinners. In truth, women are primary or co-breadwinners in two-thirds of American families. But instead of being celebrated, moms are routinely penalized or disadvantaged at work.
"Our workplace policies still treat women primarily as caregivers, not breadwinners."
Right now, only 14 percent of people working in the U.S have access to paid leave through their employers. That makes our country one of the hardest places to live as a working mom. Nearly every person needs to take time to care – whether it is for a serious illness or injury, a sick family member, or to care for a new child – and no one should be forced to make the impossible choice of choosing between a paycheck and a loved one.
I recognize how lucky I am to be the head of an organization that values its employees and provides paid family leave — this allowed me to recover from childbirth and bond with my son. But this should not be a matter of luck. This should be an opportunity all working people receive. Women and men.
And that's just the start. As of 2015, the average annual cost for an infant in center-based care was higher than a year's tuition and fees at a four-year public college in 30 states and the District of Columbia. The cost of full-time, center-based care for two children is the highest single household expense in most parts of the country.
So when I read an array of social posts, op-eds, and proclamations from elected officials across the country "honoring" mothers for Mother's Day, it's hard for me to accept that lip service in lieu of real solutions that would improve the lives of mothers and children in America.
My husband and I are fortunate to have full-time jobs with good benefits. Even still, the cost of child care in New York is challenging. There isn't a day that goes by when we don't make hard decisions to be able to provide our son with quality child care, pay our bills, and save for our son's future and our retirement.
"No one should be forced to make the impossible choice of choosing between a paycheck and a loved one."
Beyond affordable child care, mothers need and deserve equal pay for a fair day's work. Black women are paid on average 60 cents for every dollar paid to a white man. That means the pay gap costs a woman who looks like me nearly $840,000 over the course of her career. And don't even get me started on the motherhood penalty. It's the phenomenon of employers discriminating, both consciously and unconsciously, against mothers. Moms are less likely to be hired, promoted, and paid fairly compared to male colleagues with the same qualifications. Ready for some real irony? Men actually tend to be paid more when they become fathers – including those who don't engage as active parents in their children's lives.
Paying people fairly shouldn't depend on their gender or their status as mothers. Is it any wonder that more and more women are holding off on starting a family, or deciding not to have children at all? Our country puts barriers up for mothers, making it nearly impossible to succeed at home and at work, and creating a whole lot of stress for moms trying to do it all.
As moms, we are trying to weather a perfect storm of economic instability, made worse by a lack of affordable child care, the absence of a national paid family leave policy, and the reality that equal pay for equal work is not the norm for most women in this country. National solutions that bring economic security within reach for women and their families are long overdue. So this Mother's Day, politicians can keep their obligatory tweets praising mothers. What I'd like to see instead are bold solutions to the pocketbook issues that we working mothers confront every day.
Tracy Sturdivant is the co-founder and director for Make It Work, a nonprofit organization championing new policy solutions to help families make it work – and making sure public officials are doing the same.