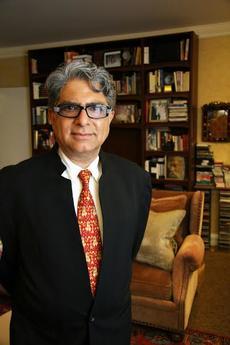 About an hour ago, an historic Indiegogo campaign launched. Founded by Dr. Deepak Chopra, ISHAR (Integrative Studies Historical Archive and Repository) aims to be the electronic Library of Alexandria for the realm of integrative studies. This topic is notoriously hard to research given the fact that people making false claims have just as much access to the internet as those with scientifically verifiable data.
ISHAR aims to change that by vetting content through a team of experts. I talked with two of the pioneers of this project today: William C. Bushell, Ph.D., an MIT-affiliated researcher who will serve as director of acquisitions for the project and Rome Viharo, the director of operations for the cutting edge ISHAR.
Their campaign can be seen here: https://www.indiegogo.com/projects/let-s-raise-ishar and the library's website is www.isharonline.com
HP: What was the inspiration for ISHAR?
RV: ISHAR emerged from trying to find solutions to deal with the large amounts of misleading information on the internet, especially information promoted by skeptic activist organizations. Then the inspiration just became building a library for the entire mind body community all over the world, there is not a resource for this in one location.
HP: How many volumes is your target?
RV: Our target is in principle never completed, as we aim to be the 'complete compendium' of mind body knowledge, from cultural to scientific,
WCB: All forms of publications: books, scientific and scholarly articles, journalistic sources, photographic, video, film, all relevant published and unpublished documents -- in short, everything -- will be included. There is a real possibility that this will become the largest library/archive in existence, similar historically to the Library of Alexandria or that of Nalanda University.
HP: Can you explain your role in the project and how your own library is contributing to the start of this?
WCB: My colleague and collaborator, Dr. Deepak Chopra, recognized I'd be a fit with the goals of ISHAR some months ago, as I had essentially been working on a similar prototype for decades. I wanted a rigorous scientific and scholarly database/archive/information center on the subjects of consciousness, the mind-body relationship, integrative medicine and related subjects.
I had discovered by applying the most rigorous scientific, scholarly and praxis-oriented criteria in a global, cross-cultural framework -- a discovery not exclusive to me -- that in fact there is the potential within consciousness for human transformation in terms of health, enhanced lifespan, survival and knowledge of the nature of the universe.
HP: Who are your intended users for the website?
RV: ISHAR will have a few different types of users: researchers in universities or medical organizations; journalists or bloggers and the general online community interested in exploring the mind body issue
Our library will allow users to research topics by factual statements, online discussions, popular misconceptions, scientific journals including impact factor, Frequently Asked Questions, cultural perspectives, biographies and much more!
ISHAR will also facilitate online discussions between prominent proponents and orthodox viewpoints, offer a developed online community, and assist building bridges between contentious issues.
ISHAR is also in service to Wikipedia - and will work with Wikipedia to insure that ISHAR sources and archives are available to Wikipedia editors.
HP: Who are some of the other advisers for this huge undertaking?
RV: Dean Ornish, Robert Thurman, and Deepak Chopra are our biggest names - but we are just starting and our list will grow to over 200 by end of first year. Here is a current list:
http://isharonline.org/board-members/